Whether you work remotely full time or not, a dedicated WFH zone can really up your productivity level. And if you're a fan of minimalism, white home office ideas are the way to go. Oh, you're worried the single color look will feel stuffy or clinical? Don't! It's all in how you dress the room up with things like billowy curtains, textured pillows, and beautiful plants.
Check out these eight aspirational areas to get the look.
White or cream chairs will be great first additions to your home office. And while they'll fit right in with an entirely monochromatic spot, you could just as easily add them as a calming accent to an otherwise colorful workspace.
2. Incorporate white shelves.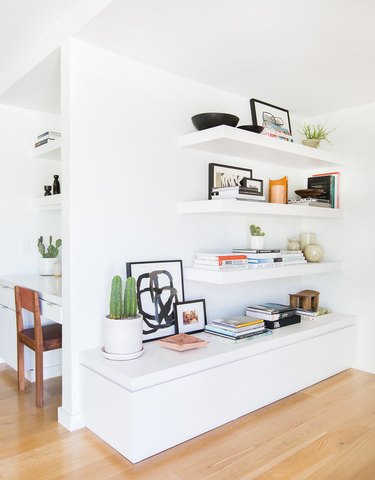 The floors, ceiling, and shelves in this office space from Amber Interiors make for a completely crisp, almost coastal look. To get a similar feel, paint your walls the same white shade as your shelves. The cohesion will allow the shelves to fade into the background while the decor seems to float in midair.
3. Experiment with bleached wood.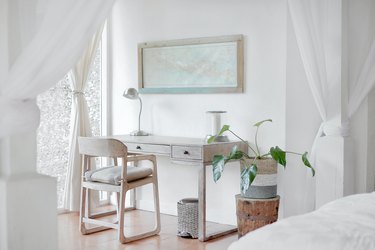 This work setup isn't pure white, but the light wood components create a nice contrast. Set against white walls and white curtains, the desk blends in but has just enough creamy color to not get lost. Plus, the decorative plant creates the perfect accent in this home office that's nestled perfectly into an equally cozy bedroom.
4. Match the other furniture.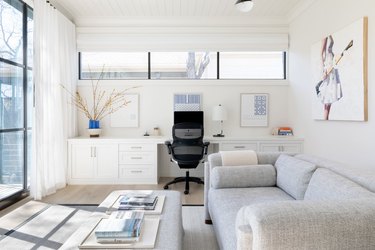 If you need a white home office idea that will work in your living room (because everyone doesn't have a separate space to WFH), extend the milky color palette to the other furniture. In this space designed by Chango & Co., the couch is the lightest of light gray shades to blend in with the white work hub.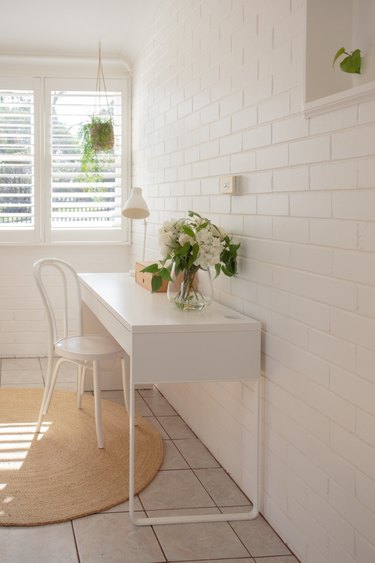 6. Don't forget the light fixture.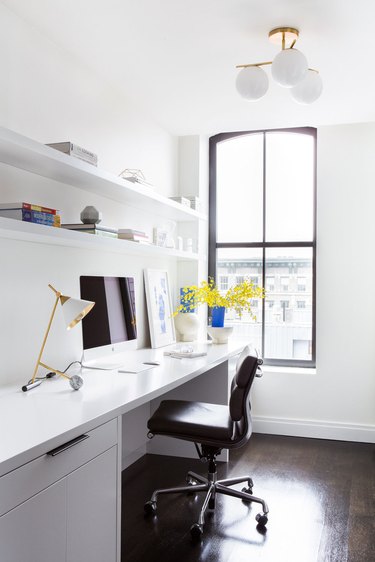 Because this home office is filled with natural light, the white desk, shelves, and accessories appear to glow. The light fixture is our favorite accent, though. It's a little glam, a little art deco, and super functional.
7. Sprinkle in a little acrylic.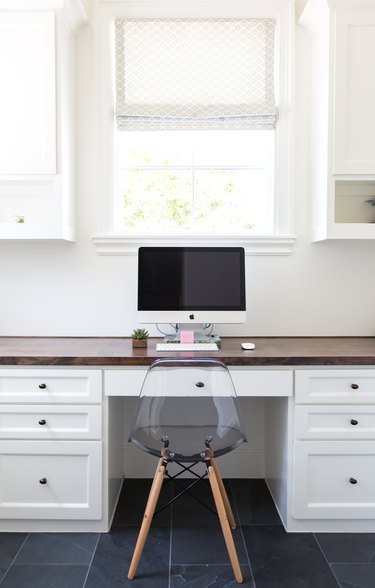 There are two things we really like about this white home office — the cabinetry and the acrylic Eames chair. While a white seat would have matched the cabinets nicely, the clear option practically disappears, letting the built-ins do all the talking.
8. Embrace an all-white aesthetic.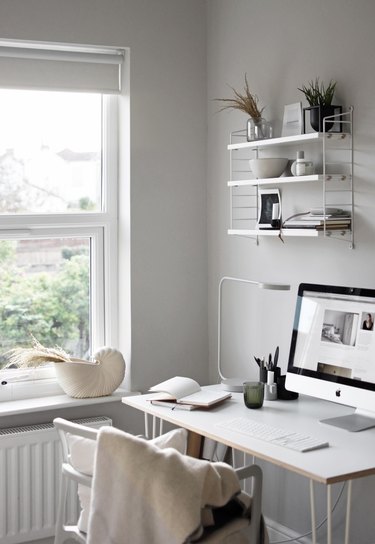 If you want to go for the maximum effect, choose an all-white home office idea like this one from These Four Walls. Everything from the chair and the desk to the walls and throw blanket is completely crisp. Rather than feeling washed out or boring, this home office has a cohesive look that's completely inviting.