We're here to help you resolve what could be one of the most perplexing design dilemmas: finding men's home office ideas that work for anyone who sits behind the desk. The first step, though, is picking a color palette. Rooms that give off masculine vibes tend to have tones that range from dark to warmer neutrals. Brighter hues can add depth to the space, too. But they usually have to be tempered with understated decor.
1. Go with a neutral palette.
We absolutely love this super stylish combined living room and workspace setup from M&P Design Group. To achieve this look, choose a desk that doubles as a statement-maker, mix bold colors and natural materials (see that gorgeous leather sofa?), and hang vibrant wall art.
2. Make the most of your space.
This simple office setup has one of the main markers of a classic masculine space — a neutral color scheme. Between the wood desk and flooring, the black cabinet and chair, as well as the earth-toned decor, the space feels clean, simple, and easy to navigate. The addition of the wall-mounted guitar and plants as accessories personalize this men's home office idea, making it ideal for those who enjoy minimalism.
3. Let a natural wood desk be the centerpiece.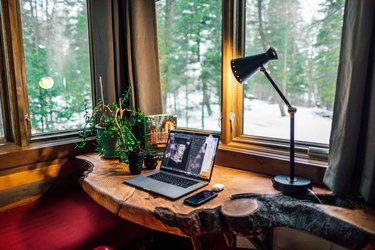 The natural wood desk is undoubtedly the star of this rustic men's home office idea, and it shows us how to transform a corner into a small workspace. Paired with gray curtains, a few small plants, knickknacks, and an adjustable lamp, this setup only has one flaw — you might get too comfortable.
4. Combine black and white.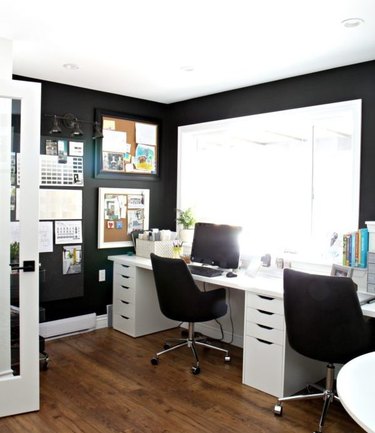 If you opt for black walls in your office, but don't want the dark shade to completely overwhelm the space, consider combining it with a contrasting hue. This room from Kylie M. Interiors shows how white trim and a white desk can instantly brighten things up. Placing your work surface in front of a huge window also allows for a ton of natural light.
5. Choose a gender-neutral paint color.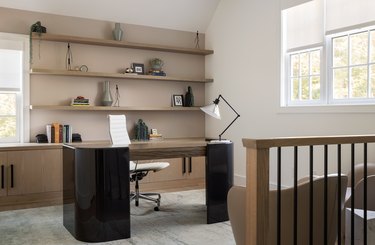 To decorate a men's home office that feels inviting for everyone, we suggest choosing a gender-neutral color for the walls. The tan paint in this WFH spot from M&P Design Group is perfect. Plus, the floating wall shelves and cabinets round out the tonal color palette, while the black desk and clean lines remain true to a masculine aesthetic.
6. Mix dark walls with light furniture.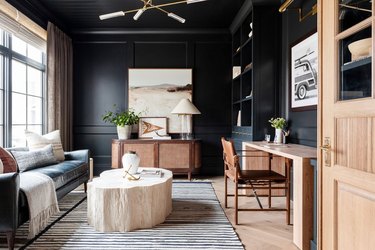 Shea from Studio McGee describes this elegant workspace as "dark and moody," and we totally agree. To up the drama in your own office, choose a dark, rich wall color. Then pair it with light-colored, natural wood furniture. For added flair, choose interesting desk accessories, artwork, and a fun sofa.
7. Search for pieces that complement the room.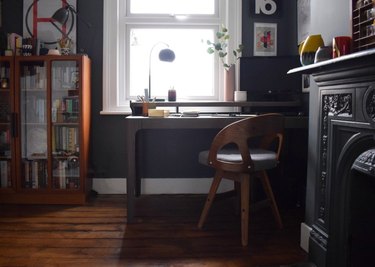 This contemporary home office from Design Soda features dark gray walls with white trim, along with a glass cabinet, hardwood floors, and a midcentury modern chair. Though huge in size, the desk has curves that help it complement the room instead of overwhelm.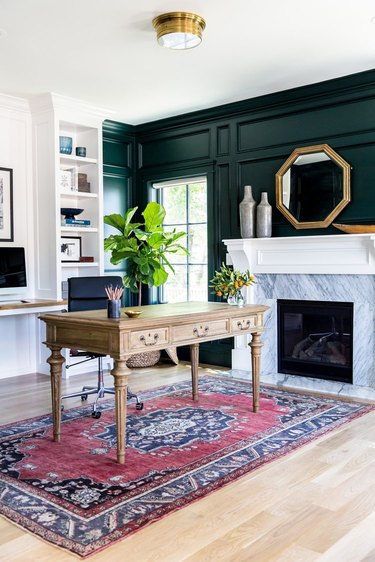 This office space is among our favorites. The dark green-black paneled walls feel extremely luxe yet inviting at the same time. But what's the key component of this masculine design? It employs pops of color to add dimension. If you choose a dark shade in your home, highlight the space with a vibrant rug or gold decor.