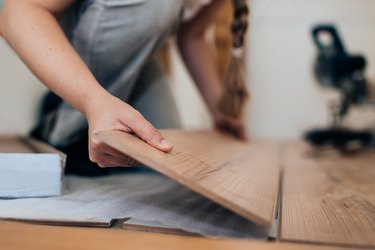 I live in a 1928 Los Angeles bungalow — and the original hardwood flooring, two-inches wide, has already been sanded down to the nail heads. We love the hardwood look and feel — it's such an amazing blank canvas for our somewhat eclectic taste and mix of vintage and modern — but we can't decide exactly what to choose next.
So, I asked Todd Weyhmiller, who's been at Bona for more than 15 years and is one of the people behind the Bona Certified Craftsman Program, about the pros and cons of various flooring for a busy young family.
Q. What type of new flooring would you recommend — and why?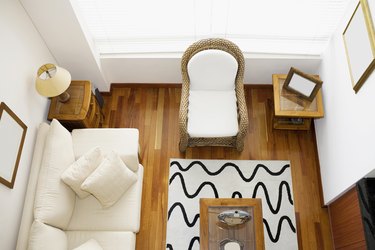 Flooring, like many elements in a home, serves a specific function, but really adds to the design and beauty of the home. With that in mind, if you love the hardwood look and feel, you shouldn't be afraid to do just that. Hardwood floors are durable, sustainable and really not harder to maintain than many other flooring types.
Hardwood floors are the only truly customizable flooring out there. Every single board is unique and between the numerous species and coloring options you can create a floor no one else has.
Q. And if we're on a budget?
Pre-finished wood flooring is generally more affordable and will provide the hardwood look and feel. Not unlimited design options, but still a wide variety. The least expensive option would be a laminate floor. This will look like wood, but typically has a pattern that repeats throughout the floor.
Q. And if it's a fairly high-traffic home with multiple kids, pets and soccer cleats?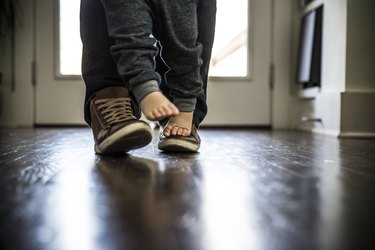 Running around on any floor with soccer cleats is going to cause trouble, so that isn't just a wood floor issue. To better deal with high traffic wear-and-tear, different species and finish types will perform better than others. There are hard and soft species of wood. If you have high traffic and tend to leave shoes on, then choosing a harder species will help the floor perform. Finishes also come in different sheen levels [a.k.a. how shiny the floor looks]. By choosing a very low or matte sheen level, scratches from dogs' claws and other abuse will be very hard to see. Putting a high gloss finish in this same area would highlight all the scratches. Talking with a certified professional hardwood flooring contractor will help you identify the right species and finish to ensure your floor is protected and looks beautiful for a lifetime.
Q. I wonder if your recommendations would change if we were in a different climate. For instance, are certain types of wood floors better for places where snow and wintry weather is a factor? What about where it's more humid?
In general, properly acclimated and installed hardwood floors will do well in any climate. Certain climates will dictate different care and maintenance to keep them looking beautiful. For example, if the humidity levels fluctuate a great deal from summer to winter, having a way to control the humidity will be important. Keeping the humidity at a pretty constant level will help ensure the floor doesn't contract and expand excessively, which could lead to damage or large gaps between boards.
Q. If the sky's the limit, what is the nicest, most beautiful hardwood you would recommend?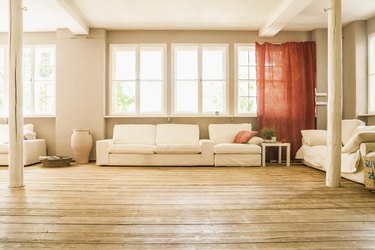 Beauty is in the eye of the beholder, so there is no right answer. I would say if cost is not a concern, you can get very creative with any hardwood floor. Examples could be installing random width boards, versus all one size or installing a border feature in the room with a contrasting species to the main part of the floor. Medallions or inlays add a very nice touch to any room. There are also many beautiful customizable options with blending oil finishes or stains. With so many creative craftsman in the hardwood flooring industry they most likely can create just about anything you can think of — and if you aren't sure what can be done, they will be very happy to show you how creative they can be.
Q. Solid v. engineered —do you have an opinion?
Not really an opinion, more of when to use one versus the other. Engineered is still a wood floor, but because of how the backing is made it has better dimensional stability. So, if you are installing a wood floor below grade or in a place where climate control is poor an engineered floor will be the right choice. Solid will offer you more variety and generally has more life to it — what I mean is, it has a thicker wear-layer, so the floor can be sanded and renovated more times.
Q. And are there no-fail recommendations that work in almost all homes?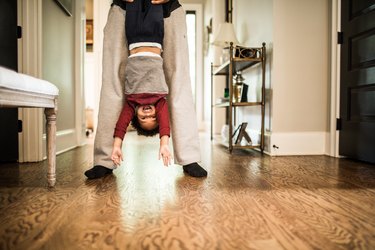 Working with a true hardwood flooring professional will ensure you get the right floor that will perform and more importantly bring a unique beauty to a home.
*You can find a highly trained and certified Bona professional here. *