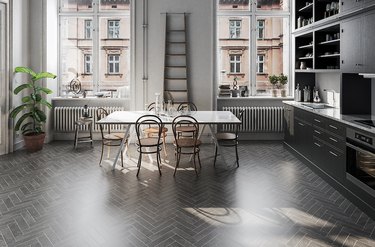 Whether you've been planning on a design overhaul for what feels like forever or have suddenly decided to make an update (WFH and staring at the same surroundings 24/7 will do that to you), it's smart to approach any project from the ground up.
When it comes to floors, two factors are always in flux: function and style. The good news? They're not mutually exclusive. With hardwood, laminate, and waterproof vinyl options, there's an entire ecosystem of materials and color stories that won't just set the tone for the rest of your space, but can be a statement all on their own — with a full spectrum of features and benefits to suit your specific needs.
To help you land on the flooring that suits the functionality of your space and your personal taste, we've rounded up six different options from Lumber Liquidators, now LL Flooring, ranging from gorgeous chevron to artfully distressed to sleek and modern. It's LL Flooring's mission to help you express your style through your floors, so now all you have to do is scroll until you find the one that screams "you." (Spoiler alert: Laminate and vinyl are ​way​ cooler than you may think.)
Minimalism is all about letting your space do the talking, and LL Flooring's Bellawood Artisan New Shoreham Oak Solid Hardwood keeps it light and airy to do just that. With lighter tones of cream and tan, your home will feel instantly elevated by the amount of space that's suddenly appeared simply by switching up your floors. Pro tip: Hardwood is a timeless choice, and these floors are also protected by LL Flooring's durable finish.
Want the warmth of a lived-in, slightly distressed look, but don't have the original flooring to match? Bellawood Artisan Distressed Engineered Manhattan Chevron Hardwood brings the charm with its rich brown hue and slightly weathered detail, and the real hardwood is protected by a durable finish. But here's the real kicker: The custom chevron pattern is pre-arranged, so you don't have to install each plank individually.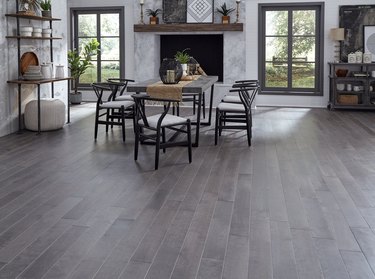 Go the sleek-with-a-dash-of-bold route with your floors. AquaSeal Burgess Gray Brick Laminate gives off that "yes, I live in a loft" look with clean, straight lines and cool grey hues that are still neutral enough to jive with your home decor. Bonus: This water-resistant laminate floor stands up to scuffs, pet shenanigans, and spills as if you really do live in a one-room, high-traffic loft space.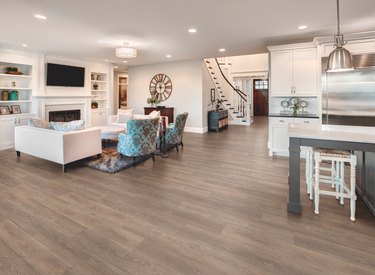 Low-Maintenance Traditional
Get the traditional hardwood look with AquaSeal Tacoma Oak Laminate Flooring — just with easier installation, added durability, and extra water protection. This no-headache option contains locking technology that prevents liquid from seeping in between planks, so even if you are traditionally a messy human, these floors don't just handle it, they thrive in it.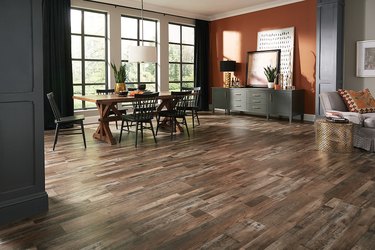 Warm tones play nice with all the laidback bohemian trappings (woven wall hangings, leafy plants, et al). Boost the warmer vibes in your space with CoreLuxe Urban Loft Ash Engineered Vinyl Plank, which has all the durability, comfort, and waterproof features of a luxury vinyl plank, but features a rigid core for added dent-resistance and stability. And, it clicks together easily — making it the ultimate DIY-er's choice.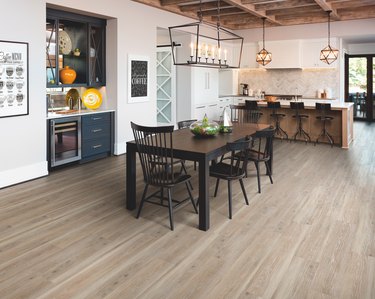 Lean into natural wood tones and distressed whites with CoreLuxe Driftwood Hickory Engineered Vinyl Plank, which will give you that aged hardwood look without the higher-maintenance needs of the real thing. Translation: It can handle all the pets, messy boots, and #farmlife messes that come through your home, whether you live in an IRL farmhouse or not.
Still unsure if you're feeling more farmhouse, loft, or eccentric English cottage? (So many good options, we know.) Head to LL Flooring—virtually or IRL—to connect with a flooring expert, browse countless options, and land on the right flooring for you.