People often confuse parquet floors with regular hardwood floor, which have planks going in only one direction. A parquet floor is a nonlinear patterned wood floor. The wood boards in a parquet floor go in different directions, oftentimes creating an intricate pattern of many pieces of wood. The ornate design of parquet floors make them a favorite, but can also make refinishing parquet floors expensive.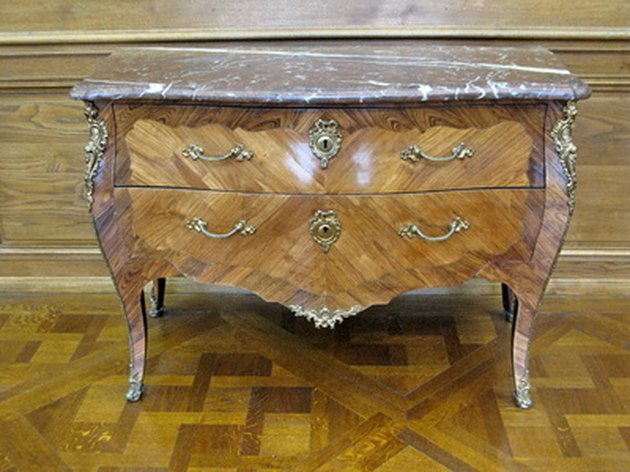 Parquet floors require a bit more work to refinish. Homeowners with vintage parquet floors can expect to pay anywhere from $3.75 to $5 per square foot, as of 2010. For a 225-square foot room, this can cost from $850 to $1,125. This includes sanding, chemicals, stains and other finishes. Parquet floors that aren't vintage and in pretty good shape may cost anywhere from $300 to $900 for a 15-by-15-foot room (that's about $1.50 to $4 per square foot). According to hardware resource site HardwoodInstaller.com, the average price for refinishing a parquet floor is $3.25 per square foot, as of 2010.
Where a homeowner lives affects how much a professional charges to finish a parquet floor. According to the May 2008 State Occupational Employment and Wage Estimates, the median hourly wage for installation and repair occupations is $20.70 in California, $18.98 in Wisconsin, $17.03 in Louisiana and a whopping $22.44 in Washington, D.C. Retail stores often charge more than an individual.
Parquet floors have been a symbol of elegance for hundreds of years, but they are not invincible to wear and tear. Refinishing parquet floors can dramatically change the appearance of a home's interior. Even very old floors can be restored to like-new quality. However, it's a significant time commitment to refinish parquet floors. Such a project can disrupt household rituals for an extended period of time. As a result, it's important to consider not only the labor and material costs to refinish a parquet floor, but intangible costs such as comfort.
Professionals charge to remove molding, nail or glue down boards, fill gouges, put up plastic and clean the floor. These costs are in addition to what to the total refinishing job. According to HardwoodInstaller.com, these services range in price from $1 to $3.50 per square foot, as of 2010. A homeowner can minimize the total cost of working with a professional by doing this prep work herself.
A homeowner who doesn't want to spend the money to hire a professional can choose a cheaper do-it-yourself alternative. Start by removing all wax from the floor using a commercial wax remover, which can cost $4 to $43 a bottle, as of 2010. Roughen the floor with a medium to rough sandpaper ($2 to $5). Thoroughly clean the floors and then prime ($40 to $43 a can). Finish by applying two coats of a high-quality deck paint, which can cost from $50 to $55 a can.