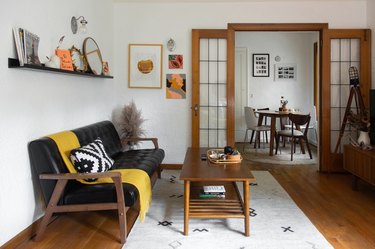 These days, homebuyers might be easily persuaded by the presence of solid hardwood flooring in a prospective home, and those who are already in a home and considering a renovation project may be looking to hardwood flooring to give the home a certain look. Solid hardwood flooring is also a great way to increase the property's value.
While solid hardwood flooring may seem like the go-to for any homeowner, this type of flooring goes through a long process before it comes from the forest to your floor. Because of this, there are aspects that are worth considering before making your decision about solid hardwood flooring, as other types of wood flooring may be more ideal.
What Is Solid Hardwood Flooring?
Solid hardwood flooring is a specific type of hardwood flooring, with the other most common type being engineered hardwood flooring. Solid wood flooring is cut directly from logs of solid wood into lumber that will be turned into planks. The wood that is used to make solid hardwood flooring can come from the logs of different trees, like mahogany, pine, hickory, red oak, white oak, acacia, teak, tigerwood, gunstock oak and Brazilian cherry.
The other most common type of hardwood flooring is engineered hardwood flooring. According to Flooring America, the biggest difference between solid hardwood flooring and engineered hardwood flooring is that solid hardwood flooring is a solid piece of wood with no layers or other materials in it and engineered hardwood flooring is "engineered" by constructing it with layers of hardwood along with plywood.
Each layer created in engineered hardwood flooring is positioned in different directions. Because of this unique construction compared to solid hardwood flooring, engineered flooring is usually much easier to install and offers floating floor installation options. It is also more resistant to expansion and contraction due to humidity changes. With a hardwood veneer, it looks just like real hardwood flooring, too. However, there is nothing like the authenticity of traditional solid hardwood flooring.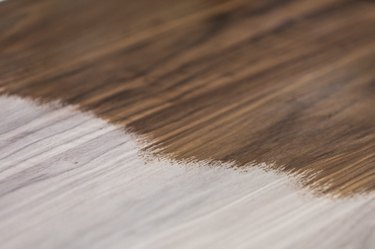 Benefits of Solid Hardwood Flooring
Though all types of hardwood flooring have their benefits, solid hardwood flooring has qualities that are hard to find in other types of wood flooring and flooring in general. In addition to these qualities, solid hardwood flooring also has many other benefits, according to Floor Critics:
Offers a beautiful natural look that can make your home look more elegant

Uses 100 percent solid wood, so each plank may look slightly different

Makes your rooms appear larger, thus making your home feel more spacious

Is easy to clean compared to carpeting and other types of flooring that can get stained or damaged more easily

Adds value to your home

Matches well with virtually any type of furniture or decor

Is cost effective

Helps reduce noise by improving the acoustics in your home
Basics of Hardwood Flooring Construction
According to BuildDirect, when a tree is cut down for logs, experts will look at the logs to determine for what the wood can be used. Different-quality logs will be used for different purposes. Those that have a beautiful, smooth look with minimal knots and tight grain are usually chosen for solid hardwood flooring.
Once the logs are chosen for flooring, they will be cut into boards or planks. There are several ways to cut the logs into planks, and this step can determine how much these planks will end up costing. Most commonly, logs are plain-sawn, but they may also be quarter-sawn or rift-sawn.
Next, the planks are graded based on their intended appearance and then planed to smooth out the saw marks and to level them. Finally, a machine will cut tongues and grooves into the planks so that the boards can be locked together upon installation. At this step, it's determined if the wood will be shipped directly to the seller as unfinished flooring or if it will be prefinished.
Before that, the wood might go through a distressing process to give the wood an antique look, otherwise known as a hand-scraped look. The wood could also be wire brushed, which is when the wood is scraped with a hard-bristle wire brush to reveal the soft grain from a tree's growth ring.
Prefinished vs. Unfinished Solid Hardwood Flooring
Prefinished wood is sanded, stained and coated with polyurethane in a factory so it's ready to be installed as soon as it arrives at your door. Unfinished flooring must be sanded, sealed and ultimately finished on-site after installation.
The benefit of prefinished flooring is that it's ideal for people who want to install their flooring right away without having to worry about other tasks. Prefinished flooring usually costs more for the actual material, but unfinished may end up costing more since you'll need to purchase the tools and materials to complete the job on-site.
If during construction it's determined that the planks are to be unfinished, they will go to the seller, and the consumer will have to finish the job at home. Otherwise, if the planks are to be prefinished, they will be sealed and stained in a coating and then shipped to the seller, where they'll be ready to be installed right away.
Board/Plank Width Options
One of the most important details when installing solid hardwood flooring is making sure you get your measurements right. This part is crucial: If you have the wrong measurements or not enough or too few planks, it can make the installation process somewhat stressful.
Before installing your solid hardwood flooring, it's necessary that you are clear on what width you desire. These days, boards between 5 and 10 inches wide are popular, according to Carlisle Wide Plank Floors. Sometimes, people install a combination of boards with different widths too.
The desired width of your boards is based more on personal preference, but you'll need to know what width you're choosing before you can get the corresponding length right. With a particularly wide plank, you'll want the length to measure up. Typically, board lengths run between 7- and 11-inches long, with the boards being longer if the width is also wider.
Solid Hardwood Flooring Installation
The installation process for wood floors will be different depending on whether or not you are installing prefinished versus unfinished floors or solid hardwood flooring versus engineered hardwood flooring. If you're installing prefinished solid hardwood floors, then they'll be ready to nail down as soon as they arrive at your home. Over time, you may need to refinish the floors but hopefully not for a while. Typically, you can only refinish solid hardwood and not engineered hardwood flooring unless the planks are thick enough to allow it.
Solid hardwood flooring — unlike engineered flooring — is stapled or nailed to a wood subfloor on top of a soundproof underlayment. In addition to being nailed to the subfloor, solid hardwood flooring has tongues and grooves to lock the planks into one another.
This is unlike engineered hardwood flooring, which does not need to be nailed to the subfloor. The planks just lock into each other. Otherwise, to nail down solid hardwood flooring, a hardwood flooring nailer will help you make the process more efficient by nailing down the tongue of the planks at an angle, straight into the subfloor and into the neighboring plank simultaneously.
Unfinished floors will have slightly more steps hereafter. After nailing down the floor, you will have to use a drum sander to sand the floor. Then, you will have to stain and finish the floor yourself. This may be a lot of work, but it offers more control over how the final product will look.
Now that you know the basics of solid hardwood flooring, it's important to look at the cost. How much you spend will depend on where you buy your planks, the type of wood and how much square footage you're trying to cover.
According to Home Flooring Pros, solid hardwood flooring typically costs approximately $2 to $5 per square foot, especially if the wood is domestic. Imported wood often costs more. If the planks are prefinished and ready to install, then the cost can start at $4 per square foot and can cost up to $12 per square foot.
However, if you plan on installing unfinished solid hardwood flooring, then the cost of materials will generally be more affordable at roughly $2 per square foot, but installation will be more expensive because there is more to do after installation.
Other Considerations for Hardwood Flooring
Though solid hardwood flooring is one of the best flooring options, don't jump the gun right away. Despite all the benefits, like with anything, solid hardwood flooring also has some downsides that are worth considering.
First and foremost, if you have young children or pets in your home, then solid hardwood flooring may not be the best choice for your family because it can get damaged easily. All the running, playing and claws on the floor can start to wear it down over time, taking away the elegant look that it's intended to have.
Another downside of solid hardwood flooring is that it absorbs a lot of moisture, which means if there is a slight flooding in your home or humid weather, the moisture can get in the wood. This would cause the wood to expand and contract, which can cause a lot of damage over time, such as gaping, curling or warping. This can also happen with prefinished engineered hardwood flooring.
Despite these downsides, other types of flooring like carpeting can't compare to the beauty that is solid hardwood flooring. That said, these floors are an investment, and the entire process of installing them and caring for them should not be taken lightly.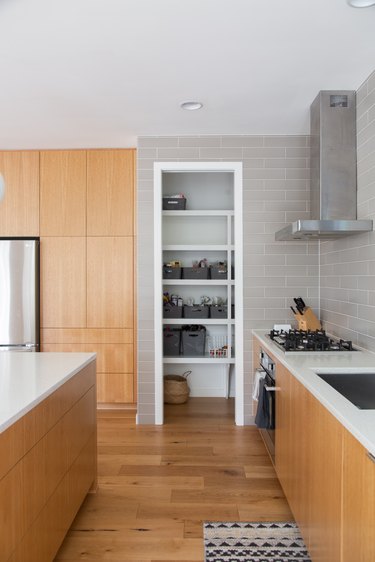 How to Maintain Your Solid Hardwood Flooring
Now that you know what you need to consider before installing solid hardwood flooring in your home, you will still have to be a responsible homeowner and be sure to maintain the flooring over time. Some people certainly like the appeal of old-looking floors. However, if too much damage has been done to your flooring, it will ultimately need to be replaced.
This is why it's important to maintain your solid hardwood flooring. By taking certain measures, your solid hardwood floors should stay in good shape, according to UK Flooring Direct:
Dirt and dust can damage the surface over time. Keep up with it by regularly sweeping and/or vacuuming. Keep mopping to a minimum. Be very gentle when doing so and make sure it dries.

Be careful with furniture. Do not drag any furniture across your solid hardwood flooring and consider using felt bottoms and area rugs for extra protection.

If you have pets, then trim their nails regularly to avoid them scratching your floor. The same goes for shoes. Do not walk on solid hardwood flooring with shoes, especially high heels, cleats, etc.

Be careful when drinking or eating anything that can stain your solid hardwood flooring. While stains may certainly give your wood an interesting look, cleaning it with too much water can lead to swelling.

Sunlight can be damaging to solid hardwood flooring. Therefore, keep sunlight away as much as possible by using blinds or black-out curtains on your windows.

Based on the type of solid hardwood flooring you have, you can update your floor every couple of years by refinishing it or even removing and replacing a strip of plank.