As you sift through a sea of paint chips for your new and improved home office, you realize that there actually ​can​ be too many colors to choose from. A once-fun task becomes daunting as you just can't land on the ideal hue amid the office ideas dancing in your head.
Well, allow us to suggest a gray home office — a workspace simply brimming with soothing vibes where you can decorate with ease. Although the shade happens to be trending, we promise that it has staying power and won't go out of style anytime soon. This also means that it's an ideal fit for a variety of decor themes, from transitional to farmhouse to even bohemian.
Whether you want to weave it in through shelving or go all out with wall color, these 10 home office ideas will help you get started on the right foot.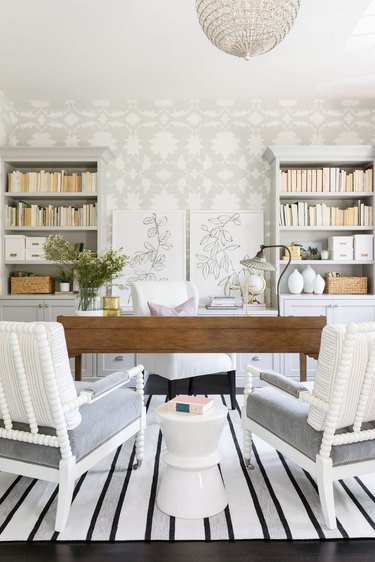 To achieve flawless gray walls without a can of paint, consider wallpaper instead. Give your office space a (nearly) instant makeover with a pretty patterned wallcovering, something that beautifully punctuates this home office by Bria Hammel Interiors.
Open shelving in the form of custom built-ins can be oh-so-handy in a home office, and painting them a shade of light gray can really help them stand out. That's what Monika Hibbs did in this gorgeous workspace, resulting in dreamy gray bookshelves that can hold a lot more than books.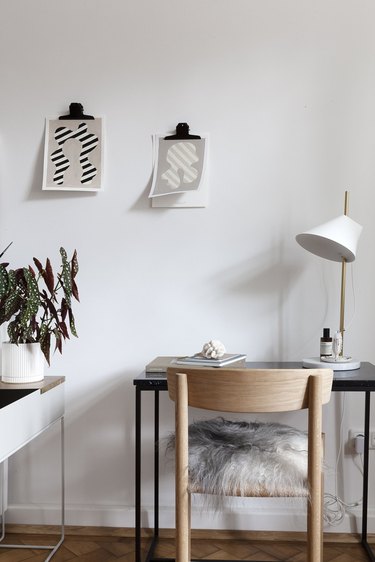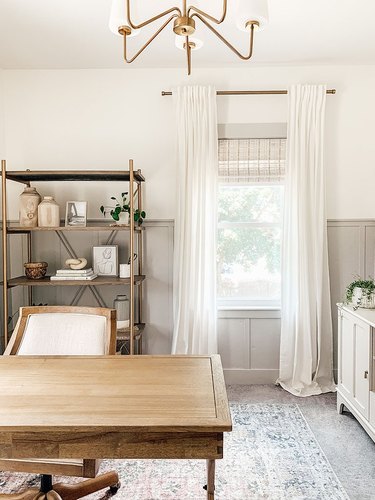 Gray wainscoting is a way to bring a traditional finishing touch to a farmhouse or full-on classic home office, which Michaela of Michaela Diane Designs has seemingly perfected. The white window treatments and brass chandelier also play nicely with the cool and calm color scheme.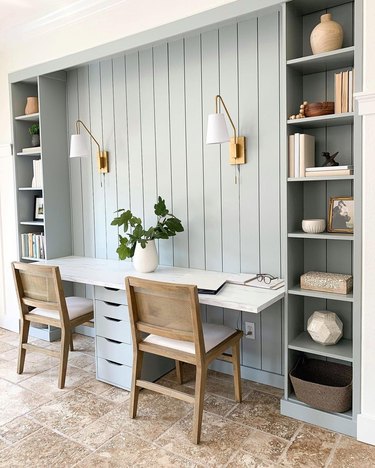 If gray feels too cool for your home office, you can always warm it up a little with the right interior design touches. Here, in this workspace created by Stephanie Jane Cameron, a blueish-gray bookcase with nearby cabinetry are warmed up with brass wall sconces and light wood finishes.
6. Create a backdrop for home decor.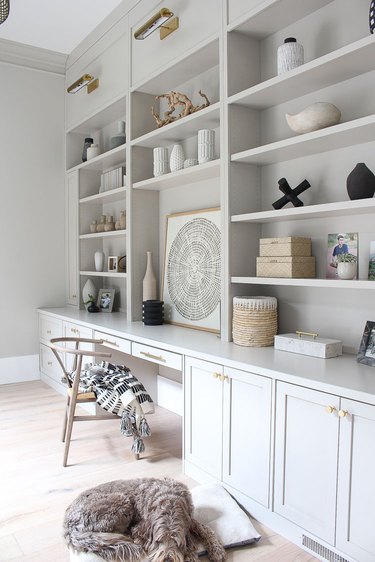 The color gray has this amazing way of going with basically any decor you can dream up, acting as the perfect background for your treasured pieces. For example, these light gray built-ins belonging to Shauna of The House of Silver Lining beautifully show off her collection of objets d'art.
7. Balance dark gray with white.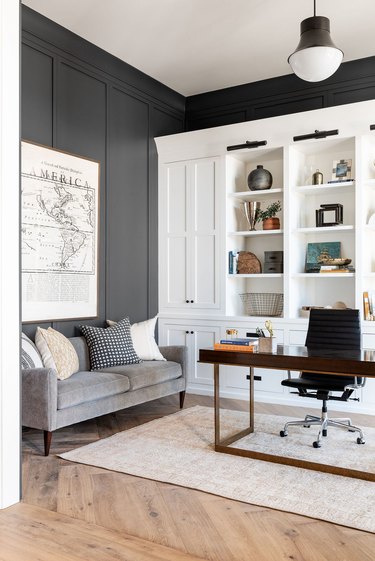 If you're pondering a second color to go with your gray palette, look to white. As the most neutral of neutrals, it has the ability to brighten up any home office design. Even with gray walls and upholstery, white accents successfully lighten and brighten this Studio McGee office.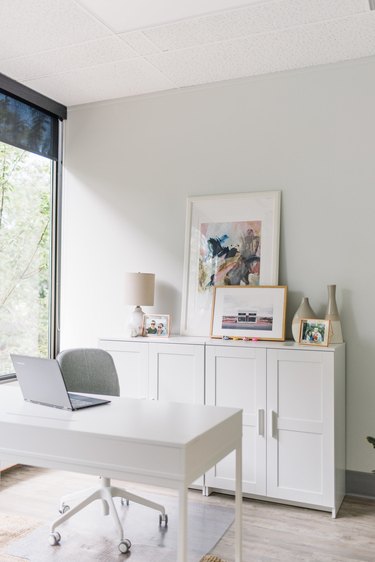 Although dark gray is a hot color right now, you don't have to be trendy in your home office. Instead, go super-soft with your color choice, choosing a shade that looks nearly white. Complete the look by adding delicate accessories, à la this home office by the team at Kresswell Interiors.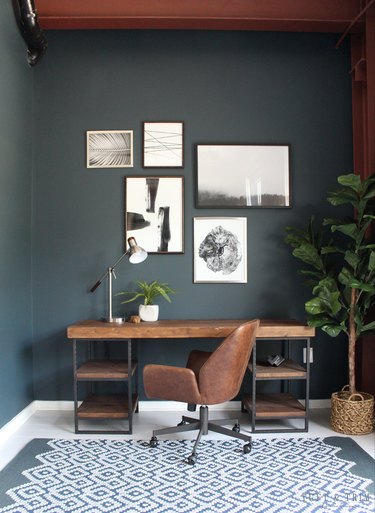 On the opposite side of the spectrum, dark gray — tending toward charcoal or slate — is a great pick for a home office. It gives the room a dramatic, moody feel that looks fab with industrial decor. A rustic desk and well-loved leather chair are ideal add-ons in this workspace styled by Courtney of Tuft & Trim Interior Design.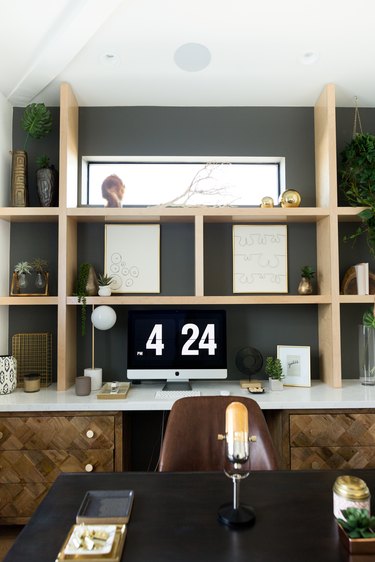 Like we said, ​any​ decor style can go with the color gray, and this home office is proof. The creative duo known as Mr. Kate, used a dark gray hue to set off wood shelving chock-full of bohemian touches, ranging from the tiny vases filled with greenery to ceramic vases to brass baubles. The well-loved wood drawers tie the entire look together.