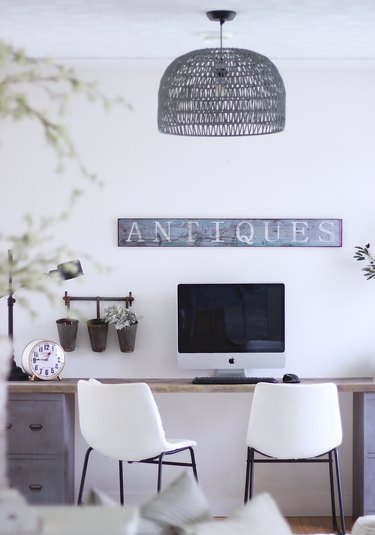 As you peruse flea markets and antique stores, you'll probably start envisioning the farmhouse space of your dreams. And while you envision this idyllic farmhouse interior, we're guessing that a bedroom, living room, or maybe a dining room comes to mind. But we're here to tell you that there's another area of your home that could use an equal dose of farmhouse style: your office.
Even though this is where you get work done, it still needs to reflect your tastes. A farmhouse home office can be accomplished with the help of neutral colors (although, if you need a slight kick of color, blue walls are a great option), a barn door, well-loved wood accents, and of course, vintage farmhouse decor.
Out of all the stylish home office ideas to choose from, we have a special place in our hearts for workspaces with farmhouse flair. Here are eight ideas to help you nail the look.
1. Get creative with small spaces.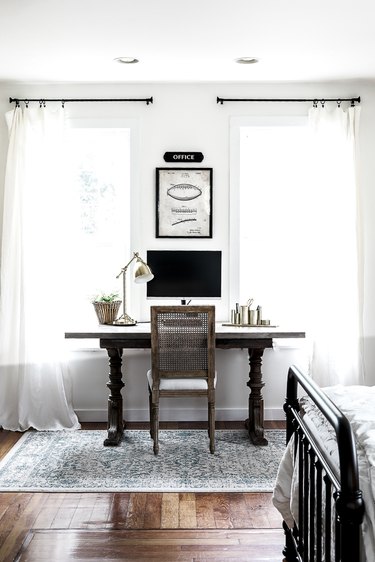 As with any home office design, when you're working with a tight space, you have to get creative. Whether you're intending for a closet, attic, or a part of your bedroom to act as your office, you can still bring in farmhouse charm with carefully chosen accents. Pick a wood desk that's on the small side and pair it with just enough wall art and subtle decor à la this bedroom setup by Sarah of She Holds Dearly.
2. Add warm, personal touches.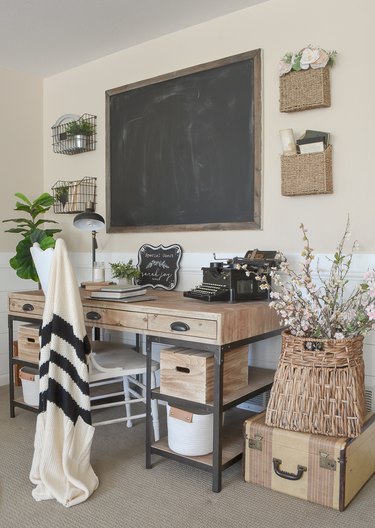 Farmhouse spaces are cozy, welcoming, and perfect opportunities to make your personality shine. Here, Sarah Joy wove in office supplies and home decor that made this workstation her own, like a customized chalkboard sign, a beloved vintage typewriter, a handwoven blanket, and an industrial table lamp.
3. Include eye-pleasing storage.
Functional and farmhouse can go hand-in-hand. Things like a bookcase or a built-in can go a long way in any office, but for a farmhouse design, you'll need to consider the aesthetic you're aiming for. In the case of this space belonging to Ashley of Little Glass Jar, an antique cabinet and wood shelving communicate a rustic look while providing handy storage space to stash essentials.
4. Stick to a neutral color palette.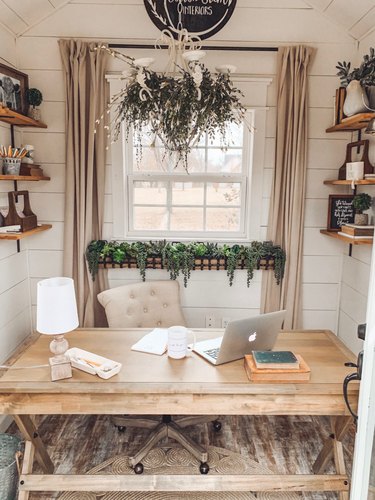 A neutral color scheme is pretty much oxygen in any farmhouse design, including a workspace. Adhere to quiet hues like white, cream, and brown throughout, from the office furniture to the walls covered in shiplap, as witnessed in this space belonging to Erin of Cotton Stem.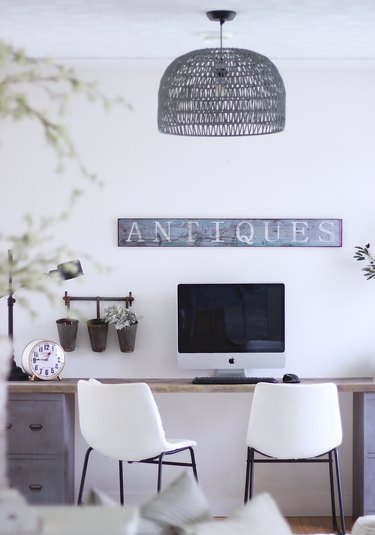 Design ideas for a modern farmhouse office can feel overwhelming, since there's so much good stuff out there. That's why it's wise to have a focal point that will anchor your space. For instance, in this workstation crafted by Jessica Sara Morris, a vintage-style sign is a charming touch that takes center stage, but plays nicely with the chandelier.
6. Proudly display flea market finds.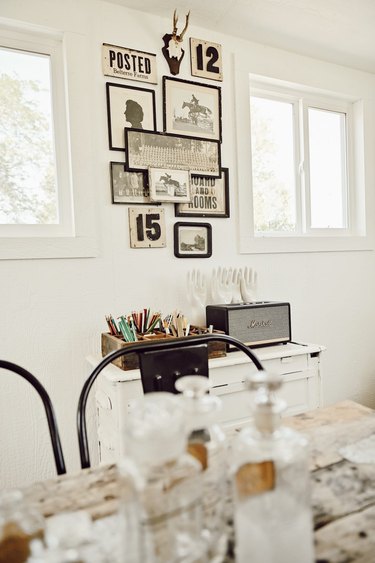 Don't let those flea market scores sit in a box somewhere! Instead, put them on full display in your farmhouse home office. Take a cue from Liz Marie Blog and layer vintage wall art in similar shades along with unique collections to outfit your bygone workstation.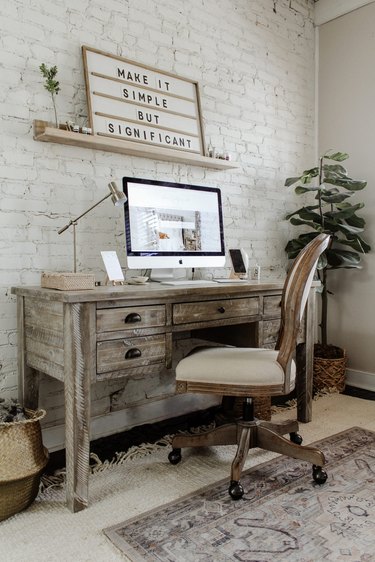 Rustic design and farmhouse decor go together seamlessly, and for good reason. Both approaches embrace timeworn wood finishes, something that you can apply to everything from your farmhouse desk to your swivel desk chair. It's a look we're loving in this office space styled by Meg Leonard Design & Lifestyle Co.
8. Employ a ladder bookshelf.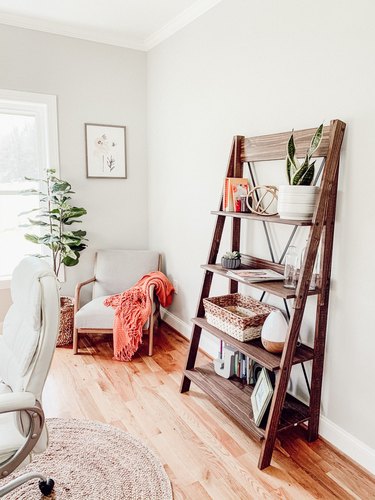 A ladder shelf has become a staple in modern farmhouse spaces, especially when it comes to a home office. It's just the thing for storage and looks delightful to boot, as seen in this workspace belonging to Jessica of Hey Jessica.