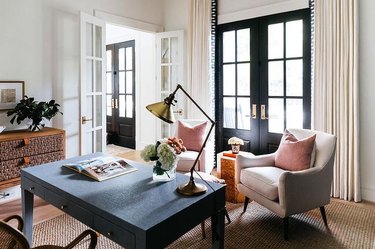 Besides functionality, setting the right tone in your home office is half the battle when it comes to working from home and being productive. Why stick to the same old corporate vibes when you could opt for something modern, minimalist, or even eclectic? There is no shortage of interior design styles to consider, but if a sophisticated and timeless design is more your speed, then a traditional scheme is definitely worth considering.
Traditional style is often defined by classical details and architectural features like crown molding, luxe window treatments that showcase pleating or high-end fabrics, crystal chandeliers, and slipcovered furniture. Sounds dreamy, doesn't it?
Since the time-honored aesthetic has made such a strong comeback over the last few years, these days you'll even see it mixed with other popular styles or trends. Ahead, we're sharing eight traditional home office ideas that perfectly capture the elegant look.
1. Add interest with painted architectural details.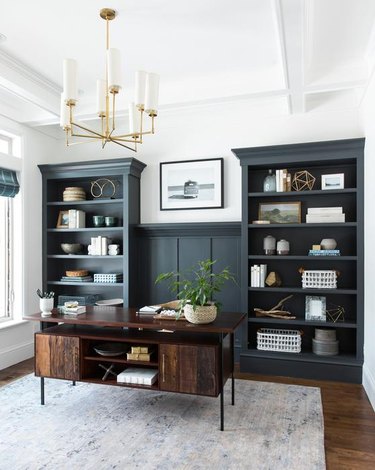 In this traditional home office design by Studio McGee, the built-in bookcases act as the main feature thanks to a moody blue paint color. But the thing that really makes this look so special is the way the bold hue is continued across the board and batten wall paneling, allowing the entire back wall to feel like one collective piece.
2. Incorporate a window seat.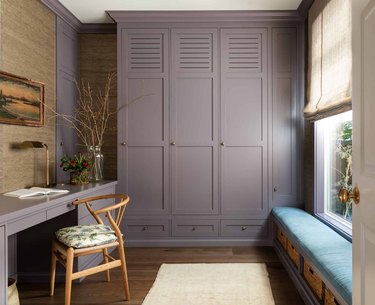 3. Showcase natural wood.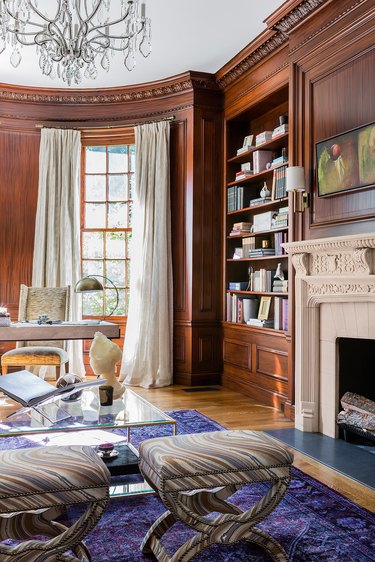 Natural wood may initially conjure images of rustic cabins or cottages, but traditional spaces have been showcasing cherry wood wall paneling and ornate decorative molding for centuries. If you're lucky enough to have a home sporting historic features, like this Boston condo designed by Erin Gates, opt to leave them in their natural state. Complete the look, while infusing color and warmth, with a crystal chandelier, pleated drapery panels, a saturated area rug, and an intricately carved fireplace flanked by wall sconces.
4. Create a cozy sitting area.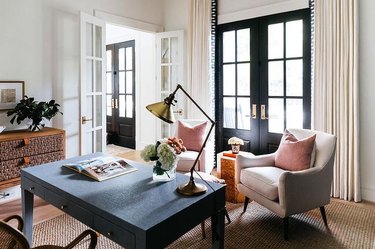 Katie Davis created a conversational seating area that's perfect for meetings, thanks to two comfortable, upholstered armchairs. The addition of chic throw pillows and a small side table makes the space feel extra cozy and inviting — a far cry from cold and corporate meeting rooms!
5. Face your desk toward the window.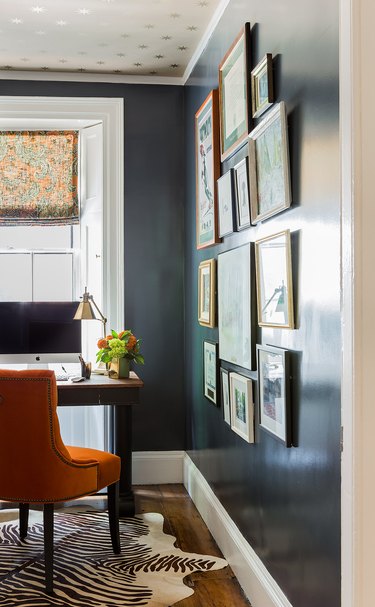 Deciding on the best furniture placement in your home office can be one of the trickiest parts of the design process. Thankfully, this traditional workspace designed by Erin Gates features one of the most foolproof. Positioning your writing desk against a window offers an easy focal-point for the room (while also allowing you to have a great view while you work into the wee hours!).
6. Opt for an oval-shaped desk.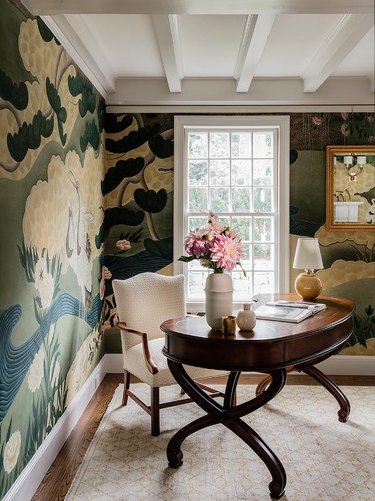 A rectangular desk might be more common, but it's not the only option. The oval-shaped beauty perched in this stunning space designed by Mandarina Studio adds elegant curves to a corner setup. To recreate the look, style your traditional desk with a small lamp and a large vase of fresh or faux flowers on either side. The mural-inspired wallpaper turns white walls into striking works of art.
7. Embrace plaid patterning.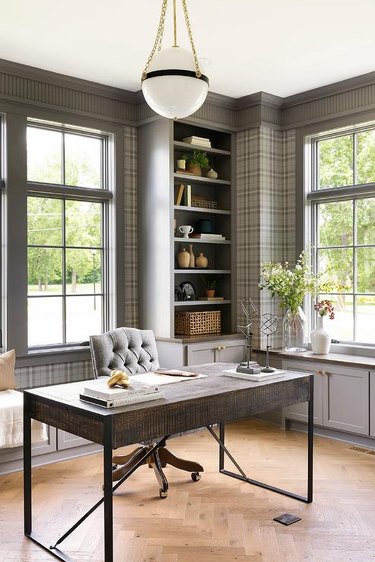 8. Juxtapose traditional pieces with modern accents.
This jaw-dropping space belonging to Danielle Moss is the epitome of a traditional home office design done right. While she mixes in modern pieces, like graphic floor tile and an oversize photograph, the slipcovered desk chair, blue and white ginger jar, and accent lamp all allow the space to exude a timeless appeal.