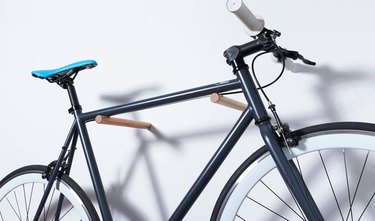 Setting up a garage for success means maximizing every available square inch with smart storage solutions. While your set of tools, the car, and obligatory second fridge each have their designated spot, when it comes to miscellaneous items, like bicycles, things can get a little tricky in terms of placement. Regardless of how many bikes you own, ideally, you want a setup that keeps them contained and out of the way, yet easily accessible at the same time — no one wants to be battling stacks of clutter every time they feel inspired to take a ride.
Parking your two-wheeler in the corner is always an option but not the most effective one, especially if you don't have a lot of room to begin with. Given the limited amount of floor space garages have to offer, opting for a wall- or ceiling-mounted approach might be the best way to go. Ahead, you'll find six clever bike storage solutions that are both practical and stylish.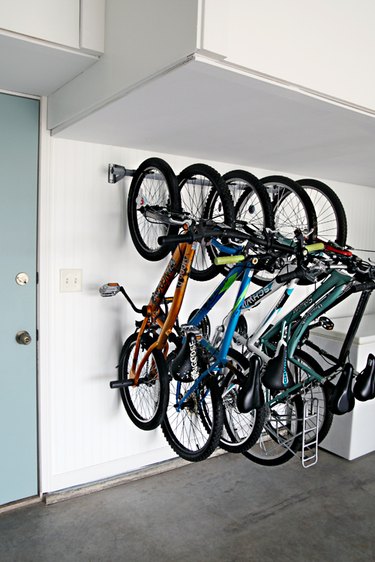 Jen of IHeart Organizing repurposed an existing storage rack, previously used for her tools, by installing an updated hook system sourced from Garage Rack Storage. The end result not only freed up valuable floor space, but managed to keep five bicycles stowed in style.
2. An Innovative Pulley System
This clever device from Delta Cycle involves a streamlined pulley system that can hold up to 50 pounds of weight and promises to free up ample floor space in your garage. Position the rack away from the mechanical door and near the wall for a safe and clean look.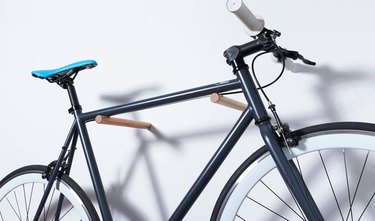 If you're going for a totally modern minimalist look — read: no clunky contraptions — these wood pegs by Etsy seller Loma Living are primed to get the job done. Available in maple, oak, mahogany, or walnut, the hooks are coated with a clear finish to preserve the wood, and screws are included so you can securely anchor them to the wall.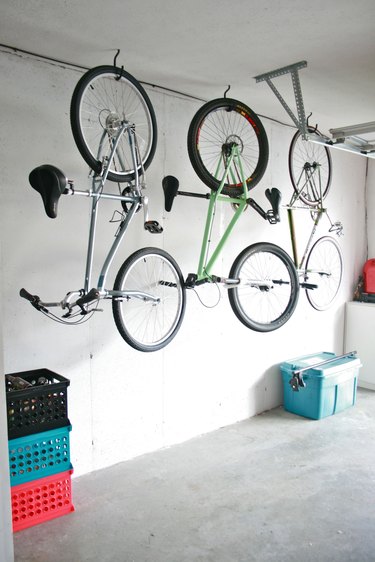 Dream Green DIY's ultra-simple, and budget-friendly bike storage solution is hard to beat. The creative blogger bought a set of heavy-duty, rubber-coated hooks (at just under $2 each!) and secured them to a stud in the ceiling to ensure that it could hold the weight of a bicycle. The set of three minimalist hooks holds a trio of bikes, each by the wheel, resulting in a totally streamlined effect.
Any sort of garage storage and organization that comes in a vibrant or unexpected hue is a win in our books. Cue these modern vertical bicycle hooks from Cycloc that look just as good when in use as they do off-duty. Not only do they feature a discreet fold-flat build, but they also come with front and back wheel pads to protect your walls.
6. A Simple Wall-Mounted Hook
Professional organizer Sam of Simply Organized tackled a massive decluttering project in this garage with an all-encompassing utility unit, courtesy of The Container Store's iconic Elfa system. Included amongst the linear shelves and lidded containers is an equally sleek bike storage rack, which easily mounts to the wall with a cushioned, no-slip hook that can hold up to a 50-pound load.