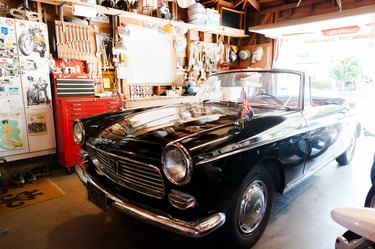 The typical garage has plenty to do. In addition to its primary function of housing your car or cars, it often must provide a home for: other vehicles, like bicycles or motorcycles; sports equipment; lawncare and garden tools; workshops and tools; and overflow storage for the numerous items that do not have another place to live. It can get out of control in a hurry, and good organization is crucial.
The best way to manage your garage storage is to approach the space with a plan and the right tools. Create a storage infrastructure that can handle your needs, and you will end up with a garage that is cleaner and more efficient, not a jumble of tricks and hacks and ad hoc solutions that deal with just a single item at a time.
As you examine your garage and the available products and projects you can apply to tame the space, you will find that there are around a dozen areas of interest and types of tool to focus upon. It is a fairly reasoned approach, but if you can solve some or even most of them, your garage will be a neater, more useful part of your home.
Draw maps, make lists of both what you ​​need​​ your garage to do for you and what you would ​​like​​ it to do. Read, research, visit stores. Be proactive and think big picture, rather than just being reactive as each individual need arises.
It is relatively easy to move things around, but if you want to set up a workshop, garden workstation, welding bench, or other task-oriented space in your garage it is smart to start there. Places where you will be doing an activity have space, lighting and storage needs that should be prioritized. If space is very tight, you may be able to use drop-down, fold-up or otherwise convertible workstations and activity centers: There are many on the market or you can design your own.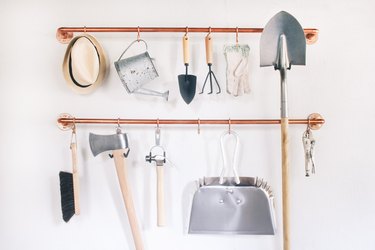 Some garages have very little space for shelving while others can accommodate quite a lot. If you have a double garage and two cars, you will find the wall space for shelving to be somewhat limited. But even in these instances you can usually squeeze in a shelf or two above head level but below the ceiling. This can make for tricky or awkward access, so avoid storing heavy or frequently used items on your high shelves. If you have the floorspace, a sturdy freestanding shelving unit is a good choice for strength as well as accessibility.
4. Look to Overdoor Storage
Garage doors and passage doors present a storage opportunity that most garage owners do not take advantage of. Shelving over a door can be attached to the wall studs or to the ceiling. Make sure to maintain plenty of clearance between storage units and the door or the garage door opener. Most home centers sell storage systems designed to fit into these spaces, or you can make your own from scratch. Don't forget about the passage door: These can easily be outfitted with a wall-mounted shelf above the head casing that can hold items you may need quick access to, such as flashlights or spare door openers or even keys.
5. Consider Lumber Storage
If you do any carpentry or woodworking, you will inevitably have some spare boards lying around that need an out-of-the-way storage space. Or perhaps it is a few spare sections of gutter or siding. Look up toward the garage rafters when it is time to consider a lumber rack. You can hang rope or wire or create a couple of U-shaped wood hangers that can be attached to the rafters in a parallel line to create a hanging rack for these items. One clever trick to consider is to attach two aligned sections of lattice to the rafters and feed thinner stick, like trim moldings, through the aligned lattice holes.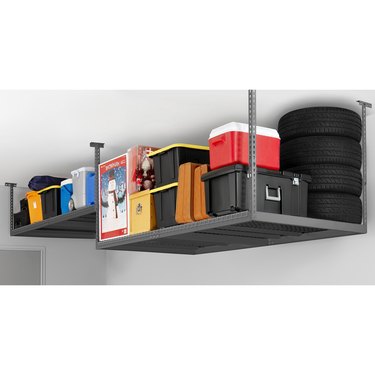 6. Look to Ceiling-Mounted Storage
Some of the more innovative garage storage products can transform wasted space at the upper levels of your garage. As with other systems, this does create some access issues since you will usually need a ladder to get at the storage space. Some systems, however, can be raised or lowered manually with cables and pulleys to make them easier to reach. Corners of your garage ceiling space are particularly amenable to a ceiling-hung storage unit.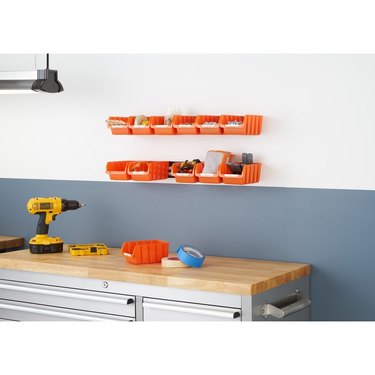 7. Hang Open Storage Bins
Not everything requiring storage is big. Make sure to consider the organizational aspects of storage when you plan your garage storage layout. Small, open bins that attach to a mounting track are very valuable storage features. Locate them near any workstations you may have for the best access and to take advantage of task lighting when you are searching in the bins.
Small parts, such as nails and screws for carpentry projects, demand organization so you can find what you are looking for without digging through hundreds of other fasteners first. With its slide-out drawers, a bin organizer is the answer to your small parts needs. Some are freestanding and can be moved around from project to project if needed, while others may be hung within a wall storage system.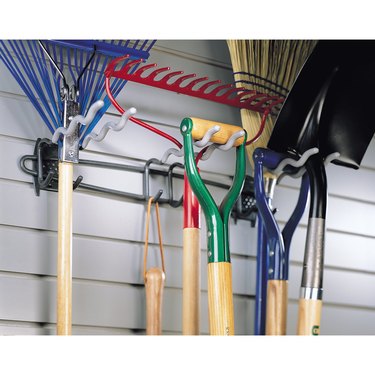 9. Find Wall-Hung Solutions for Long-handled Tools
Rakes, shovels, hoes and other long handled tools are the bane of most garages, but there is nowhere else to put them in many cases. The key to managing these gangly and dangerous items is to find a dedicated spot and a storage strategy that can accommodate many different lengths and head shapes or sizes. If you have access, a wall-mounted rack for your long-handled tools is probably the best solution. Lined up along a wall they are easy to find and out of the way.
10. Add Freestanding Solutions for Long-handled Tools
If you do not have wall space for storing your long-handled tools, the next-best solution is a freestanding, bin-style tool holder. At least this solution keeps your long-handled tools grouped and, while it can be more cumbersome than a wall-mounted solution, you can still find the tools pretty easily and you will not trip over them.
11. Consider Rolling Storage
Even the most ingenious garage storage plan will still need to be flexible. Perhaps you are having a graduation party in the garage, or storing a friend's motorcycle for the winter. In any case, some portable storage units will make the job of moving things around to meet your needs much less onerous. A sturdy, rolling shelf unit can be a lifesaver in some situations. The best ones for garage use have locking wheels.
And finally, there is pegboard. A classic feature in just about every garage or basement for generations, you cannot go wrong with this versatile wall panel. And today, manufacturers have come up with an amazing assortment of hangers and accessories designed to be used with pegboard. A couple of tips: If you are hanging pegboard, you'll need to attach a frame behind it (1 x 2 is a good choice) so the pegboard clears the wall enough for the hooks to fit into the holes. And, when you are buying your pegboard, choose tempered pegboard. It is darker in color, but much more durable.