If you really want a workshop but really don't have much space, you may be asking yourself whether a shop is even possible. Well, take heart. There are plenty of space-starved homeowners (and renters) out there who have carved out a usable workshop in tiny, sometimes unlikely, spaces. You may not have room for large power tools or leftover lumber, but if you're resourceful and stick to the essentials, you'll have a workspace to call your own (even if you're the only one who can fit in it).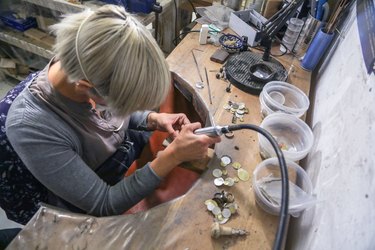 Think Small
The first task when setting up a small home workshop is determining the location. Since you probably don't have the obvious options, like an extra garage bay or an unfinished basement, you'll have to start by thinking small. Do you have access to a crawlspace or an attic? For a lot of projects and hobbies, headroom is not a major requirement. In other words, if you can sit down and do your work, you don't need a 7-foot-tall space for a workshop. Even a tall person on a low chair or stool can work in a crawlspace that's only 4 1/2 feet or so. And lots of attic spaces are taller than this, at least in the center area.
Another way to think small is to set up a space that serves double duty. If you need your garage space for parking a car, you can still set up a workshop along a wall next to or in front of the car (complete with a fold-up bench), then pull out the car when it's time for a workshop project.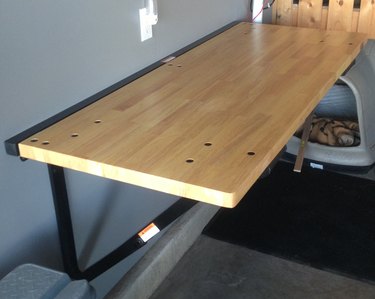 Clever renters or owners of one-bedroom apartments have even set up workshops in their bedrooms. For example, if you have a corner devoted to a computer desk and printer, perhaps you can extend it with a built-in table that runs along one wall, and maybe makes a return at a corner.
Storage Strategy
A place for everything, and everything in its place. Make this old saying your new mantra. The biggest enemy of the small-space workshop is clutter. If you can't find a permanent place for an item, you might just have to live without it, or store it elsewhere. Don't resign yourself to "storing" tools or materials on your work surface and moving them when you need to work. The extra items will add up and quickly take over.
Finding hidden storage space often is a matter of looking all around you: what can go overhead, under a bench, on high shelves or low shelves, or in stackable bins or pull-out tubs or drawers? (Tip: old filing cabinets make great workshop storage units.) In unfinished spaces, the cavities between wall studs and ceiling joists can hold long, skinny items, such as long-handled tools, clamps or boards and trim. The same spaces can hold shallow shelves that stop flush with the framing, so there's no loss of room area.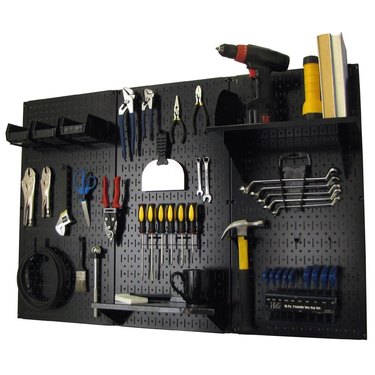 Walls and the insides of doors are particularly good places for small-tool storage, because the tools don't take up much depth and you can arrange everything out in front of you. Pegboard works well for this. If you don't have a lot of wall space, you can build a shallow tool cabinet with pegboard on the back interior as well as on both sides of the doors themselves so tools can hang from all of the surfaces.
Workshop Layout
Small-space workshops usually want for floor space, so it makes sense to arrange as much as possible along one wall and to take advantage of corners when available. If you have room for a dedicated workbench, you can make full use of the space underneath it for tool or supplies storage or for parking rolling tool carts or bins. If you don't have room for a permanent bench, make a swing-up (or swing-down) bench that hinges from the wall and has fold-up legs.
Another option is a portable fold-up bench made with a pair of folding sawhorses mounted to an old door or slab of plywood. The advantage of this setup is that you can take it outside for cutting large sheets of material or simply to work outdoors when weather permits. In any case, some type of work surface is essential. Without it, your workshop is little more than a place to keep tools.
Rolling equipment and storage adds flexibility and is a key component of many small shops. Woodworkers' shops that otherwise wouldn't have room for a stationary table saw or bandsaw can include these tools thanks to lockable casters added to the original tool bases. As for tool tables such as infeed and outfeed tables, this is another opportunity for double-duty use. By placing a portable table saw on a custom shelf at one end of your workbench—so the saw's table is flush with the bench top—you can use the bench surface as an outfeed table.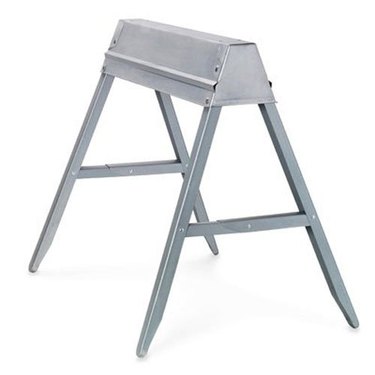 Sturdy rolling carts with worksurface tops make great movable workbenches and tool caddies. You can build one as sort of a heavy-duty version of a kitchen island (using old kitchen cabinets) or by repurposing an old dresser or office desk.
Essential Tools for Very Small Shops
If space is so limited that you need to be selective about hand tools and portable power tools, stick with the equipment you'll use most often, and borrow or rent additional tools as needed. Tool needs are specific to the type of work being done, but for general household repair and maintenance projects, here are the most likely essential hand tools:
Tape measure

Level

Hammer
Slip-joint pliers

Needlenose pliers

Utility knife

Framing square

Phillips screwdrivers (#1, #2, #3)

Slotted screwdrivers (a few sizes)

Adjustable wrench

Socket wrench set (standard and metric)

Allen wrench sets (standard and metric)

Putty knife

Flat pry bar

Wood chisels (a few sizes)

Wire strippers

Non-contact voltage tester

Clamps

Extension cord

Safety glasses or goggles

Ear protection

As for power tools, a drill-driver is essential for drilling holes and driving screws and can be employed as a grinder, sander or buffer/polisher with specialty attachments. If you buy one power saw, you'll probably get the most use out of a jigsaw with an assortment of blades for wood, metal, plastics and any other specific materials you'd like to cut.
Environmental Factors
Controlling dust and providing ventilation are particularly critical in small workspaces, which tend to be overwhelmed by sawdust and fumes in no time. If you plan work with wood, consider a dust removal system. There are compact kits that hook up to a shop vacuum and can pull dust right from the tool as you work.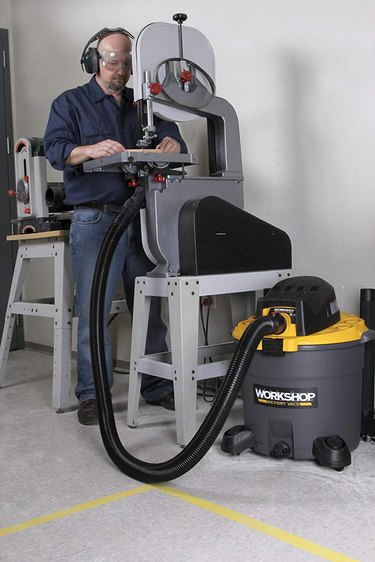 Ventilation is important for shops that get dusty or filled with fumes from drying finishes or cleaning solvents. A box fan or permanently mounted fan in a window is the easiest way to suck polluted air out of the space while pulling fresh air in through another opening. But if there's no window, consider installing a large-capacity bathroom vent fan that is ducted to the outdoors. A good fan moves a lot of air in a small space and is more effective than an open window or door by itself. When you're using a fan, make sure to open a door or window to allow fresh air into the workshop.
And don't forget to give yourself plenty of light in your small shop, not only to help you see what you're doing but also to counteract the cramped feeling of a small space. It's also helpful to paint the walls and ceiling white or another light color to brighten the space and make it feel larger than it really is, so you won't feel like your working in a closet or a cave.