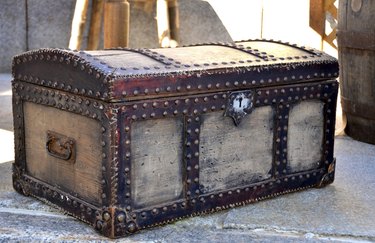 While a dresser tends to be the most common choice for clothing storage in the bedroom, it may not always be the best selection. Whether it's a matter of space or a matter of your preferred aesthetics, it's always good to have some options when putting together a comfortable and functional room.
Under the Bed
When you have a small room, every inch of usable space counts. Using the space under the bed is a smart idea, and many beds are made with this thought in mind. Built-in drawers under the bed eliminate the need for a separate dresser. Beds with built-in storage come in all sizes and typically feature drawers on each side and sometimes at the foot of the bed. A less stylish but still functional under-bed storage option is a plastic bin on wheels, designed to easily roll in and out.
In the Closet
Closet organizers come in many designs and often feature built-in drawers and cabinets. You can also find closet organizers with coordinating colors and patterns.These systems not only save space, they create a pleasing aesthetic and can eliminate the need for closet doors. Choose a system that works with the size and design of your closet and fits within your budget. If you need more help, some companies even offer professional design and installation services.
Alternative Furniture
You might prefer the look of something more elegant or distinctive than a dresser, such as an armoire or wardrobe. These tall, stately pieces of furniture typically contain an upper cabinet and a set of drawers underneath. Trunks and chests are other bedroom storage options, and can provide a vintage, antique or eclectic look depending on the style. Vintage suitcases are also an option. Sometimes trunks and chests come in matching sets, or use a combination of each type. Cedar chests have natural essential oils that repel pests such as adult moths and carpet beetles, helping to keep your clothing safe. If the aroma starts to fade, sand the interior or mist the wood with some cedar spray.
Against the Wall
Get creative by designing your own bedroom storage system using other types of furniture or items you might already have, such as a bookcase. If you like the look of organic texture, use wicker and sea grass baskets as storage bins and cover the back walls or the top and sides of the bookcase with grasscloth wallpaper. For something more colorful, paint the bookcase and cover shoeboxes or cardboard filing boxes with contact paper, heavy wrapping paper or decorative fabric. Coordinate colors and patterns with the other decor in your room.
---
Michelle Radcliff owned a retail home furnishings business for eight years. Radcliff offers decorating advice on her blog, Home Decorating News, is a regular contributor on interior design at LoveToKnow.com and earned certification as an interior decorator from Penn Foster College in 2013.