Storing your clothes can be a cumbersome task if you live in a small apartment with limited closet space. It can also prove to be difficult if you're simply a lover of fashion and have a large collection of clothing and accessories. If you find yourself in need of some extra storage, a wardrobe, armoire or chifferobe may be the answer to your problems.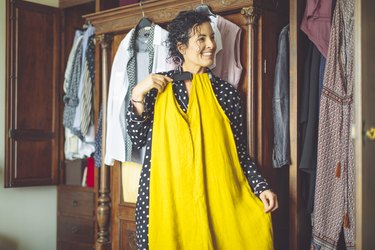 The key to selecting the right piece of furniture is knowing what exactly you plan to store inside and the size you'll need. While an armoire and a chifferobe ultimately have the same goal of storing items, their differences may lead you to prefer one of them over the other.
Wardrobe vs. Closet
The ultimate battle of clothing or item storage is wardrobe vs. closet. A closet, while usually much larger, offers certain restrictions such as location. You can't move the closet if its location in the room is impractical. The room needs to be set up around the closet, allowing easy accessibility and space around its entryway. It's also difficult and in some cases like rental apartments not an option to construct a closet as an add-on option.
On the other hand, a wardrobe can be moved around the room and placed wherever you deem fit. It's a great space filler if you happen to have a lot of space in a room while also offering extra storage if needed. The only downside is its limitations when it comes to storage space due to its much smaller size when compared to a closet. What it lacks in space can be made up in its variety of styles. It offers options such as an armoire or a chifferobe depending on what type of storage you need it for.
What is an Armoire?
Armoires became popular for clothing storage after the 17th century. Prior to this, they were referred to by the French term "armorie" because this is where weapons were often stored. While still under the wardrobe category, an armoire can be moved around the room to your discretion. It can be easily added to a room if you find yourself lacking closet space and needing a little extra storage to prevent some of your more precious items from being crammed into a closet.
An armoire is very similar to a closet in the sense of how the space is usually managed. A closet typically has rods for hanging clothing and sometimes one top shelf above the rod for any items you wish to lay flat. An armoire is similar to this in the sense that behind its two front doors are a series of rods for hanging clothing only.
What is a Chifferobe?
A chifferobe, also spelled chifforobe or chiffarobe, offers more versatility to your storage needs while keeping the option to move the piece of furniture around as desired. Unlike the restrictive armoire that only allows you to hang your clothes, a chifferobe offers a series of drawers and shelves as well as a side reserved for hanging clothing. This makes it the ideal piece of furniture for rooms without any storage space at all, which can often be the case in apartments or offices.
The term chifferobe comes from a combination of wardrobe and chiffonier. A wardrobe, as previously described, is a moveable closet with a series of drawers, shelves or bars used to store clothing. On the other hand, a chiffonier is a piece of furniture with a series of drawers either beside one another or stacked one atop another with a mirror on its surface. A chifferobe has adopted the best storage options from both of these pieces to give us its diverse storage.