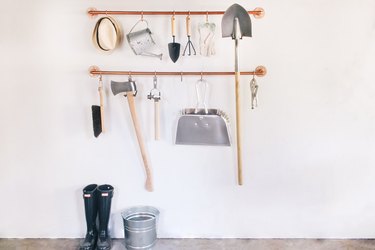 Garages can serve a multitude of purposes. Sure, they're earmarked for cars but the added square footage always makes them an enticing zone for extra storage. It also doubles as a dumping ground for holiday decorations, old furniture, toys, you name it. Naturally, integrating an organizational system can be the difference between a cluttered area you can barely fit a car into and a streamlined zone that comfortably houses all of the odds and ends that you've accumulated over the years.
Having dedicated garage storage and organization is half the battle — getting the family to stick to it is the other. Cue this easy DIY from Tidbits, which entails a cabinet outfitted with all of the essentials for keeping staples in check. Labeled pull-out bins mean no more excuses for misplaced items while bungee cords looped around a set of dowels help contain balls and toys in their respective areas.
2. Create a drop-off zone.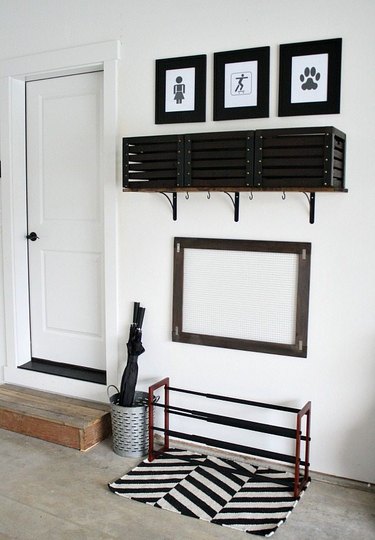 Taryn Whiteaker transformed a lone corner of her garage into a certifiable mudroom courtesy of a little DIY project. The blogger paired a wall-mounted shelf with a set of milk crates to store hats, gloves, etc. She then completed the look by adding hooks (perfect for hanging backpacks and scarves) below the shelf and a stylish shoe rack.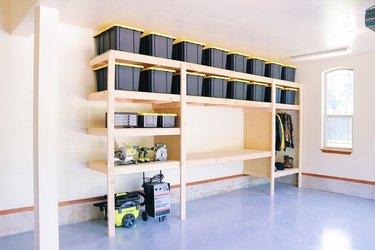 If you're looking for an all-encompassing DIY garage organization idea, Modern Builds has the ultimate solution: custom-built shelving. The four-tier unit is open and provides ample space, with assorted opportunities for holding everything from bulky containers and power tools to outdoor gear and generators.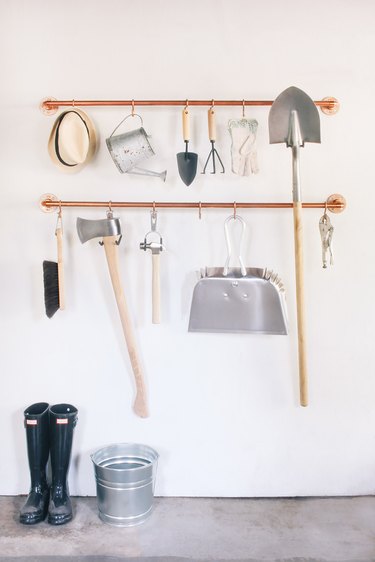 Not all garage storage and organization ideas need to entail plywood and pegboards. Cue this clever DIY by Trisha Sprouse, which uses a sleek set of copper pipes and matching S-hooks to deliver a handy hanging system for tools, accessories, and any other gear that comes your way.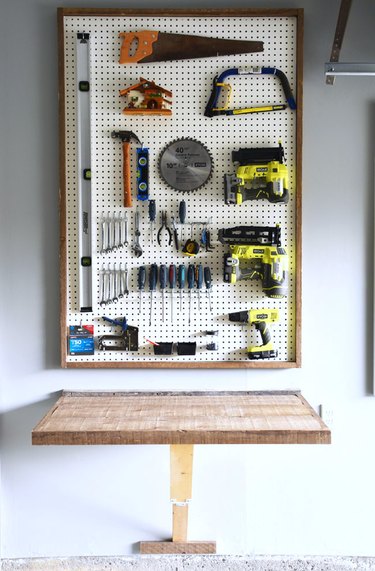 Pegboards are as versatile a solution as any when it comes to garage storage and organization. Joann of Woman In Real Life installed one in her space to stash an assortment of tools — she even framed the pegboard so it would have a finished look. Below, the creative added a workbench, which can be folded down when not in use.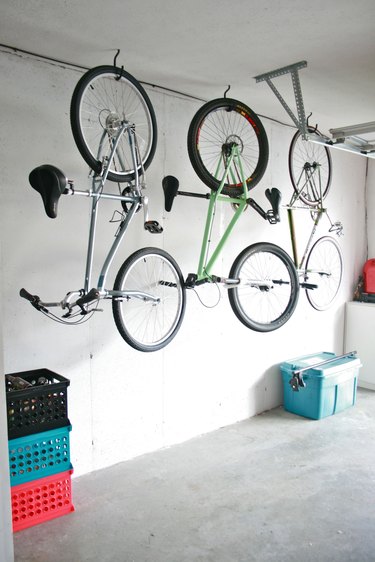 Bicycles can take up a lot of floor space in a garage, especially when you have an entire arsenal. Instead of giving up valuable square footage, follow Dream Green DIY's lead and take to the ceilings with this easy hack. Secure a heavy-duty hook to a stud and use that to hang your bike up and out of the way.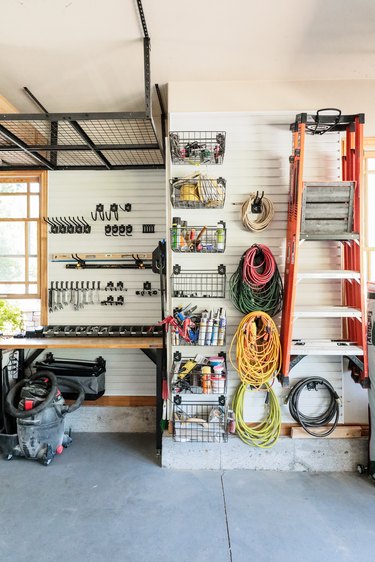 This setup by Chris Loves Julia is pure goals when it comes to garage storage and organization. By installing GearWall panels, the couple was able to transform their walls with purpose, effectively maximizing the amount of excess space they had. From there, they added a series of hooks (some that even held up wire baskets!) to contain everything from bulky wires to ladders and more.
If your garage functions as a space for outdoor storage, too, that can make things a little tricky. Finding a viable spot to store garden and landscaping tools is a tough job, but luckily, the bright minds behind Newly Woodwards have just what you need. Using cut PVC pipes attached to wooden boards, the creatives were able to fashion a sturdy landing spot for shovels and rakes, without taking up any floor space at all.