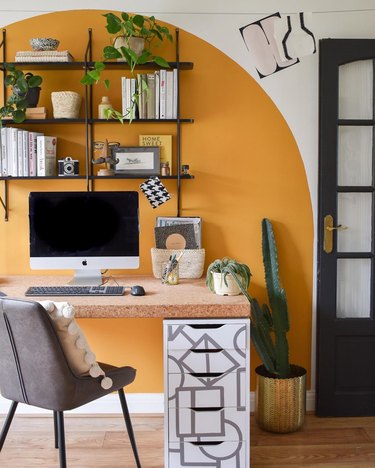 Looking for home office ideas on a budget? We bet you are! As home becomes the new place for meetings, phone calls, and everything else work-related, it's important that you get your remote space right. We've already covered how to refresh your work zone for under $500, but here are some bonus tips that are both affordable and decor-enhancing.
Don't delay, here are our recommendations for creating a home office that won't empty your wallet.
1. Create a feature with paint.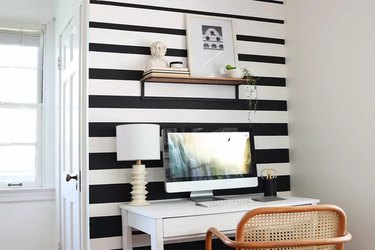 2. Upcycle your existing furniture.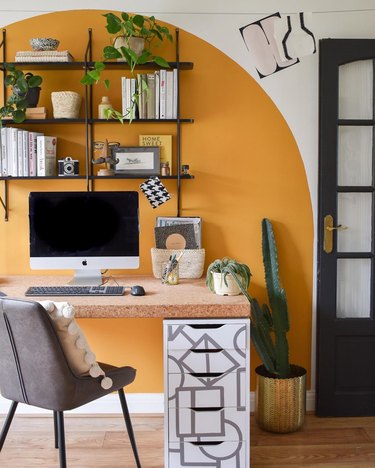 If you're bored with your existing office furniture, think about how you can give it a refresh that won't break the bank. Medina Grillo of Grillo Designs used geometric contact paper to upcycle these IKEA drawers. But who would've guessed they were a DIY? Try something similar with a piece of your own furniture that could use a new lease on life.
3. Use removable wallpaper.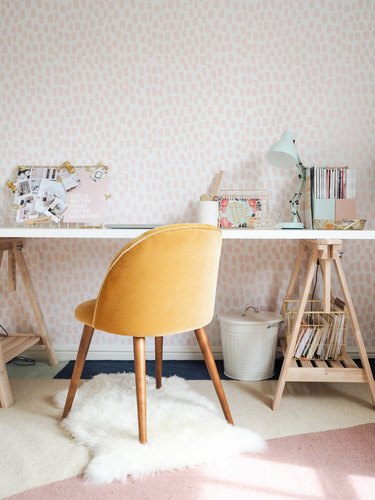 To quickly and affordably bring personality to your remote work zone, you can add vibrant wallpaper. And guess what? It doesn't need to be permanent. Victoria of Apartment Number 4 updated her home office with a pink, patterned option that can be peeled off when she moves out. It's an easy fix that makes all the difference.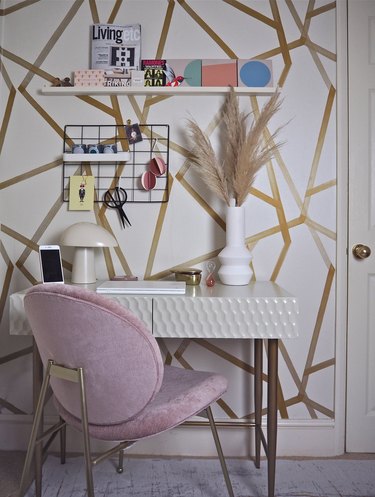 Creating a home office on a budget requires you to get creative and work with what you've got. Before settling on a design, shop your own home for lamps, vases, chairs, and art – anything that will make your work area feel a bit more personal. Melanie Lissack nailed her small home office by combining cute decor with practical pieces that hold inspirational messages and store stationery.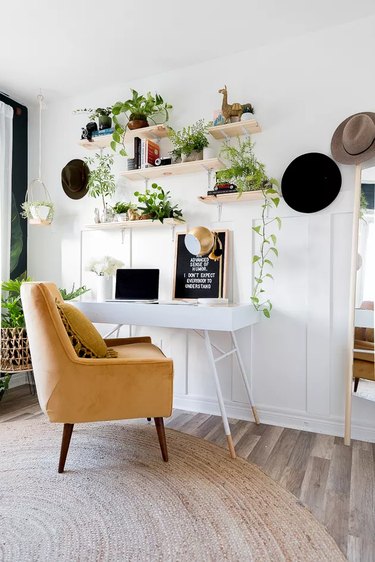 Open shelving will be an easy, budget addition to any home office, especially because it's so easy to customize. This boho work area by Lucy of Craftberry Bush features wall shelves, hanging planters, and a greenery stand. Plus, everything was handmade. Fill your shelves with plants and items that show off your personality, too.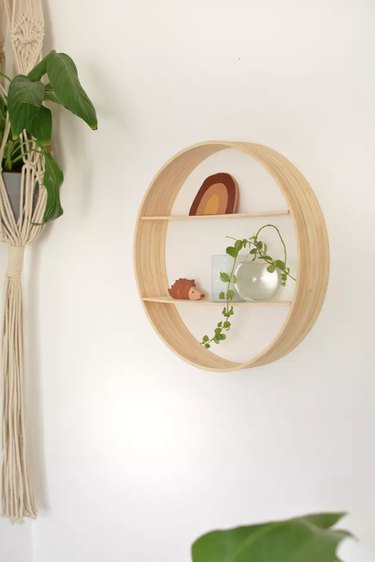 Going the DIY route is normally a less expensive way to bring something beautiful to your home. So before you buy, consider recreating some of your favorite furniture items. We saw this sort of round shelving unit all over our Pinterest feeds before Hunker contributor Caroline Burke showed us how to make one of our own. If you're looking for a stylish shelving project for your budget home office, this could be the one!
7. Pin up your inspiration.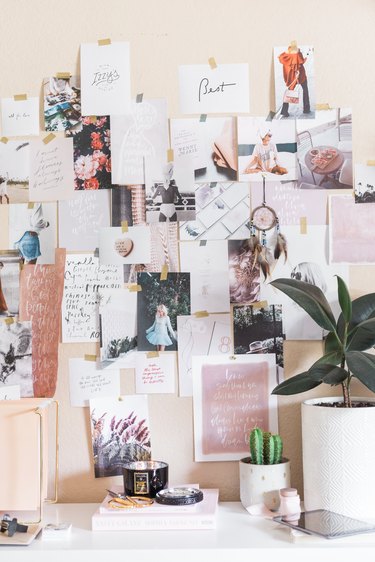 Sometimes, home decor is free! Pinning postcards to a memo board or simply taping up pages from a magazine with washi tape can make all the difference to the overall look of your office. Time to make like Lauren of A Fabulous Fete, and get to work on the inspiration hunt!
8. Think about the finishing touches.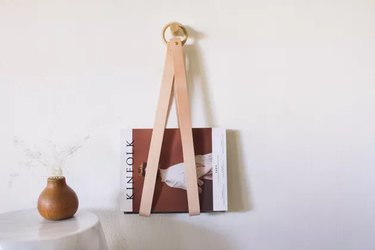 Before you take to your magazine with scissors, you might consider using it as a standalone piece of decor. Say goodbye to those dreaded stacks that pile up on the office floor with this DIY leather and wood magazine holder. It will keep your collection, or your mail, looking stylish.