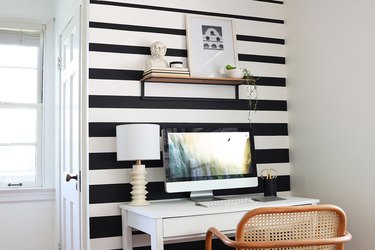 We all have that one place at home where we store miscellaneous office supplies (it's amazing how many pens one person can accidentally collect), books received as gifts but never read, and a printer that barely works but you keep just in case.
In other words, it has more of a junk-drawer vibe than a creativity-sparking ambience. If that sounds like you, you'll relate to Trisha Sprouse, DIY content producer, who was feeling uninspired by her sparse (but probably pen-laden), all-white office nook, so she decided to give it a work-from-home tune-up.
And what's the number-one way to add creative juice to a space? Color, of course, which is why Sprouse ordered a painting kit from Behr®️ Express — complete with everything you need for your next painting project, delivered.
This five-piece painting kit includes a metal tray, tray liner, roller frame, shed-resistant 3/8-inch nap roller cover, and a two-inch thin angled sash nylon and polyester brush to help transform her designated office area into somewhere she'd actually enjoy working for eight hours a day.
"It was such a no-hassle experience to pick the paint colors right from the Behr Express website, and have everything shipped right to my door," Sprouse says. "The products were of such high quality that it made the application process easy, and the end results super impressive." Convenient and high-quality? That's our kind of DIY project.
Want to find out which must-have elements Sprouse included in her productivity corner? Watch the video below for the step-by-step process that left her with a new favorite room (read: corner) of her house.