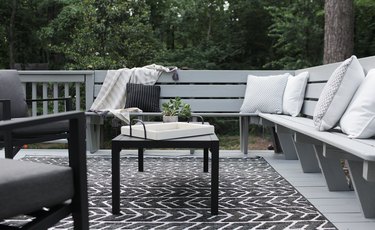 We all have a favorite space in our home. Whether that's a cozy reading nook, a beautiful bedroom, or a minimalist kitchen depends on your taste, but regardless of your personal style, you want the room where you spend the most time to be as aesthetically pleasing as possible.
In DIYer Mary-Kate Morookian's home, that space is her backyard deck. But, as a result of all the time spent al fresco with her family, the weathered deck was in need of a refresh.
"We love our deck," Morookian says. "It's one of the reasons we got the house. We've been wanting to do this project for a long time and putting it off, but this summer we decided: we have to do it."
"We wanted something that would protect the deck from the sun and the rain over the years, and we wanted to make sure we chose a color that was light and bright, but still felt natural," Marookian says.
To find out how she carried out the project from start to finish, tune into the video below.