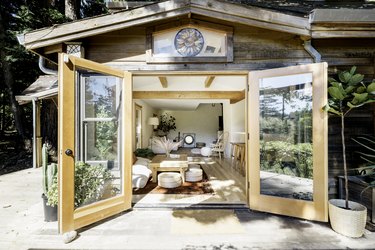 For designer Eva Holbrook and her partner, Jamie Williams, their cabin in the Santa Cruz mountains is more than a spot to escape the bustle of San Francisco — it's a place to commune with nature and heal. Holbrook sees the home as "an opportunity to disconnect from civilization, breathe in the fresh air, and rejuvenate on a cellular level." The cabin's setting, surrounded by old growth redwoods, tan oaks, and Douglas firs, inspired the relaxed design. "We wanted to promote grounding by using as many handmade, reclaimed, sustainable, and found objects/materials as possible," says Holbrook.
The house had a lot to love from the get-go, including wood beams and skylights, so they focused on updating the bathrooms and floors. The designer infused the interiors with soft neutral hues and earth tones to create a calming atmosphere and added soft textures, such as knit throws, sheepskins, and vintage rugs, for coziness. They transformed the outdoor area into an onsen-inspired sanctuary (an onsen is the Japanese term for a hot spring) with a redwood deck, cedar hot tub and sauna, outdoor shower, and plunge pool.
While they've turned the cabin into an oasis, Holbrook says they see themselves as caretakers of the property rather than owners. "Technically we own this land recognized by the systems we live in as a society, but really we are just protecting and tending to this little part of the earth with love and care from the heart."