Who: Kristine Claghorn
Where: Silver Lake, Los Angeles, California
Style: Mix of 1920s and midcentury charm
When Kristine Claghorn and her partner, Mark, moved into their apartment on a sweltering mid-August day, the power had been turned off. "We were grateful for the free full-body detox that provided us a fresh start in our new sauna/apartment!" she joked. The creative producer wasn't fazed; she's an expert at seeing the potential in raw materials and bare bones of spaces and objects, transforming them into something gorgeous and functional.
"The place itself was nearly perfect, with a few maintenance projects still in repair — the white walls, natural wood trim, built-ins everywhere, and 1920s charm was immediately irresistible." The apartment had been passed down from friends who had left behind souvenirs, uniquely folded blinds, and terra-cotta stone breeze blocks that imbued the space with a sense of familiarity and home.
As a multifaceted creative and artist, Kristine (better known as Claggie) envisioned a space that evoked both minimalism and sentimental touches without it feeling too cluttered. "You'll find plenty of artifacts around the house, whether it's rocks from a hike spotting our shelves, ceramics I've collected over the years, or personal artwork."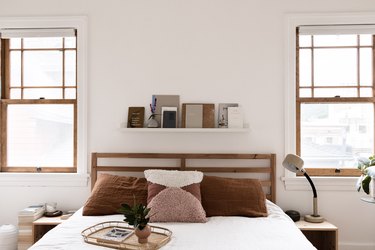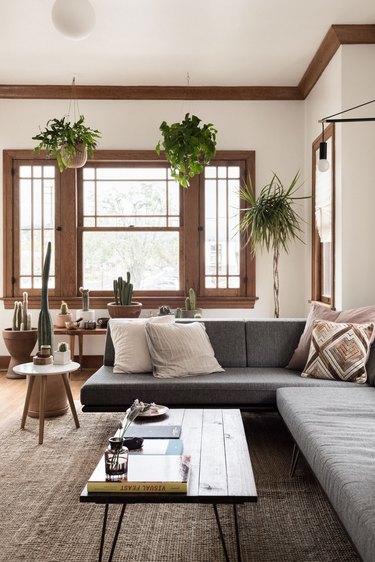 Her partner, Mark, also a creative, shares a similar design aesthetic — something they both honed over living in three different apartments together. "Thankfully we were able to transfer some of our favorite furniture into our current place, like our Modernica daybed sofa. When we slipped that into the living room like the last piece of a puzzle, we were over the moon that it fit."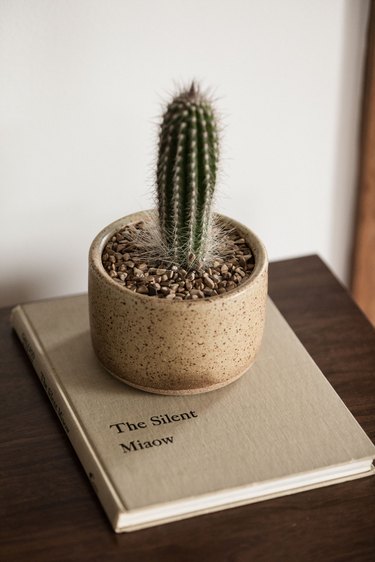 Gorgeous plant life and natural elements fill the space, reminding Kristine of her childhood growing up in a log cabin in the woods, "I know that sounds very Paul Bunyan!" Her mother was an interior designer and her dad owned a carpentry business. "Our house had constant projects-in-progress and it was always fun to see all of the hard work result in something beautiful."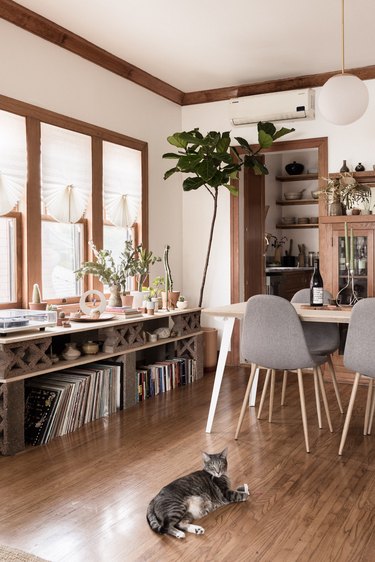 She carried on the tradition of DIY with Mark, building shelves in their dining room with the breeze blocks their friends left them. "Their warm color fits this space much better. Not to mention, now I think about our friends when I look at the shelf!"
Sustainable living is something of an obsession for Kristine, as a creative producer for Joymode, a rental equipment company that encourages you to own less things, it's an ethos she really lives by. Kristine regularly hosts AMAs on her Instagram all about how to live less wastefully. What's her biggest tip? Buy second-hand. "Take a look on Craigslist and visit local thrift stores or flea markets to see if you can find pieces that you love. It's so rewarding to find a unique piece for your home, especially if it saves you money and is good for the environment." When you can't buy used, she suggests buying local to help lower the overall carbon footprint.
As for where she found her furniture, it's a mix of local makers, pieces found on travels, and Craigslist. Their sofa, a sleek midcentury statement piece, came together over time. "Mark found the first piece of our sectional sofa on Craigslist before we met and we added the second piece (and reupholstered the first to match!) when we moved in together."
Their dining table is from Floyd and their credenza and dresser are from a local who refurbishes midcentury modern furniture at affordable prices. "We love to support brands based near us (especially because it keeps items from being shipped across the country)."
She takes a holistic approach when it comes to living sustainably, not just when it comes to decor. When I asked her about how to integrate some of these principles into our daily lives, she tells me it's more about a return to the basics, "Somewhere along the way, we forgot about the other R's associated with recycling. Reduce and reuse are SO important. Pay attention to the amount of trash you're producing and think about where it goes. Think about where landfills are located — usually in low-income neighborhoods, where it leaks toxins and affects the people living there." She's a big believer in reusable items and keeps a go-to kit in her car that includes "a reusable coffee tumbler and water bottle, bamboo cutlery, reusable straws, a stainless steel container or glass jar for leftovers or a smoothie, and an extra tote in case I grab groceries or shop when I'm out."
When she's not buying local and educating others on how to live more sustainably, she's making homemade chocolate. "In 2010, I was in Jamaica for a month during my last year of college, studying music/culture in the Rio Grande Valley. I've always loved eating chocolate, but one day we walked by a Cacao tree and I stopped dead in my tracks when I saw the pod sticking out of the trunk of the tree. They let me pick the cacao pod and with a few women in the village, we made drinking chocolate." Since then, she's maintained her desire to pursue the art of chocolate making, and last year finally took a bean-to-bar chocolate-making class. "It's fascinating to choose beans from around the world and really start to learn the different profiles and characteristics of different regions. The ingredients are all the same (except for the origins of the roasted cacao nibs), but when they form a finished product, they all taste completely unique. So far, we've focused on making 75 percent dark chocolate bars with organic beans from Madagascar and Tanzania. Next up, we're using beans from the Dominican Republic!"
What sweeter way to wind down after a long day than to take a bite out of some homemade dark chocolate? It goes great with Kristine and Mark's other favorite wind-down ritual: "getting comfy on the couch and watching The Great British Baking Show. It's like therapy (and makes me really hungry). And sometimes our cat SETI comes to cuddle with us, too."
Locals Know Best
Best place for a post-dinner cocktail: The Gold Line, Good Housekeeping, Highland Park Wine
Favorite coffee spot: Collage Coffee
Go-to spots for sustainability:
Package Free Shop does a great job curating different zero waste pieces, while also educating users how to live sustainably. I use their stainless steel containers, beeswax wraps, shampoo bar, amongst other items.
I also love No Tox Life, located in Glassell Park! They make most of their products in house, toxin-free, and with 100 percent recyclable packaging.