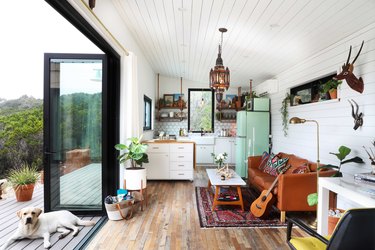 Kim Lewis knows tiny homes. The designer's colorful and compact projects have featured on the show Tiny House Nation, but her most impressive design just might be the pint-size property she shares with her husband, Joey, and 85-pound lab, River. (A baby girl will be joining the family in August.) Set atop a hill outside South Austin, Texas, the 560-square-foot home combines two trailers arranged in an L-shape to create separate living and bedroom spaces. Each unit has folding glass doors that open up to the deck, which helps make the home feel larger and more connected to nature. "Natural light was a critical component for the architecture, so the windows and folding doors were a key part of the design," says Lewis.
When it came to decorating the home, Lewis took inspiration from her travels, including a trip to Joshua Tree in California. She incorporated burst of color throughout the space, from the rainbow "Candy Land" stairs to the purple stove. The walls were kept neutral to serve as a backdrop for her eclectic collection of accessories from around the world. Lewis was able to showcase her bold style in the small space, proving that not everything has to be big in Texas.
---
Elizabeth Stamp is a freelance writer in Los Angeles. Her work has appeared in Architectural Digest, Elle Decor, and CNN Style.