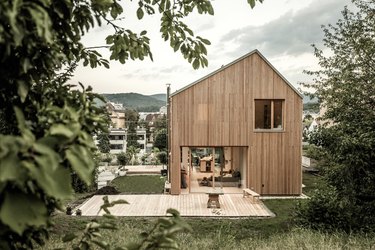 Located in Vienna's 14th borough, a neighborhood known for its vast green space, including a dense forest called Vienna Woods, Austrian architectural firm JOSEP designed a minimalist home to fit in with the surrounding landscape. Built for a rock climbing couple, the environmentally friendly house equipped with large windows sits nestled into a hill with a panoramic view of the city below.
The home, clad in wood panels and crowned with an asymmetrical gable roof, was designed with "low-tech" elements: The team cut out unnecessarily complicated technologies to create the pared-down aesthetic. The firm's simple principles for the home (which include functionality, usability, and maintenance) can be found everywhere in the design — from the local construction materials to the plant fiber insulation to the space-saving storage options.
---
After interning at Dwell magazine in San Francisco, Kate began writing about arts, design and culture for other national publications. She is based in Los Angeles and San Francisco.