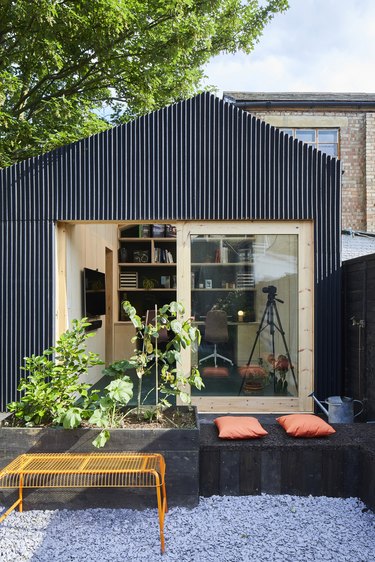 Working from home full time really makes you reconsider what you need in your abode. And for a lot of people, in particular families with two adults and perhaps some little ones, trying to work and learn in the same open-plan living space is challenging. And unfortunately, building a new wing isn't always in the budget. But there's another option: the home office shed.
The typical shed is a simple structure — relatively small in size and meant for one (or, if necessary, two) without plumbing. There may be adequate electricity, lighting, wifi, and insulation, though. And with a little tweaking, these structures (many of them prefab) can be perfect as remote work hubs and miniature classrooms. They're the quick fix modern families need.
Here are five ways to get the home office shed of your dreams.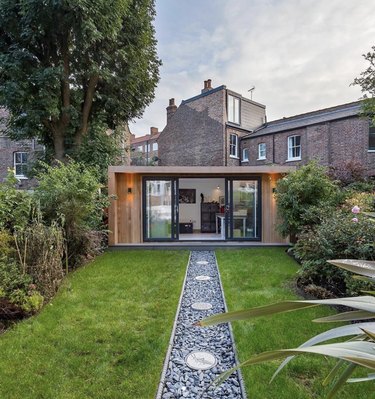 This sleek home office shed in London was created by Green Retreats, and it fits perfectly into the modern English cottage garden. The owners — a taxidermist and a comic book illustrator — not only use the shed as a work space, but they also offer it up as an Airbnb experience. They note that, "This project is a stunning example of how a garden workshop can be the perfect space to pursue your hobbies and passions, and turn them into your profession to make an income."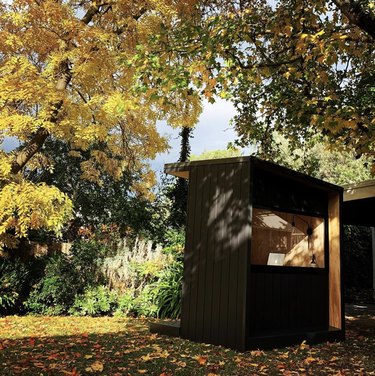 True to its name, the Australia-based Tiny Room Co. builds and installs incredibly chic, tiny modern office sheds, which they call pods. Ann Dunn, who started the company with her husband Ross, said, "We figured out how we could build something efficient and beautiful, small but comfortable, so people have a place to study and work." The petite structures are made of plywood on the inside, and they're customizable. Plus, the clean, black exterior goes with a range of home styles, from traditional to midcentury modern. And it all costs less than $10,000 and takes mere days to install.
A Place to Grow, a company in San Luis Obispo, California, recycles greenhouses and turns them into — well, whatever you might want, including home office sheds. It's all about sustainability, and these buildings are made from reclaimed wood. Even the windows are repurposed. The company creates one-of-a-kind, decidedly rustic work spots with the kind of sustainable outdoor space that will serve you well year-round.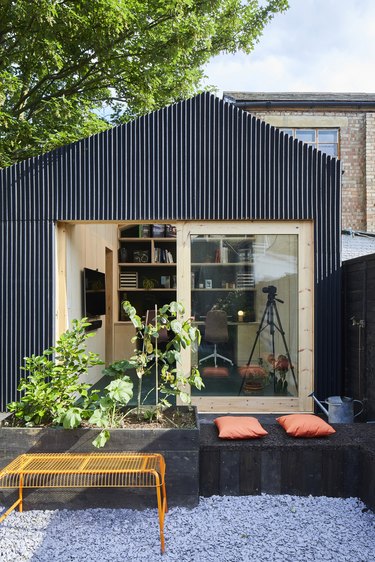 Not every home has a yard big enough to hold a huge home office shed. But that just means you have to get creative. And that's exactly what East London architect Richard John Andrews did. This roughly 130-square-foot office space — which includes a small bathroom — fits neatly into his narrow urban garden. It's made of plywood and corrugated black fiberglass panels with custom exterior doors and polycarbonate rooftop panels that let light pour in. When you have a complicated space like his, we recommend enlisting professional help.
5. Build one for everyone.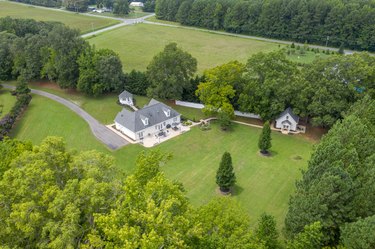 At this sprawling property in Hillsborough, North Carolina, there's not one but two office spaces — one petite "she shed" with big beautiful windows and a larger, more traditional office shed in the back. And Element Realty Group notes that both are "so perfect for work/life balance." The light-colored siding on each of the structures matches the traditional home exterior and gives the whole development a cohesive look and feel.