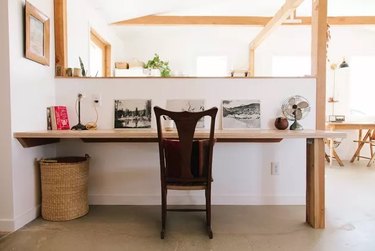 When we think of the desert, we imagine a sand-covered expanse dotted with cacti and clear skies. But there's a lot more to it than what meets the eye and translating the ambiance of that environment to an interior means digging deeper. Desert style doesn't fit into a cookie-cutter mold — there's the effortless cool of Joshua Tree, the midcentury-mod glam of Palm Springs, and the inspired Southwestern vibes of Tucson. Each locale brings with it a set of characteristics that feed into a unique aesthetic, be it boho, minimalist, or something a bit more modern.
From a tonal standpoint, channeling warm and earthy tones such as rust, ochre, terra cotta, and sage is of the essence. In the end, it's all about creating a visually relaxing and laidback atmosphere — which couldn't be a more perfect goal for a home office. To help you get started, we've compiled a cheat sheet with eight of our favorite desert-style workspace ideas.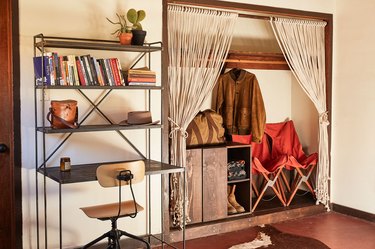 Yes, they're a little boho but macrame accents were made for a desert-inspired space. In this Joshua Tree motel, the woven decor plays the part of a closet partition, giving functionality a design-forward refresh. The industrial home office desk (with built-in shelving to boot) contrasts the soft material with an edgy element.
2. Add a touch of greenery.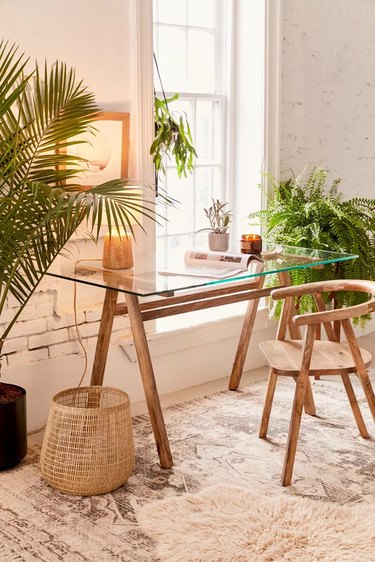 There is quite a bit of overlap between traditional bohemian design and desert decor — a neutral color palette and a healthy amount of foliage are an ideal start. Naturally, you don't want to go overboard with the greenery so stick with three to five plants, and keep it on-theme with varieties such as palms, succulents, and air plants. Take a cue from this chic home office spotted on Urban Outfitters.
3. Incorporate plants in more ways than one.
Speaking of incorporating live plants into the mix, feel free to extend the motif to wall decor as well. Anything from decorative ceramics to woven wall hangings and art prints is fair game. The vintage cactus print (and that red velvet chair!) looming over this quaint workspace found on Chairish is an ode to Tucson in the 1900s and quite the focal point as well.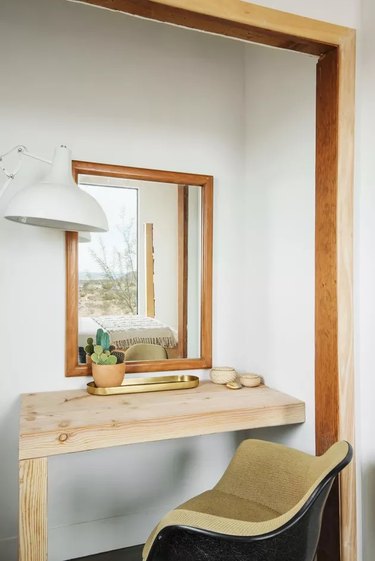 For those who have the luxury of being physically close to the desert, consider it an excuse to keep your home office decor minimal. Allow the desert landscape to serve as the design moment by sticking to a neutral palette, simple furniture and decor, and uncovered windows. The closet-turned-office in this Airstream has the right idea.
5. Keep it clean and organized.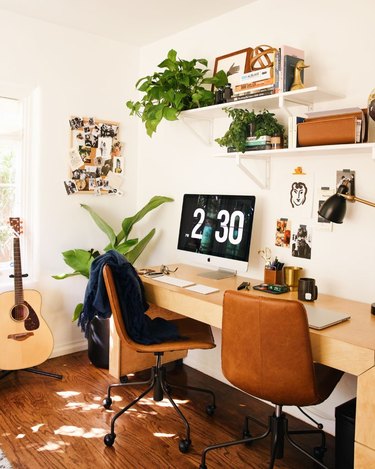 For those who have a little more office equipment to work with, the creatives behind The New Darlings have the perfect solution. The desert-dwellers opted for an oversize desk for two, with hidden storage compartments to keep clutter at bay. Wall-mounted shelving lends a functional arm plus an opportunity to show off an impressive cluster of plants.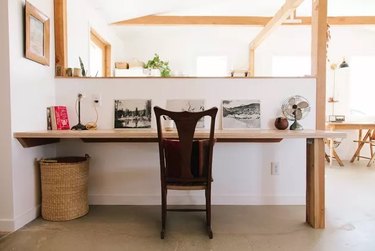 If you're working with a space that's down to the bare essentials (be that chromatically or furniture-wise), create interest with textures, such as macrame or Southwestern-style area rugs. Complete the scene with home decor like plants, cacti prints, woven baskets, and natural details, such as ceramics or even a terra cotta tile.
7. Amp up the color palette.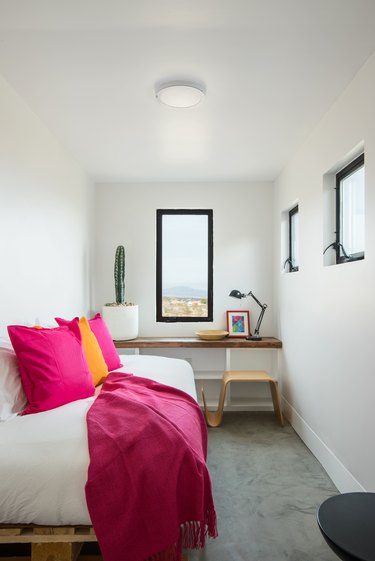 If the traditional array of desert hues (beiges, greens, and muted browns) aren't for you, there's a workaround. Channel the southwest with a bold dose of color (hot pink, orange, and turquoise immediately come to mind) and patterns, then make it all the more punchy by incorporating a high-contrast element like stark white walls. This desert home office is hitting all the right notes.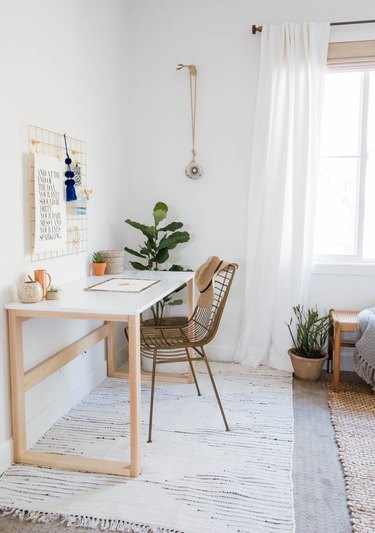 Thinking about bringing desert-inspired elements into your existing home office? Follow Anita Yokota's lead and start by swapping old textiles with new ones to create an open and airy space. A neutral color palette is ideal and natural materials such as linen and cotton will complement the scheme best. Layer a kilim rug over a woven landing pad and give the windows a well-deserved refresh with sheer, free-flowing curtains.