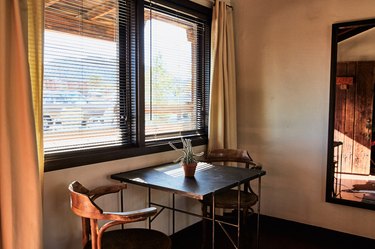 In renovating a former 1940s movie set into a hip motel, Matt French kept two things in mind: the "Western-lodge roots of the building" and "the nature of the desert: transparent and raw."
"All of Pioneertown was built as a movie set for filming," French explained of the preserved Joshua Tree, California attraction. And in its past life, "the motel was where the actors, directors, and producers stayed when they were in town." Now, though, Pioneertown Motel is a 20-room, desert-chic boutique stay with a curated feel.
Bringing in multiple designers for a layered approach was key. "This is not about one person coming in and making it perfect," French said. Collaborators on the project include Casey Keasler, a Portland, Oregon, interior designer and Ryan Norman Drobatz, who crafted the bedside tables, headboards, bathroom vanities, and closets. The result is more like a cared-for bed and breakfast. "It's really more than a motel," French mused. "It's become about community building."