Ranch homes are beloved for their welcoming and relaxed appearance. In fact, they're one of the most popular home styles in the U.S. and have been embraced since they appeared in suburban America in the 1920s. Traditionally, ranch homes are single story dwellings with low profiles and a wide, open layout that puts a premium on indoor/outdoor living. Within that framework there's a lot of flexibility — some designs veer more rustic while others are infused with craftsman details. Contemporary ranch homes blend the clean lines and minimal ethos of contemporary design with the laidback comfort that makes ranch living so approachable.
Intrigued? Scroll on for six ideas that perfectly characterize the aesthetic.
1. Bring the outdoors in.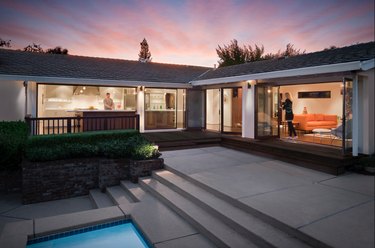 This contemporary ranch home by Jennifer Weiss Architecture makes the most of L-shape construction, which is often favored in ranch design. Folding glass doors blend the lines between indoor and outdoor living, which is the perfect complement to a backyard made for entertaining.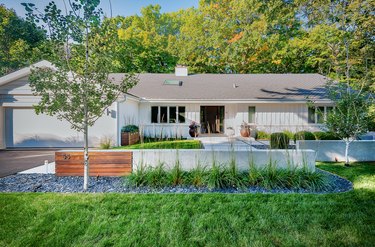 Board and batten siding adds depth and personality to interior and exterior walls alike. While it was embraced by early California ranch architect Cliff May, it's seen on a spectrum of styles from farmhouse to traditional. This contemporary ranch home by Reveal Design Chicago blankets the classic siding in crisp white paint and then introduces color and freshness through edited landscaping.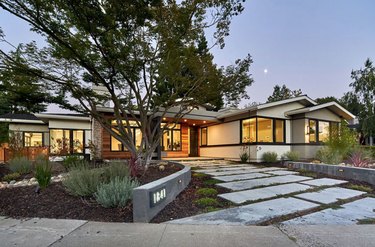 Give your exterior a layered finish that's full of interest by combining different materials — wood, stone, stucco, and cement — like Studio S Squared did with this contemporary ranch home. A curved entry juxtaposes the sleek architectural lines, while black trim emphasizes an abundance of windows.
4. Integrate with nature.
5. Introduce cottage details.
East Coast cottage style homes were a precursor to the more linear and expansive ranch abodes developed out West. Combining the two styles with a modern foundation results in a contemporary ranch home with soft undertones, as seen in this design by CJ Paone who selected a greige exterior color, an open floor plan, and casement windows.
Known for popularizing the farmhouse trend, Joanna and Chip Gaines put their touch on this Texas single story and transformed it into a unique, rustic contemporary ranch home. Telltale traits such as a low roofline, pared-down exterior details, and ample windows are incorporated, along with hand-hewn beams and shutters which infuse loads of warmth and charm.