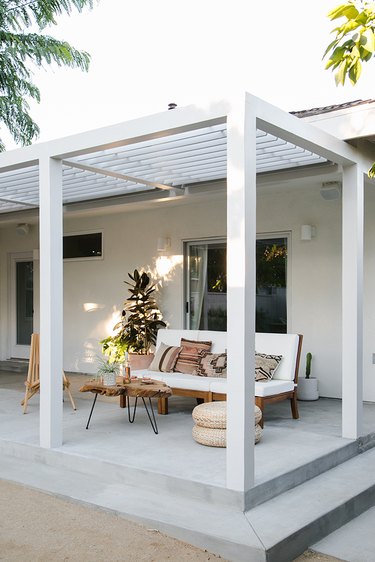 There are so many ways to add touches of contemporary style to your home. From the bathroom to the kitchen, those streamlined visuals, minimalist sensibilities, and current palettes are sure to bring an on-trend feel to your dwelling. But don't overlook your outdoor areas. For example, a contemporary pergola can be an amazing way to give your patio or deck a right-this-minute transformation.
In order to achieve a truly contemporary vibe for your pergola, look to linear details, interesting angles, and surprising materials — wood will always be a standard for outdoor structures, but engineered beams and glass shouldn't be discounted.
1. Consider the effect of shadows.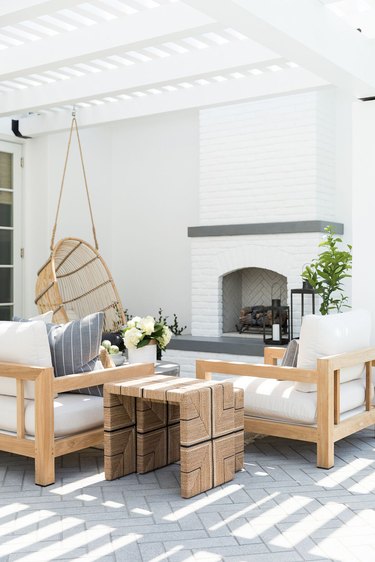 Maybe you haven't thought about this, but with the right design, a contemporary pergola can cast some visually appealing shadows onto your deck or patio. For this outdoor oasis created by Shea of Studio McGee, the sunlight trickling in through narrow slats overhead and the accompanying shadows are a dreamy bonus.
Contemporary pergolas come in all shapes and sizes. For example, Cassandra Crouch Garden Design opted to give this outdoor space a downsized design, resulting in a look that's chic yet minimal.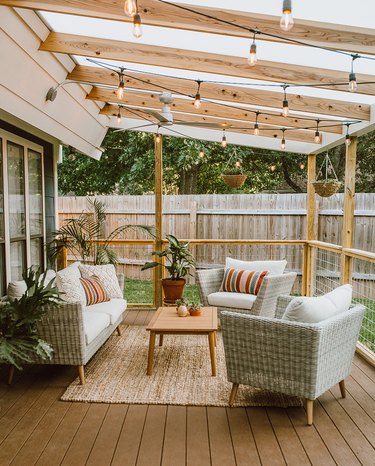 If you'd like to subtly show off contemporary aesthetics through your pergola, just place the overhead beams at an angle instead of level. Olivia of Livvyland went with this angled look for her pergola and we love the result.
4. Choose unexpected materials.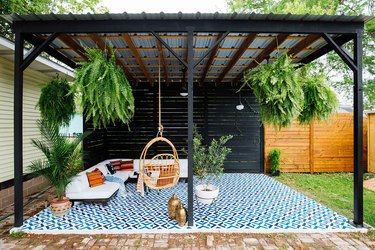 Instead of opting for traditional lumber, consider some other materials for your contemporary pergola. For instance, Dabito of Old Brand New chose galvanized metal for the roof of this boho-inspired design. The painted black wood and colorful floor also look current and unique.
5. Clean lines are a must.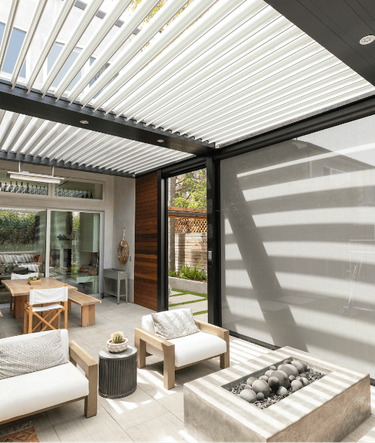 To really nail a contemporary pergola, look to clean lines. For instance, this setup crafted by StruXure displays clean lines galore. From the roof to the horizontal orientation of the wood grain to the furniture, just about everything in this refuge is streamlined.
6. Complement with contemporary furniture.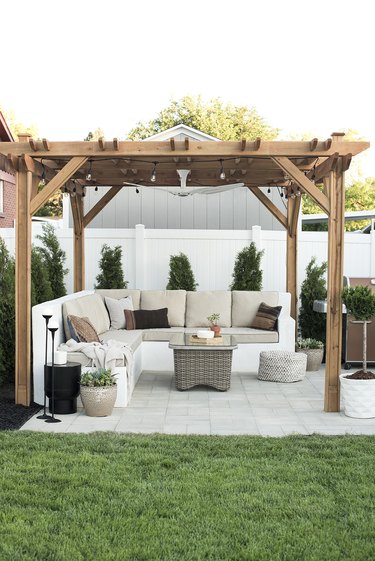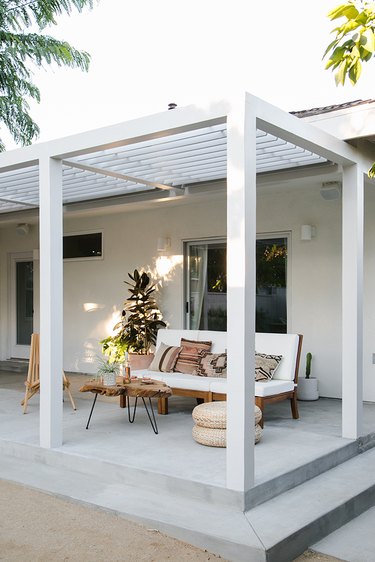 Wood will continue to be the gold standard for pergolas, but these days, we are feeling the look of all-white for a contemporary design. Constructed with engineered beams and decked out with stylish outdoor furniture, Molly of Almost Makes Perfect achieved peak contemporary style.
8. Or, up the drama with black.
Black is a preferred shade often used in contemporary designs, and a pergola is no exception. This setup from Target showcases the idea perfectly, and we just adore the dramatic hue paired with warm wood accents.