Although it habitually nods to modern visuals with sleek lines and geometric shapes, contemporary style typically uses current materials like plastic, glass, and metal (modern spaces commonly incorporate wood finishes). And while modern interiors tend to focus on neutrals, contemporary aesthetics often weave in playful pops of color.
The on-trend aesthetic can even be brought into the smallest of homes. In fact, a contemporary apartment (or studio, tiny home, or condo) can still display the look, as long as the pieces are chosen carefully. Here are eight contemporary apartment ideas that will help you master the style in your own space.
1. When in doubt, go vertical.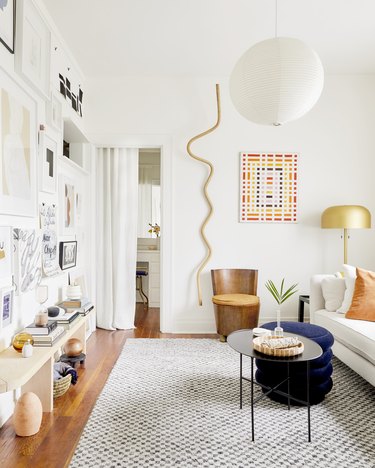 It's simple physics — horizontal items take up more space than vertical ones. If you're starved for space in your contemporary apartment, look upward as you decorate. Namely, take your gallery wall to the ceiling and focus on attention-grabbing, vertical art pieces, which is what Jess Bunge of Emily Henderson Design did in her apartment.
2. Area rugs cover up not-so-appealing carpet.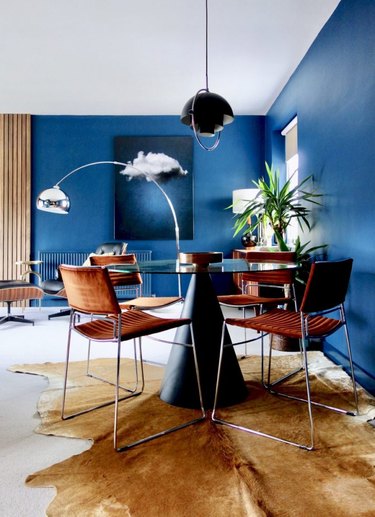 Even the best apartments come with features that you won't be able to remove as a renter — like the carpet. If it's not looking so pretty or you're just not into the whole carpet look, all you have to do is bring in some contemporary area rugs. Think unexpected shapes and colors, something that Karen of Making Spaces perfected in this apartment's dining room.
3. It's all about wall art.
Thank goodness for Command Strips, which allow you to hang artwork to your heart's content without damaging the walls in your apartment. We're partial to geometric prints, perhaps paired with vintage wall art for a contemporary-meets-retro twist.
4. Aim for careful curation.
So, you probably don't have a lot of space in your apartment. That means you'll have to be at the top of your curation game as you seek out contemporary decor. Be choosy when it comes to furniture and lighting. This bedroom styled by Juliette and Sarah-Jane of Arent & Pyke proves that an upholstered armchair in mustard yellow, an up-to-date floor lamp, and a marble side table are all you really need.
5. Minimalism always works.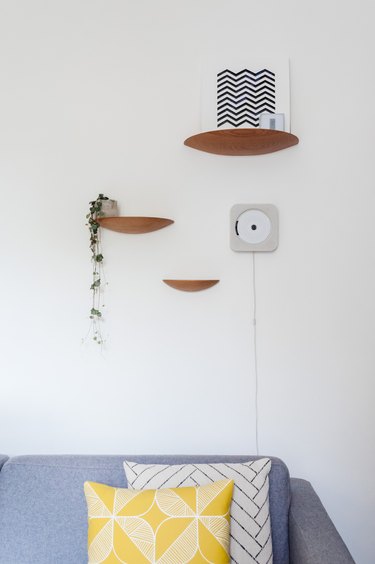 When decorating a contemporary apartment, minimalism is on your side. Avoid overwhelming the visuals and embrace contemporary style by following the mantra "less is more." This apartment belonging to Juan of Boreal Abode shows that a few shelves and punchy throw pillows add more than enough flair to a relaxing nook.
6. Combine the old with the new.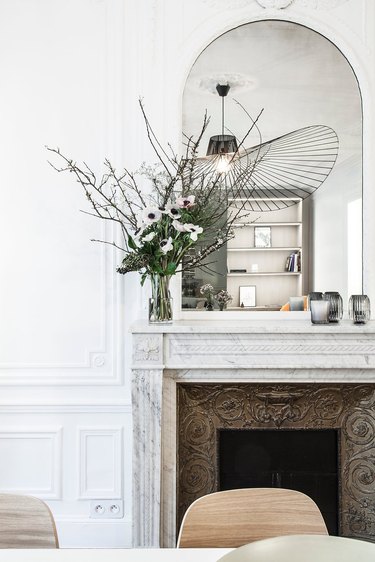 If your apartment has bygone aesthetics, but you're all about contemporary style, you can easily mix the two together. For example, in this space designed by the team at Atelier Daaa, an antique fireplace pairs nicely with a sculptural ceiling light and arched mirror.
7. Even practical pieces can be artful.
In a contemporary apartment, each piece has to earn its keep. When selecting practical items like living room furniture, make sure every item follows the characteristics of contemporary style. Think gently-curved and streamlined seating alongside a right-this-minute floor lamp, pieces of decor that are showcased in Jenny's apartment of Margo & Me.
8. A studio can be stylish, too.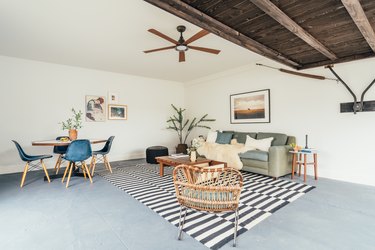 A studio can be the contemporary apartment of your dreams with the help of a few smart tactics. For instance, this space shows off linear furniture and a current area rug, pieces that don't take up a lot of real estate but still create a contemporary feel.