Bedrooms need a wide variety of lighting options, from dim nightstand lighting for late-night reading to bright overhead bulbs that simplify clothes-sorting. But so many stores sell the same bland nightstand lamps and rounded flush-mount ceiling lights. Why not try something a little more contemporary? These bedroom lighting ideas will give your space a new attitude — and they definitely aren't like anything you've seen before.
1. Hang your sconces vertically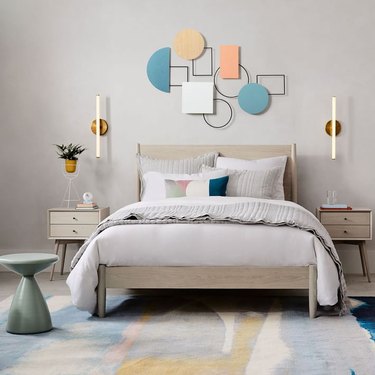 2. Choose a subtle shade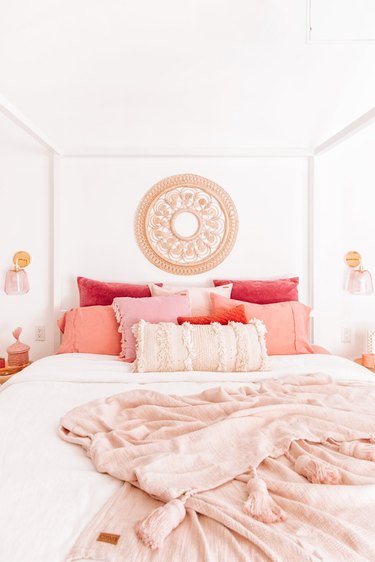 There's something about these semi-transparent blush-pink glass wall sconces from Studio DIY's master bedroom that feels deliciously glam. Keep glass contemporary by choosing a streamlined shape — like Anthropologie's Salmar Sconce, which sports a sleek, minimal profile.
3. Play with shape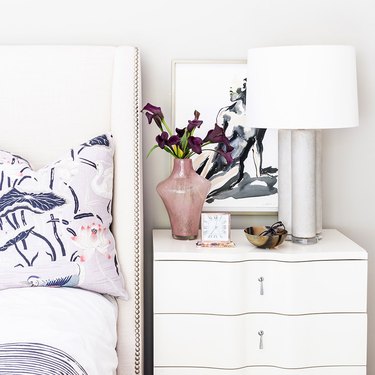 When designing your contemporary bedroom, you want to be judicious when using bold or bright colors. Give yourself freedom to show off your favorite wall art by picking a toned-down lamp that's anything but dull. Matte texture pares down the clever clover shape of this white table lamp from Jana Bek Design.
4. Rethink the chandelier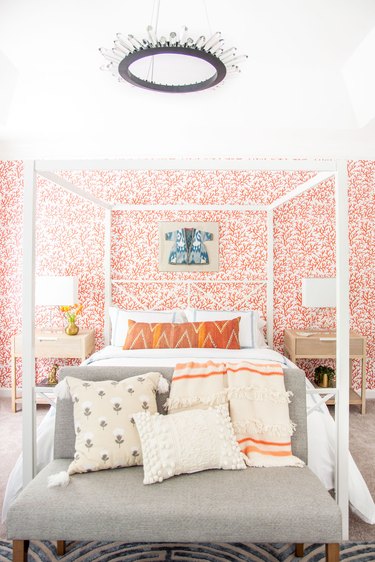 5. Get earthy
With both boho and contemporary styles trending, it's no surprise lighting designers have found a way to blend the two looks. Paper and Stitch pairs a neutral guest room with a clay flush-mount ceiling light that's just earthy enough, while still maintaining a shapely contemporary style.
6. Look for pendants with flair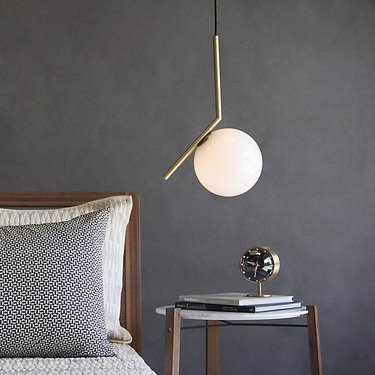 Lack room on your nightstands for table lamps? Turn to pendants — and feel free to choose something flashy, like this opal-glass pendant from Lumens. The round bulb brings contemporary style, and the suspended steel frame is sure to wow visitors.
7. Get creative with glass
Glass is the classic contemporary medium, and when used in lighting, it can make a jaw-dropping statement. Blogger Kasia from My Full House mimics a classic lampshade with the overturned glass shade on this metal floor lamp by Nuura.