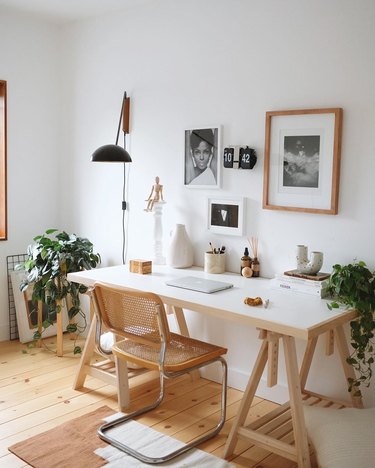 The hottest spot in town, for many remote workers, is the once-forgotten desk at home. Previously relegated to holding loose papers and receipts, many people's desks are now finding their time to shine.
But a few months into the whole work-from-home thing, you might be tired of seeing the same view from your desktop. Thankfully, Instagram always delivers when it comes to decor ideas. We've been noticing some awesome gallery walls above desks lately — and they're not too hard to replicate at home.
Here are some of the pics we've been saving from the 'gram for inspiration.
First off, don't feel intimidated by a gallery wall. This space proves you can make a visual impact with just three pieces.
We love the idea of playing with both frame styles (matted versus not, white versus natural wood). This space also makes use of a clock to vary the items on the wall and make sure you don't miss the next virtual meeting.
Think about the height you can use, too. This workspace makes the most of an empty wall with framed artwork and even a place to hang your headphones after Zoom calls.
Technically not a gallery wall, but we think it counts as one because of how it uses the wall space. Instead of art, put all your plant babies in one place for a burst of color.
If you've got some floating shelves that need to be put to use, play with height. Include some greenery for a natural accent.
Is it just us or is it super hard to know what day/month it is anymore? Use large wall calendars, like these from Poketo, to help you remember while making your space more playful.
Courtney McLeod is an embroidery artist, so that makes this setup much easier, but we love the idea of a gallery wall consisting of only artsy hoops.
Not sure what art you want on the wall? Gather your favorite magazines and books instead (bonus points for wallpaper in a fun pattern).
For those who want a more romantic or classical take on a workspace, follow the lead of Sheila Bridges. This wall centers around a statement piece and makes use of various sized artworks to create visual interest.