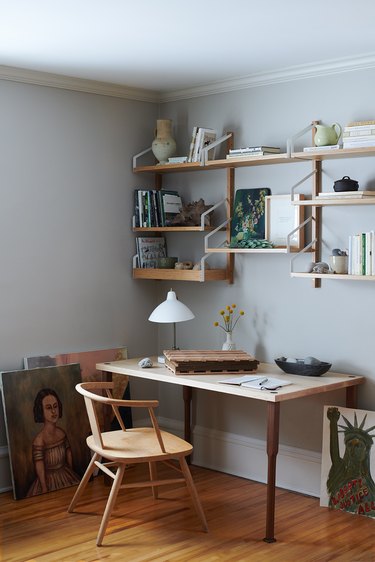 With all those pens, notepads, to-do lists, and computer cords, a home office desk can easily go from organized to awry if you don't have the tools to keep every little paper clip in its proper place. And if you're working from home, it's imperative you steer clear of clutter and stay focused. That's why we're full of desk organization ideas.
Whether you need floating shelf ideas or tips for corralling all the mess, we'll help tackle the hard stuff so you can focus on your 9-to-5.
1. Use two desks instead of one.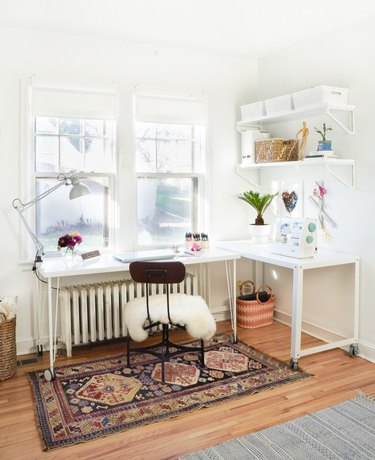 If you need space to spread out, take a cue from Erin Francois of Francois et Moi. She paired two similar-but-different white desks together to create a large corner workspace. Open shelving above and a basket below keep important items out of the way but within arm's reach.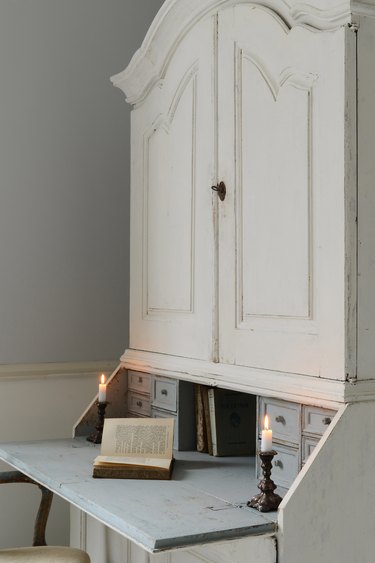 An old-fashioned hutch, like this beauty that White & Faded treated with an antique painting technique, works as a great home desk for three reasons: It's beautiful (obviously), the little compartments will keep you organized, and most importantly, at the end of the work day, you can fold it up and forget about those looming deadlines until tomorrow. Add some candles and voilà! You'll feel like Louisa May Alcott while toiling away at emails.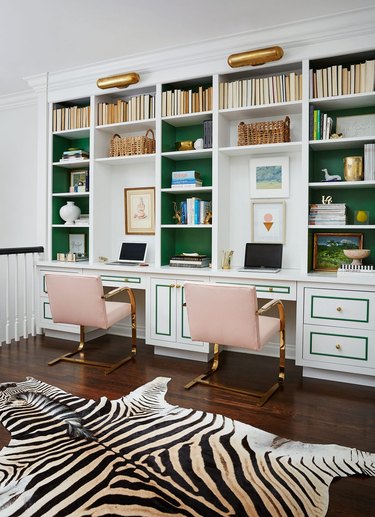 If you work next to your spouse (godspeed!) or have an in-home employee, take inspiration from this Amie Corley home office design. A wall-to-wall built-in provides plenty of storage and carves out space for two computers. We particularly love how the insides of the shelves are painted green, while the workspace is an energizing white.
4. Take advantage of trays.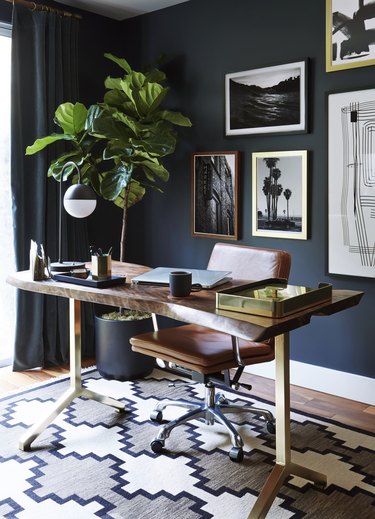 If your desk is bare bones, with just legs and a flat surface, you'll need to intentionally organize your desktop objects. We're fans of how Emily Henderson used trays to keep this desk in line. There are papers and notepads in one and writing utensils in another. Every little object has a home.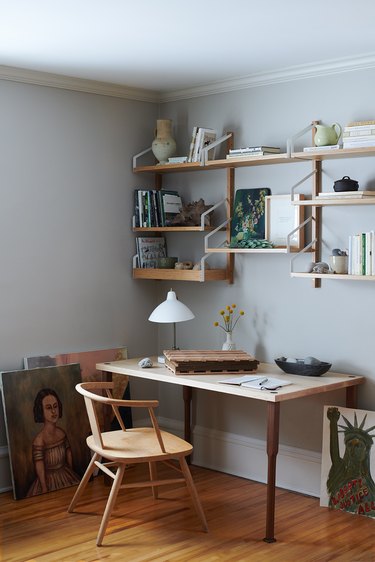 Make the best use of vertical space with open shelves above your desk, like Prospect Refuge Studio did in this home office. That way you can enjoy a clean work surface with just the essentials, while all of your important but not that important items, like books and plants, are corralled neatly.
6. Tuck everything in drawers.
Take notes on the multitude of desk organization ideas in this home office designed by Mel Bean Interiors. A built-in desk with drawers keeps necessary items out of sight, so the worktop stays clean. Above the desk, baskets hide other essentials in style. A chalkboard wall like this one will organize your to-do list or take-over-the-world ideas. Plus, a similar setup would also work great for remote schooling.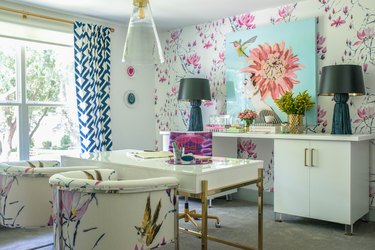 Think you can't have an ultra-clean desk like this one from Studio Ten 25? Think again. The layout is simple: A clean work surface will ensure you stay focused on the task at hand, while a desk and cabinet duo will store all your essentials. With such a sleek desk design, don't be afraid to go bold with wallpaper, artwork, and upholstery.
8. Expand into the garage.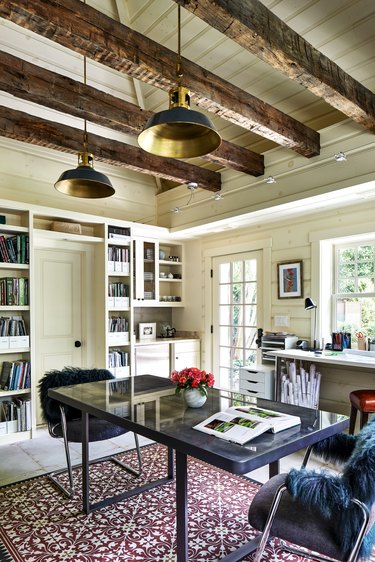 That ceiling! Those light fixtures! This garage-turned-workspace designed by Ballard + Mensua Architecture is a true WFH dream. While a simple desk sits in the center of the space, built-ins organized with magazine holders line the wall. And the best part? With a carport office, you get to close the door, literally, on work each night.