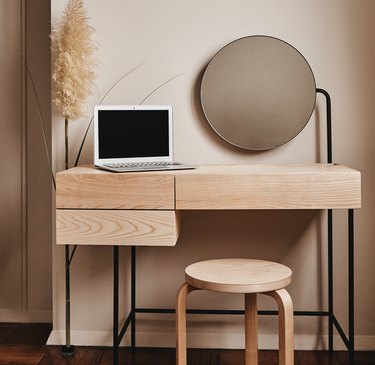 We love a furniture item that comes with two-in-one functionality, especially if it looks sleek to boot. Direct-to-consumer furniture brand Dims. recently teamed up with Brooklyn-based Ladies & Gentlemen Studio to do just that with the Composed Vanity.
Normally, a desk seems like a functional, necessary item – while a vanity feels more like a little luxury. So if you can't find room for both, usually the vanity ends up going. The Composed Vanity is one way to solve this design conundrum.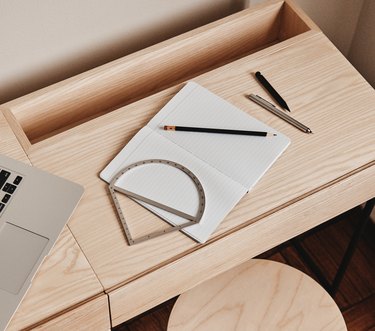 "We found this distinction unnecessary — so we made a vanity that was a desk, and a desk that was a vanity," Eugeme Kim, Founder of Dims., tells Hunker. "By serving dual functions, the Composed Vanity encourages self-care while preserving living space."
The collaboration also focuses on more purposeful integration of furniture into our spaces — especially how it might integrate itself into our daily routines.
"We believe every object that exists and doesn't exist in a space can either detract or enable one's goals and visions," Dylan Davis, Ladies & Gentlemen Studio co-founder, tells Hunker.
The production process also involves carefully chosen materials. Available in four color combos — Nude/Blush, Sage/Powder, Ink/Powder and the minimal Natural — the Composed Vanity's tabletop and drawers are made from sustainably sourced wood and coated with a non-toxic finish. The frame and legs are made of fine-sand powder-coated steel, which is tested to make sure it contains no harmful formaldehydes or toxic heavy metals.
---
Eva Recinos is an associate editor at Hunker. You can reach her at eva@hunker.com

View Work