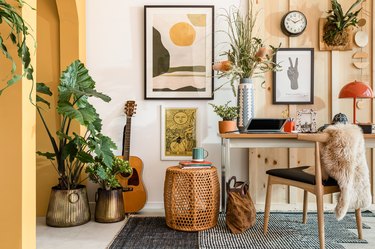 With everyone spending more time at home, it's become increasingly essential to have a workspace that feels creative and inspired — not just a makeshift desk in the living room that's also your bar cart that's also your cat's favorite nap spot that's also your TV stand. If you can, choose a corner of your home you can completely wipe, giving you a blank canvas to carve out a legit office. Here, Hunker's Creative Director, Paul Anderson, explains how he converted his garage into a work zone that is pleasing not only to him, but to his co-workers when they see him on Zoom.
Step #1: Add TONS of detail.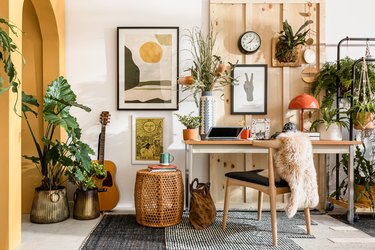 So, how did Anderson even begin planning this space? He considered color. "I think about a starting point that represents how you want the space to feel — for this it was a deep, gold color — it felt uplifting, inspirational, and the perfect energy to pull into a workspace," says Anderson. Then, knowing he wanted to work in a lot of detail without creating chaos, he brought in layers, continually referencing the base gold tones of the space: "It's about building layers that are connected back to that color — the honey-toned wood elements, the vintage inspired accessories and art, and finally the abundance of plants, which, you can never have enough of," he explains.
Step #2: Add cozy texture.
Those "layers" Anderson references? They're easier to create when you have a diverse array of materials and you're able to add a focal point of texture. In this glimpse of his office, we see a metal lamp that contrasts with the natural tones from the wood desk and chair. The furry rug (used as a throw) pulls it all together.
Step #3: Add a moveable element to constantly change up your space.
"The idea for a moving plant wall came out my boredom with my Zoom background," Anderson half-jokes. "By placing plants on a cart (one that you'd ordinarily use for clothing storage), I'm able to position it behind me for conference calls when I want to switch things out." Anderson also likes to move the cart to the window in the afternoon when the sun hits particularly hard, which has a double benefit: "It creates a sort of curtain, cooling the room; at the same time, my plants get all the sun they need."