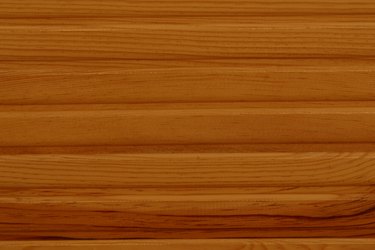 Beadboard is a common material used to panel an entire wall or wainscot the bottom portion of a room. Beadboard consists of a series of connected boards that have small grooves, or beads, between each of the attached planks. Beadboard comes in a traditional height that can be cut down to fit a particular area.
Standard Height
The standard height of a beadboard panel is 8 feet, the same height as the average non-vaulted ceiling in a home. If you are installing beadboard as wainscot, you can cut 8-foot beadboard panels into thirds making each piece 32 inches in height. Since wainscoting only covers the bottom portion of a wall, you can cut the beadboard or add railing to accommodate your room design. The standard height of newly purchased beadboard doesn't necessarily compute to the exact measurements you need for installation.
8-Foot Ceilings
If you have 8-foot standard ceilings in your home, Architectural Depot recommends cutting beadboard wainscoting into thirds and trimming off the extra five inches to a height of 27 inches. It suggests adding a top and bottom railing cap to the beadboard. A standard railing cap height is 6 inches, so the total height of the beadboard wainscoting and railing is 39 inches. Elite Trimworks recommends a similar total beadboard finished height of 38 inches.
One-Third Rule
When using beadboard as wainscoting, the standard rule of height is to cover the bottom one-third of the room. According to AIC Millworks, "The wainscoting should cover a third of the wall height. Other factors may demand that the height vary." Depending on the height of your ceiling, you may need to adjust the height. Home Renovation 101 states, "The height of the beadboard paneling is at your discretion. Some remodelers and renovators go up to 2/3 of the wall height, while I prefer to have it lower."
Wainscot Panels
Wainscot panels come in a variety of designs and patterns including beadboard. According to AIC Millworks, wainscot panels come in standard 36 and 42 inch heights. If you want to increase the height of your wainscoting, add a chair rail or a railing cap on top of 36-inch or 42-inch panels.
---
As curriculum developer and educator, Kristine Tucker has enjoyed the plethora of English assignments she's read (and graded!) over the years. Her experiences as vice-president of an energy consulting firm have given her the opportunity to explore business writing and HR. Tucker has a BA and holds Ohio teaching credentials.