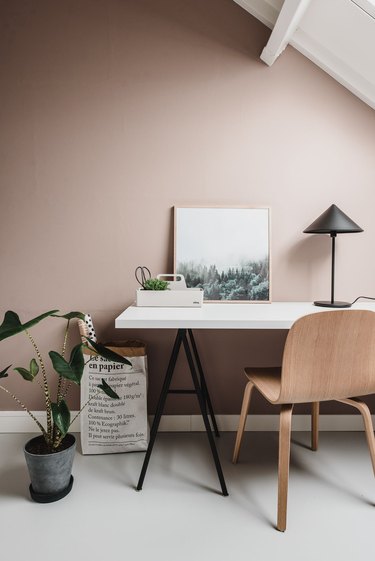 Designing a home office should be all about creating a serene and calming environment that promotes productivity. That said, you should certainly still be able to have fun with it. Neutral walls and streamlined furniture isn't a requirement and if your idea of a proper workspace entails a more playful approach, then a pink home office may just be the solution for you.
Now, we're not talking about a gaudy, hot pink makeover but rather a balanced palette of complementary tones. The color itself is versatile by nature. A bright and saturated version paired with pops of red and lively greens makes for a vividly maximalist scheme. Go for a subdued blush pink with darker undertones and couple that with light, wooden accents and it will instantly evoke a cool, Scandi feel.
Regardless of which approach you take, the hue is primed to make a statement — the pink home office ideas ahead are all the proof you'll need.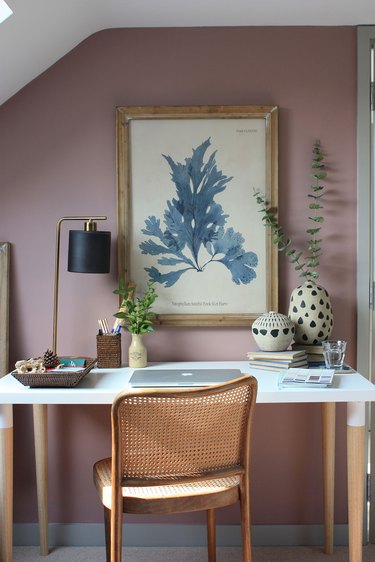 A combination of pink walls and a room filled with lively greens may play to a boho sensibility but if you're looking for a more refined element, opt for a paint color with soft purple or lilac undertones. This inspired home office from The Home Page illustrates how versatile the tone can be. A cane desk chair, patterned ceramic planters, and the vintage, gold-framed wall art lend a warm and earthy feel to the sleek components of the space.
2. Maximize your use of colors.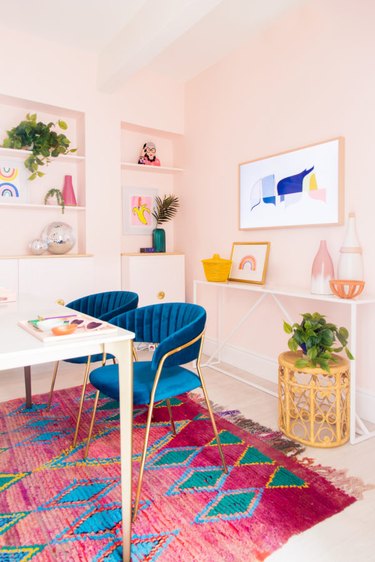 Studio DIY's pink home office remodel leaves little else to be desired, whether that be on the tonal front or home decor. The blogger transformed the space with a bold combination of color and pattern, true to her signature style. While the walls and bookshelves take on a subdued pastel tone (nearly passing as a neutral), it's the vibrant nature of the rug, plants, and surrounding wall art that elevate the setting to a technicolor dream.
3. Temper modern elements.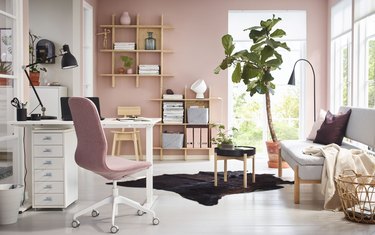 Here's proof that even a Scandinavian modern home office can benefit from a little pop of pink. The subtly saturated walls of this light-filled workspace from IKEA — coupled with the woven rattan accents and vibrant potted greens, no less — lend a lively and charming detail to an otherwise modern room. The pink task chair, with its swivel functionality, pulls together the tonal scheme while serving as a practical element.
4. Use varying shades of pink.
If you simply can't get enough of pink walls, consider looking to your home office decor as well. This vibrant scene from the British paint brand Dulux showcases how easily it can be done. Start by building out a palette of three or four shades of pink (aim to work with variations of a single tone to avoid a clashy finish) and designate them for the walls, office chair, and even the desk. The result is a dynamic tone-on-tone scheme that feels unexpected and fresh.
5. Highlight with touches of black.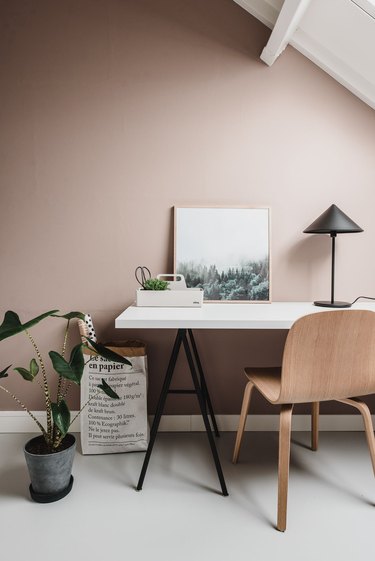 If you've ever wondered just how sophisticated pink walls can be, allow this stunning home office design spotted on Roomed to serve as an example. The dusty rose backdrop contributes to the refined setting while the sleek, minimalist furniture inspires a contemporary touch. The black table lamp ties in nicely with the base of the desk, lending a punchy detail amid the softer tones, and the light wood office chair adds a dash of warmth.
6. Turn it into an accent.
If you're not into the permanence of painting your entire home office pink, assign the hue for an unexpected design moment instead. In lieu of the standard accent wall, turn to your built-ins, just as Ariel of PMQ for Two did in her glam office space. By painting the back of the bookcase in a saturated shade, it instantly becomes the focal point (and makes the contents within pop!) while managing to distract the eye from the surrounding all-white walls.
7. Employ color blocking.
Studio Cotton's headquarters offer an inspired use of the color pink by way of a fresh two-tone paint scheme that elevates the interior design. The dusty hue fits right in with the subdued features of the workspace, lending a soft contrast to the light oak furniture and sleek white decor.