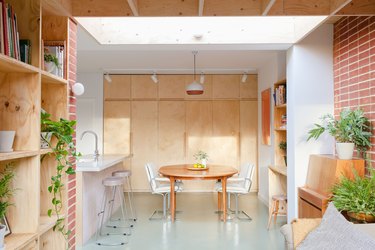 Few colors have the ability to make a statement in an interior quite like red can. Whether it comes in small doses — think throw pillows and art — or as an accent wall that steals the show, you can always count on the hue to deliver on the eye-catching front. And while some may find it too intimidating to decorate with, there are plenty of ways to seamlessly integrate it without having to redefine your style. Play around with tonal variations of the shade, bring it in with textiles, or experiment with unique materials such as leather or brick. The key is all about keeping an open mind.
Regardless of what your aesthetic of choice may be — minimalist, rustic, or California-cool —we've got the lowdown on the foolproof ways you can usher the saturated tone into an existing decor scheme. Ahead, a few of our favorite spots featuring the inspired colors that go with red, and the lessons that we've learned from each.
1. Red and orange feel hot.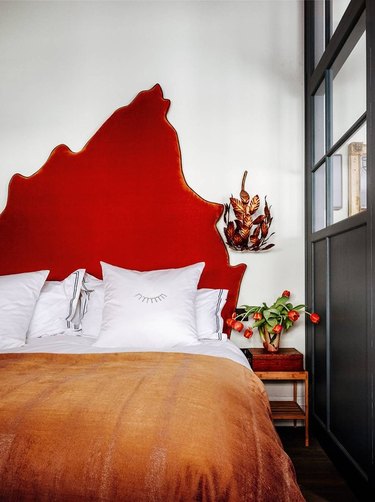 File this under the coolest headboard we ever did see. From its saturated coloring to its flame-like shape, Rachel Chudley's custom bed gives fiery-red a whole new meaning. While the piece is enough to make a statement on its own, the addition of the jewel-toned throw elevates it to new heights by creating a warm sunset-like effect that softens the intensity of the red.
2. Pink and red with a tonal twist.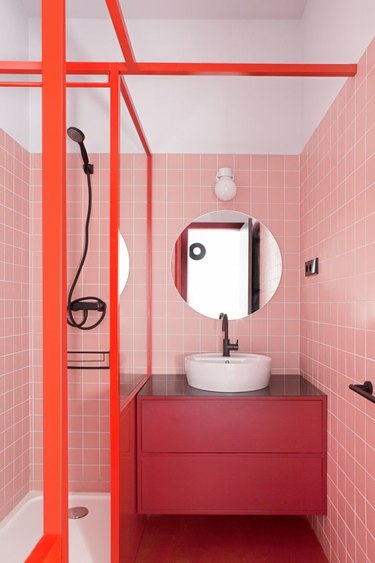 Talk about colors that go with red! This combo is about as iconic as it gets and while we're all for it, sometimes it can feel a little too intense — or reminiscent of Valentine's Day. The solution? A tonal play on the combo, like the one we spotted in the bathroom of this rad student residence by Plutarco, where blush tile walls, a deep burgundy-red vanity, and orangeish-red accents flip the script on the tradition with a refreshing, modern take.
3. Red and blue with earthy notes.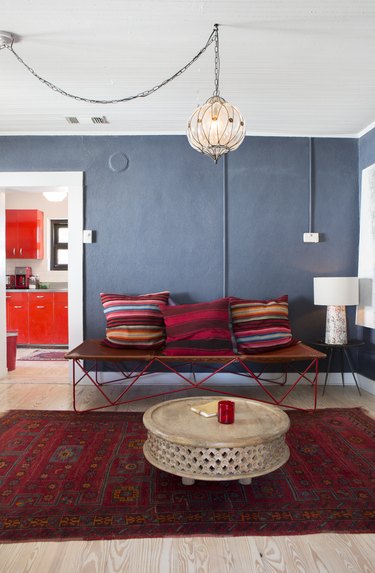 When in doubt about pairing colors that go with red, look to the primary wheel for inspiration. Blue-gray walls create a soothing backdrop for the bold burst of reds in this Southwest-chic Marfa retreat. The subtle traces of blue in the textiles tie the look together while the slivers of yellow and orange offer a hint of contrast that completes the scheme.
4. Red and beige with a natural touch.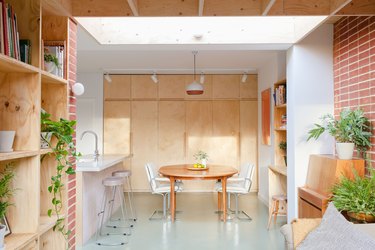 For the minimalist who prefers it pared-down, consider a palette of organic hues. We're swooning for this light-filled London home where an exposed brick wall ushers in a dose of rust-red without overpowering the muted aesthetic. The custom plywood shelves offer a tinge of beige, making for a seamless transition from brick to stark white walls, resulting in an effortlessly cool combo.
5. Red and black with a side of drama.
On the list of colors that go with red, black is a surefire favorite. Daring with a side of drama to boot, the two together are a force to be reckoned with. Just take this rad bedroom, captured by Brittany Ambridge, for example. A depth-defining backdrop paired with a red leather headboard, no less, proves that when it comes to bold colors, more can be more.
6. Red and green without the jingles.
7. Red and white with seaside cool.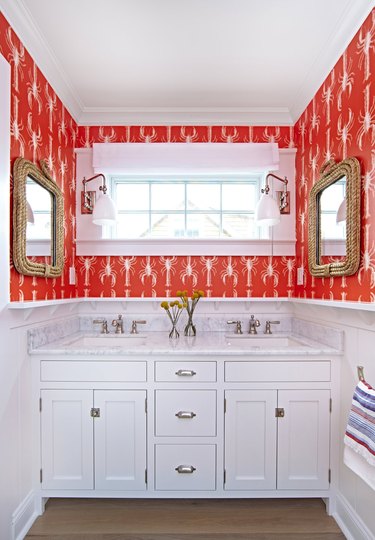 Who doesn't love a cheeky detail, especially when it comes in the form of a whimsical wallpaper? Chango & Co.'s Bay Head Beach bungalow project takes a standard red and white color combo and elevates it with flair. The lobster-print wallpaper offers a playful alternative to traditional paint yet still manages to complement the streamlined marble bath with a fitting nautical feel.
---
Anna is a New York-based writer and editor with a penchant for travel, design, and interiors.