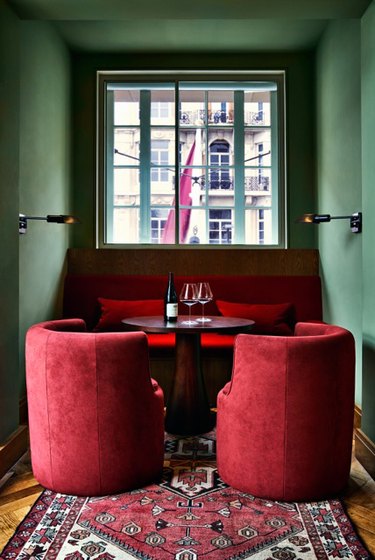 It goes without saying that the color combination of red and green is synonymous with Christmas and all of the tacky decor (offered by pretty much every mass retailer) that goes with it. But surprisingly, this festive duo can be quite delightful outside of the holidays — yes, even when it comes to interiors. Don't believe us? Take a peek at these striking 11 spaces that figured out the key to pairing red and green hues together for a dazzling result.
1. Rich and Refined
This luxe dining setup is giving us all the feels. From the rusty-red velvet drapery puddled on the floor to the emerald green velvet chairs, this refined vignette is the definition of decadence.
2. Contemporary Contrasts
There's something so compelling about using inherently earthy shades, like coral red and sage green, in a contemporary and sparsely decorated space. A modern chandelier with glass shades and blue dining chairs help define the dining area in this open-plan dwelling.
3. Midcentury Tropics
4. Modern Elegance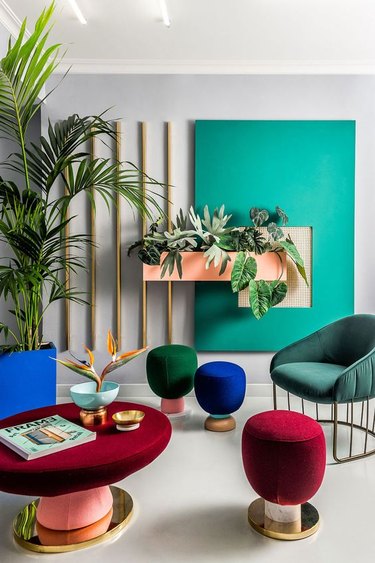 5. All in the Details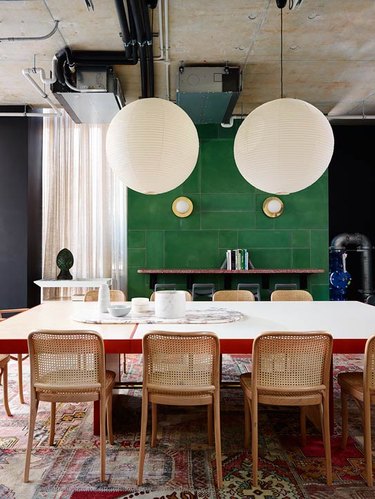 Get your point across with a few meaningful details like design firm Arent & Pyke did in this dining space at the Alex Hotel in Perth, Australia. By pairing a wall-mounted red marble countertop with a green tile accent wall, a tabletop with red edging, and an area rug with shades of the rosy hue, this color story makes a statement without going overboard.
6. Bold and Dimensional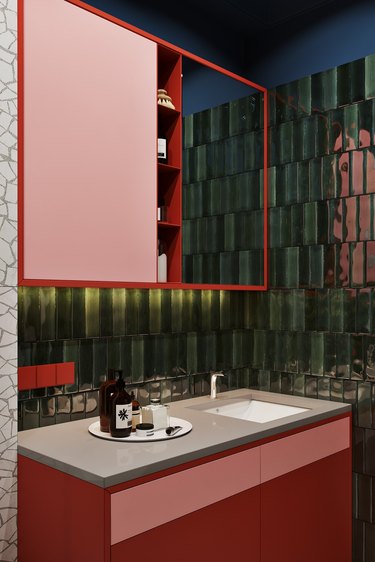 7. Eclectic and Inspiring
Plants are a great way to bring lushness into your abode as seen in this workspace belonging to Dabito from Old Brand New. Layering a warm kilim rug with a sophisticated, emerald leather chair produces a gorgeous home office guaranteed to inspire creativity.
8. Timeless Luxury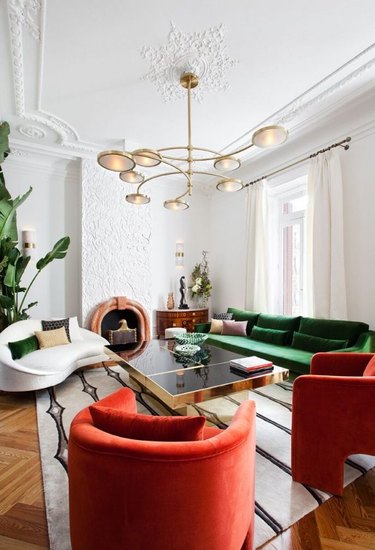 Art Deco details (such as herringbone patterned wood flooring and plaster ceiling ornamentation) shine in this space designed by Beatriz Silveira. Pops of color inject vibrancy, while velvet upholstery and a statement-making chandelier pull it all together.
9. Rustic Charm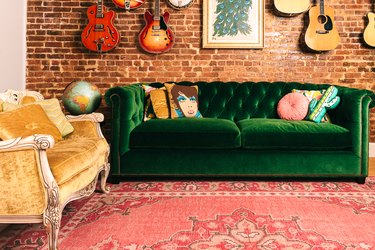 This jaw-dropping tufted emerald green sofa is definitely the star of the show in Keiko Lynn's living room. The rustic red brick wall decorated with an assortment of hanging guitars makes the perfect backdrop, while the rosy-hued area rug makes the ideal stage in this music lover's space.
10. Decadent Dining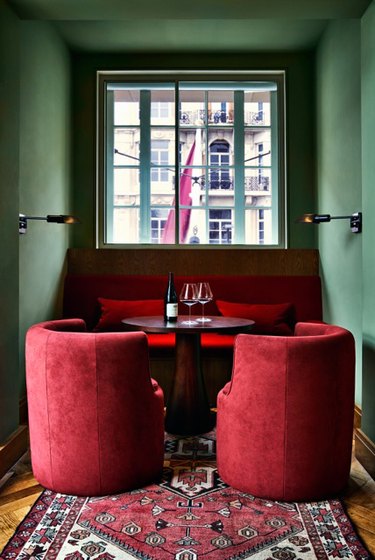 We are swooning over this dramatic dining nook designed by Simone McEwan as part of the exclusive, members only 67 Pall Mall Club in London. We could sit here for hours sipping wine enveloped among the rich green walls and decadent red upholstery.
11. Southwestern Flair