We may earn compensation through affiliate links in this story. Learn more about our affiliate and product review process
here
.
Well, maybe not constantly (we do have day jobs). Still, we figured as we bring in more voices and members of our community, the more we'd be inspired to shake things up.
"This quarter, we decided to bring more color into the house, inspired by some of the more moody Scandinavian aesthetics we've been seeing a lot of," says Paul Anderson, our creative director who led the makeover. "Our initial design was very clean and neutral. Hunker House 2.0 is now more about rich, jewel tones and spaces that feel a bit more stylized."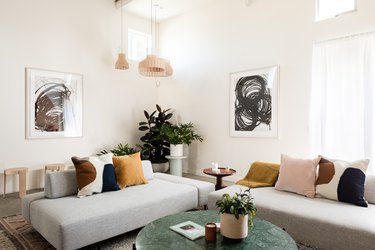 And, as we've had a few months of programming in the House (hosting panels, parties, and workshops), we realized the main space needed a more dynamic setup. "I wanted to turn the main floor into the ultimate conversation pit with a variety of seating vignettes that are separate but somehow connected," Anderson explains. "The sectional sofa from Article was a really creative solution because the backrests are actually placed in the middle of the sofa, allowing for seating on both sides."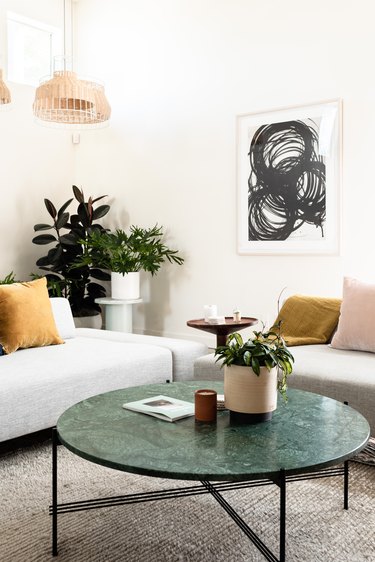 The biggest refresh was in our mezzanine library, where we sought to layer in some old-world elements — the milled paneled wall was custom created and complemented by ornate wallpaper by Farrow & Ball. "We brought in contemporary pieces from Menu, Ferm, and Gubi to modernize the overall feel," Anderson says.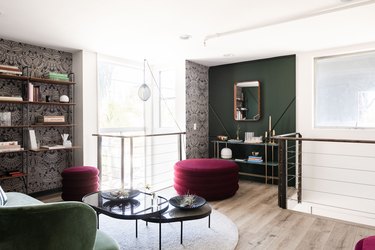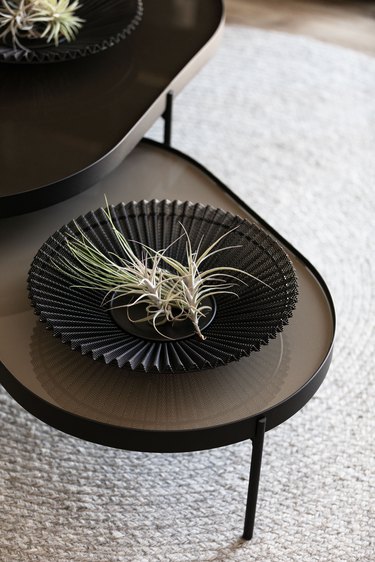 We left the kitchen largely untouched, but had one major upgrade thanks to our friends at East Fork, who offered up their hand-glazed bowls and plates. (Their colorful vases can also be found throughout the House.)
Upstairs in our bedroom suite, where we host creatives for weekend stays, we infused the floor with more personality, adding diverse textures (more wood, more velvet) and surprising colors (a muted coral in the bathroom). "I wanted to brighten this area up and layer in the subtle accommodation details that would make our guests feel inspired and like they're in an apartment that they never want to leave," Anderson says.