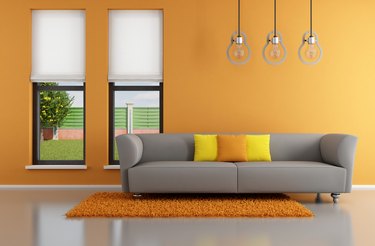 Orange is a kick, an unmissable bright burst of color that could dominate any space. Fortunately, you can temper orange's exuberance with a rainbow of hues that counter its heat with intense color of their own or coax orange into submission. Pale or vibrant, orange soothes, stimulates and adds a cheerful note to decor.
Bodacious Blue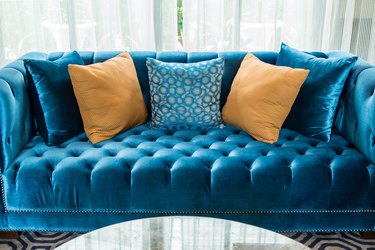 Orange isn't the only hot color when you mix cool and warm opposites on the color wheel. The complement to orange is blue, but there are infinite interpretations of hues with blue to work with any decor style. Your adobe with its terra-cotta tile floors, rusty brown clay walls and yards of whitewashing comes alive with deep teal accents in sofa pillows and area rugs. The kids' bedroom has ice-blue walls, lollipop-orange chenille spreads and orange-and-navy plaid curtains. The patio chaise cushions are turquoise, a few shades paler than the water in the pool, and the market umbrella, shade-sail and hibiscus blooms are the strong orange of fresh tangelos.
Orange Creamsicle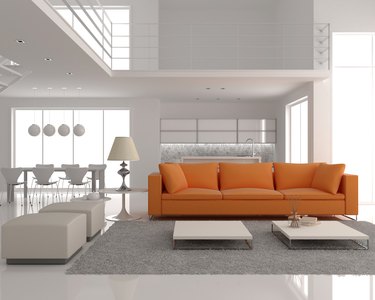 Bright orange with a touch of white becomes creamsicle and looks delicious on the walls of an airy office with long white shelves, billowing white sheers, white trim and ceiling and white laminate desk. Add a touch of nature with a potted leafy green tree in one corner and a pair of olive-green chairs grouped around a low white table for client consultations. Orange, a combination of yellow and red, is all-warm, so choose a white with warm undertones: Vanilla, cream, ivory or not-quite-peach will harmonize in your high-energy office.
Toasty Color
Orange is perfectly content to coexist with brown. In a masculine room, a deep chocolate brown next to a true orange or a more muted rust needs white or near-white to lighten the environment. But an apricot living room with a tobacco leather sofa and a carpet with an off-white, red-orange, apricot, cocoa and tan pattern is genteel and relaxing. Burnt orange and tawny browns enliven a living room with a white marble fireplace, tan sisal carpet, cream wall unit and orange-and-fawn striped drapes. Playing with texture keeps it interesting; orange velvet upholstery mixed with brown leather-covered tables or chairs and loose-weave curtains is a rich mix.
Modern Appeal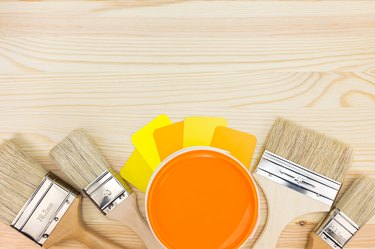 Your dining room walls are pale, velvety gray, and the wide plank floors are stripped, bleached and waxed. You found an old farm-style table at the flea market, but it's not great enough wood to refinish. Unleash your inner artist and paint that table the sunny clear color of carrots or tangerines. Use high-gloss enamel so the table gleams and surround it with mismatched bentwood and see-through acrylic ghost chairs. A painted charcoal sideboard with a dark slate top, pewter chargers and a gunmetal-gray refurbished chandelier counter the vivid table but don't compete with it. Vary pastel and intense oranges and grays in any decor for a refreshing balance of neutral and radiant.
---
Benna Crawford has been a journalist and New York-based writer since 1997. Her work has appeared in USA Today, the San Francisco Chronicle, The New York Times, and in professional journals and trade publications. Crawford has a degree in theater, is a certified Prana Yoga instructor, and writes about fitness, performing and decorative arts, culture, sports, business and education .