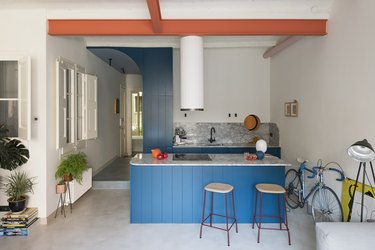 When it came time for architect Andrea Serboli, co-founder of Colombo and Serboli Architecture (CaSA) to design his own Barcelona apartment, he knew he wanted to make it a showcase of the firm's colorful, modern style. Working with his co-founder Matteo Colombo and Margherita Serboli Arquitectura, Serboli set out to turn the neglected apartment in a Catalan Art Nouveau building into a wunderkammer, or cabinet of curiosities, with places to display treasures and collections. They began by removing the partitions that divided up the space, creating an open kitchen, living, and dining area.
Many of the period elements had been lost, but the team made an effort to preserve what remained when possible, including the doors and floors of the two bedrooms. The centerpiece of the design is the groove-paneled blue box. The piece cleverly serves multiple areas of the house, adding storage to the master bedroom, concealing the entrance to the bathroom in the hall, and incorporating cabinets in the kitchen. The rest of the apartment was kept light and neutral, with a few additional bursts of color, including the bright coral beams. The end result is a streamlined, curated apartment that's still full of surprises.
---
Elizabeth Stamp is a freelance writer in Los Angeles. Her work has appeared in Architectural Digest, Elle Decor, and CNN Style.