Not to be the bearers of bad news, but fall is rapidly approaching — and, frankly, we are not ready. Blame it on the sweltering 80-degree temps or the fact that we still have a full three weeks before September, but we're not prepared to transition our homes for the upcoming season just yet. So, while the major home decor authorities are releasing their new fall collections, we're embracing a color trend that allows us to savor every last sunny day of summer: sunset-inspired hues.
Think dusky pinks, fiery oranges, golden yellows, and indigo, aka any shade that evokes a dreamy California sky at twilight. Given that the trend has been embraced by the likes of Los Angeles-based interior designer Sarah Sherman Samuel, who designed the bedroom pictured above, we're fully on board with the late-season fad. Ahead, we've rounded up six sunset-inspired ideas that'll make summer feel endless in the best possible way. Cue The Beach Boys.
1. Layer Sunset-Inspired Shades Into Your Living Room
Gain inspiration from this living room designed by Mallory Fletchall of Reserve Home and layer textiles in sunset-inspired shades into your space. Note the blush pink, golden yellow, and sky blue throw pillows; the peachy-hued floor pouf; and the patterned, salmon-colored rug.
2. Incorporate Sunset-Evoking Hues Into Your Bedroom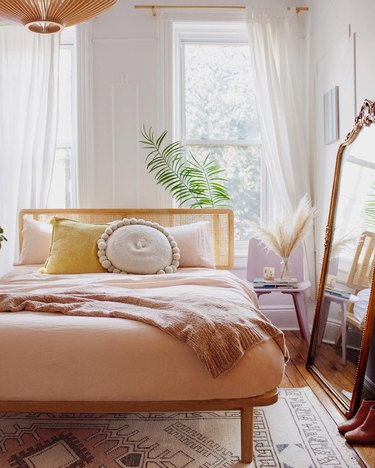 In this space, also designed by Mallory Fletchall of Reserve Home, peach-colored linens, sunny yellow throw pillows, and a lilac chair that cleverly doubles as a nightstand evoke a colorful, sunset-streaked summer sky. Follow Fletchall's lead and fill vases with pampas grass and palm fronds to add to the aesthetic.
3. Bring Sunset Vibes to Your Bathroom With Dusky Pink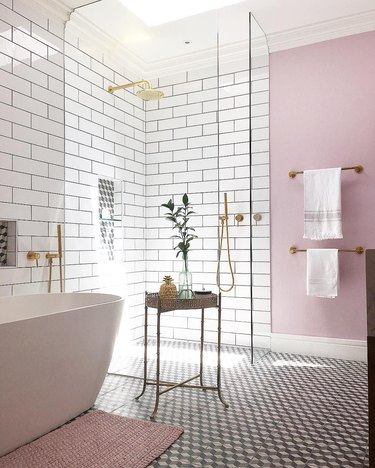 Make like interior designer Monya Eastman of Stokperd and bring instant sunset vibes into the bathroom by painting walls a shade of dusky pink. If you're not ready to commit to slathering your walls in the shade, simply swap your bath mat for one in the sunset-inspired hue instead, as Eastman demonstrates here.
4. Transform Your Kitchen With Twilight Tones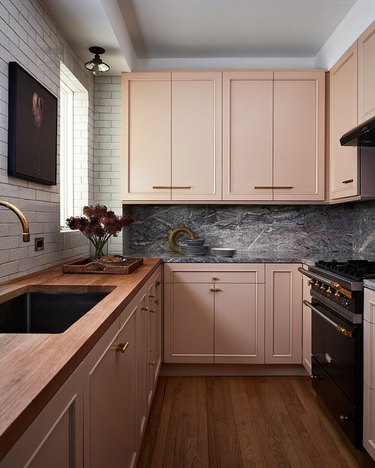 Take a cue from Neal Beckstedt of Neal Beckstedt Studio and transform your kitchen with a twilight-inspired palette. Here, dusky pink kitchen cabinets and a polished fior pesco marble backsplash boasting gray and lilac shades conjure up images of a late-evening sunset just before the sun fully sinks below the horizon.
5. Opt for a Sunset-Inspired Ombre Accent Wall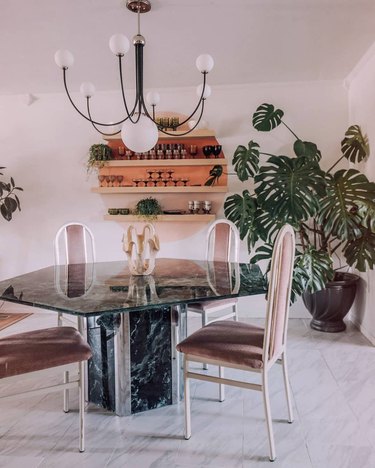 Take a page from Arianna Danielson and create a sunset-inspired ombre accent wall using gradient shades of paint. Think blush pinks, vibrant oranges, and fiery reds. In Danielson's dining room, a large monstera plant also brings the outdoors in and lends a tropical flair to the space.
6. Liven Up Your Bedroom With Dusky Pink and Fiery Orange