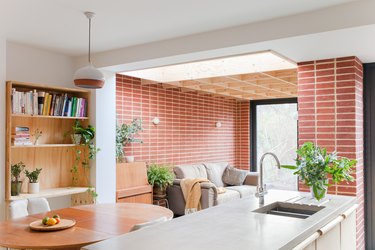 A limited budget and a desire to create more space within an already modest century-old home were the main challenges Nimtim Architects faced in renovating a South London family home. The solution? Using simple materials — like brick and plywood — and reformatting the floor plan to something more open and less complicated.
The project focused on the downstairs area, where walls were taken down to create one multi-purpose kitchen-dining-living space that extends out into the garden. What we appreciate most about this design is about how its resourcefulness actually comes off as contemporary design: To reduce steelwork costs, the team mounted a timber framework in the ceiling that continues down into the space to form functional shelving. The brickwork, in combination with the plywood built-ins and square tiling in the kitchen, creates a geometric motif that's surprisingly fresh.
---
After interning at Dwell magazine in San Francisco, Kate began writing about arts, design and culture for other national publications. She is based in Los Angeles and San Francisco.