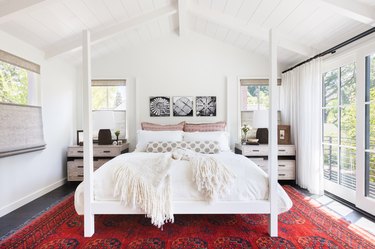 Red isn't a color for the faint of heart, but if you're courageous enough to try red walls or accents in your bedroom, you won't be disappointed. According to color psychology, the study of how colors affect your mood, red is associated with warmth, invigorating energy, and passion — exactly the elements you need for a cozy bedchamber.
From deep, luxurious ruby to fiery, show-stopping crimson, this bold hue will make a powerful impact in your space like no other color can. So if you're daring enough to take the plunge, one or more of these eight dramatic red bedroom decor ideas might be just what you need to bring a little excitement into your sleeping quarters.
1. Dress your bed in red.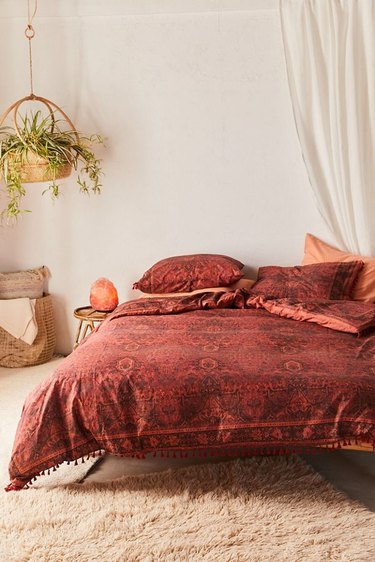 If you're not ready to make a big commitment to this audacious color, try brick red bedding on for size. A muted duvet cover, like this one from Urban Outfitters (starting at $99), is a low-fuss way to incorporate the decadent hue into your space.
2. Tie it all together with more than one piece.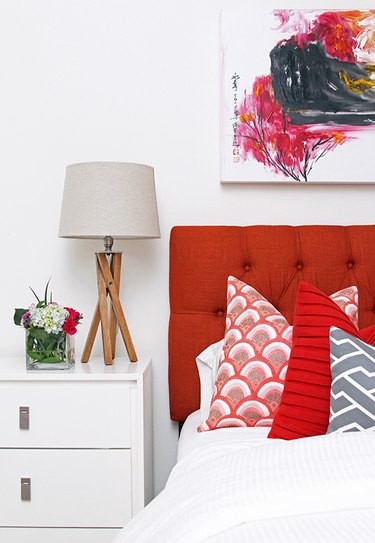 A single red accent can feel out of place, so adding a few hints of the vibrant shade throughout can help tie the look together. In this bright bedroom, designed by Jana Bek, a cardinal red upholstered headboard, patterned accent pillows, artwork, and a small flower arrangement make the space feel beautifully cohesive.
3. Think boho.
An easy red bedroom idea, without looking too edgy, is to incorporate bohemian accents, like the pretty fringed throw in this space designed by Carley Summers. It picks up the ruddy hues in the area rug and, when paired with a mustard yellow accent pillow, makes this white room come to life.
4. Play with contrast.
Since red is such a powerful, invigorating color, it can balance dark walls nicely and keep a deep-hued room from feeling dreary. If you go this route, follow the lead of this space captured by photographer Brittany Ambridge and use pops of red sparingly, otherwise, your bedroom might become overwhelming.
5. Go the unconventional route.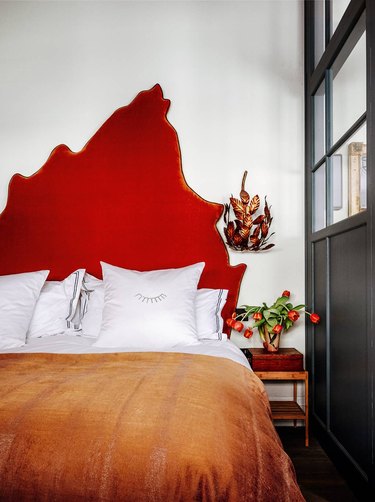 Don't be afraid to take your red bedroom a step further like designer Rachel Chudley did in her boudoir. She opted for a one-of-a-kind upholstered headboard to complement the leafy wall sconces and jewel-tone orange blanket to invigorate an otherwise neutral space.
6. Balance red tones with rosy walls.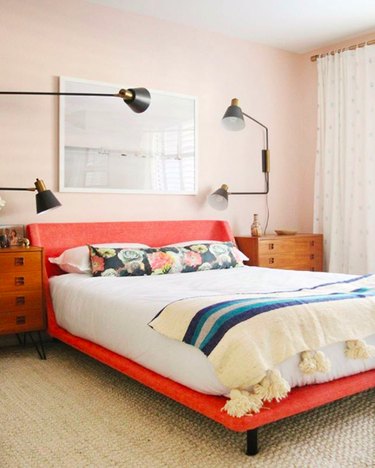 The coral bed in this room designed by Jenny Komenda is cheerful, without being too bold, thanks to the blush-toned walls that help balance the fiery hue, slightly offsetting its immediate visual impact. Try this trick in your space if you like the look of red, but want it to feel a bit more subdued.
7. Opt for bold patterns.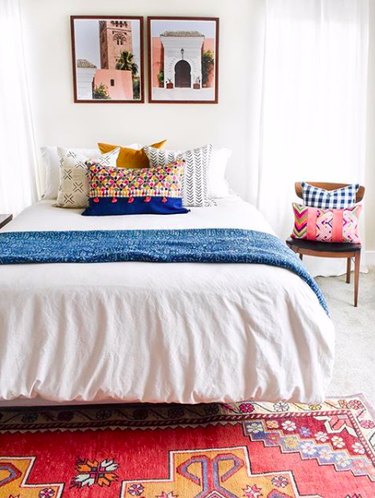 Red accents with dynamic patterns are an ideal option for testing out this brazen hue — they'll instantly give your space captivating and colorful flair.
8. Try a red rug.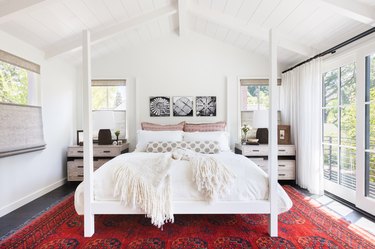 If you're too timid to go all in on a red bedroom, incorporate the shade by investing in an area rug that showcases the striking hue like designer Jennifer Macdonald did in this space. It'll pick up the other red tones in the room; plus, it's easy to replace when you want a quick update.