The difference between cream color and ivory color is largely a semantic one. The main difference between ivory vs cream is in the subtle yellow hue found in each color. When you are choosing between the two for paint or fabric colors for your house or decor for a wedding, you do need to gauge the degree of yellow in the white. Avoid juxtaposing stark arctic white against either cream or ivory, unless you are dealing with a severely limited palette so that the white and off-white look like they are part a deliberate design choice.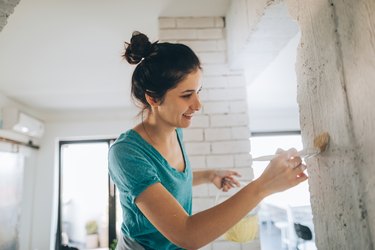 What Is The Difference Between Ivory and Cream?
Cream color comes from the name cream itself. Cream is milk's butterfat, the silky rich, slightly yellow liquid that signifies extravagance, as in creme-de-la-creme. It always has a yellow cast that adds a mild sunny note to the opaque white. Ivory color comes from its source name as well. Ivory is the hard, white dentine in an elephant's tusks. New ivory is very white – it may have a nearly indistinguishable hint of blush but it tends toward a warm white. As real ivory ages, it eventually takes on a yellow cast and more closely resembles buttery cream.
In a room, cream-colored paint should be respected for its yellow undertones and paired carefully with other colors that won't create a sallow or jaundiced ambiance. Ivory, in silk taffeta draperies or another fabric with that gleams, might give off a silvery sheen, or be the color of bleached bone.
What Color Looks Best With Cream?
A neutral cream color can be paired with multiple colors, ranging from subtle whites or beige to bold and bright hues. It works well with traditional styles in home decor. For example, a cream paint in the kitchen sets the stage for traditional and rustic decor. A soft, sun-tinted cream enamel on cabinets blends seamlessly with a satin or eggshell cream on the walls and trim. The shade enhances the natural warmth of wood – on butcher block counter tops, in artisanal cutting boards hung on the wall like art on wide plank floors. Cream paint is the perfect foil for terra-cotta tile floors and shows off a Talavera tile backsplash. The one thing you can't do in this kitchen is keep the white appliances. White porcelain and enamel clash with smooth cream. Choose a brushed aluminum appliance or a retro enamel appliance finish instead.
Is Ivory Darker Than Cream?
When comparing ivory vs cream, the main difference is in the yellow undertones. When comparing the difference between off white and ivory, the ivory color will be slightly darker. Ivory is not always darker than cream, but will have a slightly less noticeable yellow undertone. In home decor, the ivory color is best used to signify luxury. Think sofas and chairs in ivory linen, raw-silk ivory curtains from ceiling to floor, or muffled footsteps with a thick ivory oriental or an ivory Berber carpet. Paint the walls and ceiling flat ivory and sink into a room of utter luxury. You can keep the sophisticated decor approach going over the holidays with ivory banners and baubles. Dust the real evergreen tree with artificial snow outside before you set it up and deck the branches with snow-white and antique ivory ornaments, punctuated by simple beads, fake icicles and garlands shot with silver and gold or made of glass. A mercury glass pedestal tureen on the mantel can hold ivory and gold Christmas tree balls.
What Colors Work With an Ivory Wedding Dress?
The gown no longer has to be blinding white – a wedding dress in ivory lace has a hint of "something old" or timeless chic and works to perfection with an armload of calla lilies. The reception decor is both minimalist and fabulous when the hall is done in shades of cream and ivory with one main color accent – purple iris, silver-gray or bougainvillea flame – used very sparingly. Creamy rose boutonnieres against ivory tuxes or gray morning coats and a cascade of cream roses, white lilac and lisianthus and delicate green Hedera ivy for the bride in an ivory silk crepe de chine fitted gown are pure style. The spare off whites and neutrals flatter most complexions, are casually luxurious and focus attention on the wedding party, which is the main objective of the entire event.