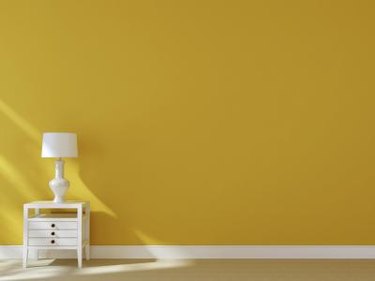 Yellow can add a cheery or springtime feel to your home but can also lend an air of sophistication when paired with other hues. If you've painted the walls in your home yellow, there are several color combinations that will complement the walls well and and make your decorating styles and preferences evident.
Green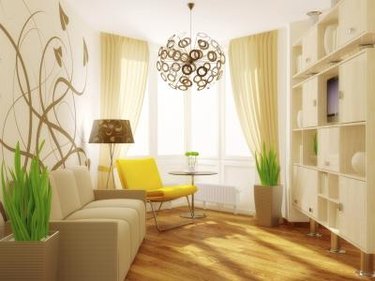 Shades of green work well on yellow walls and give the space a peaceful feel as the color green represents life or nature. For soft or pastel shades of yellow, a pistachio or sea foam green for wall panels is ideal. In a room where medium yellow is the color of the accent wall, kelly green throw pillows or wall art is complementary. Darker or golden yellow as a wall color contrasts well with hunter green vases or plant accents; furniture in a dark shade of green looks good in a room with dark yellow walls as well.
Metallics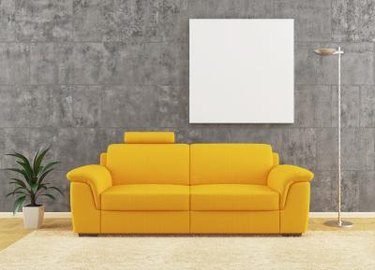 Metallic shades match yellow walls well and allow you to add other colors to a yellow-walled room without overwhelming the space. For instance, a bronze coffee table in a room with medium yellow walls is elegant yet modern, but a bright blue vase on the table will bring more color to the room to make the space more inviting. Silver wall art or shelves are complementary in a room with pastel yellow walls; dusty rose or light pink bouquets on the shelves give the room a soft and demure appearance.
Black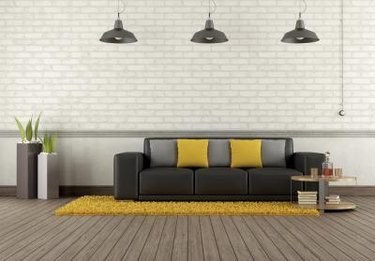 Black and yellow are particularly striking against one another. For instance, bright yellow walls holding frames or mirrors that are trimmed in black can make a room look classic and modern at the same time. Painting the paneling or trim of yellow walls black is also ideal if most of the furniture in the room is black or gray. This allows the yellow wall to be the most colorful feature of the room while you feature antique pieces like lamps or chaises in black that could possibly be accented by lampshades or pillows in a lighter shade of yellow.
Orange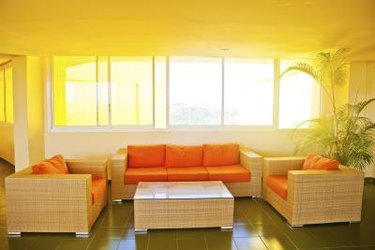 Orange is another bright color that goes well with yellow and creates a somewhat monochromatic look for a room. Medium or bright yellow walls accented with peachy orange stripes in the center of the wall give the room an energetic feel; burnt orange trim looks good with darker shades of yellow. Orange-toned shades of yellow on the walls make a visually appealing backdrop for dark orange curtains or table centerpieces, and large vases in burnt orange in the corners of yellow walls provide another fitting pop of color to the room. A room with yellow walls and orange accents also looks nice with gold or bronze furniture accents, such as metallic throw pillows or large candle holders.
---
Tamiya King has been writing for over a decade, particularly in the areas of poetry and short stories. She also has extensive experience writing SEO and alternative health articles, and has written published interviews and other pieces for the "Atlanta Tribune" and Jolt Marketing. She possesses a Bachelor of Arts in English and is currently pursuing higher education to become a creative writing professor.