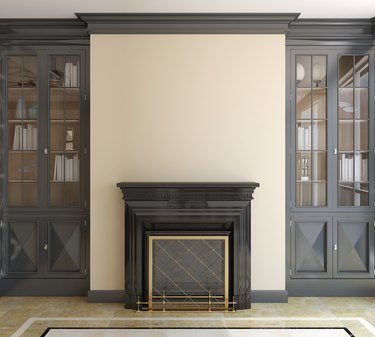 Neutral beige goes with just about any color or design scheme imaginable, as long as you match or complement its undertones first. As a neutral light color, beige on the walls can open up the space, but if you fail to dress it up with other colors, it takes on a drab, boring appearance. If you're stuck with beige on the wall because you're not ready to paint or you're in a rental, add colors and decor that take your scheme from boring to bold.
Warm and Cool Undertones
Beige comes in more than one color. As a catchall name for colors that could be tan, cream, buff or more, examine the underlying hints in the beige to find colors that match well with it. Put a white piece of paper in a sunlight area next to the wall covered with beige. Compare and examine the undertones to figure out if they would work better with a warm or cool palette. Warm beige works well with warm or cool color schemes, depending on the underlying color. For example, a warm beige with hints of red is offset by rusty reds, earthy browns and touches of black, while certain blues complete a yellow beige. You can also pair a cool beige with pastels that include lavender, pale silver and muted gray-blues for a soothing effect.
Sand and Sea
For pleasant beige color combinations, look to nature's palette by imagining a long stretch of a sandy beach, chunks of dark brown rocks, and driftwood with the contrast of the sea against the sand. Warm yellow beige offset by sea green, teal or turquoise creates a relaxed, calming effect in any room. Add a chocolate brown couch and chair with throw pillows in a darker shade of teal, sea green or light gray.
Black, White and Gray
Paint baseboard, door and window trim white, if you can, to create a crisp feel in the room. Add a white rug with black stripes to a conversation area defined by two beige chairs on one side, a beige couch on the opposite side and a black-and-white couch between them to form a U-shape. A white square coffee table on the rug centered between the couches and chairs creates a backdrop for coffee-table books and a clear bowl vase filled with winter white lilies. Tall, yellow-beige candles shrouded in clear tubular hurricane glass line the top of a console table behind the beige couch.
Contemporary Scheme
When you combine neutrals together correctly, they can create a sense of elegance and sophistication in a room. Metallics and glass mixed with beige creates a contemporary color scheme. Add hand-carved African ebony figurines to provide a contrasting punch on a wall shelf, bookcase or end table. Include a chair and couch set covered in a subtle striped fabric in beige and silver. Silver and glass coffee and end tables add a modern touch, while live or silk plants add a hint of color. Casually drape a knobby woven throw across the couch with copper metallic threads running through it make the room a little less austere. Finish the decor scheme with two copper-based floor lamps on either side of the couch.
Check Before Decorating
First, verify that your color combinations work together; set swatches of colors you plan to use in the scheme up against the beige in a place where you can watch it as the light changes in the room. Beige with a hint of gray beneath works well with khaki tan, dove gray, white and light brown, but these colors wouldn't look as good next to red-tinted beige. For pink beige, choose colors in salmon, mango and soft mint for a relaxing effect.
---

Laurie Brenner
As a native Californian, artist, journalist and published author, Laurie Brenner began writing professionally in 1975. She has written for newspapers, magazines, online publications and sites. Brenner graduated from San Diego's Coleman College.