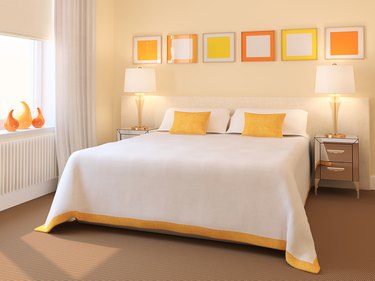 In terms of decorating, peach is a versatile color that you can use in dozens of ways to add warmth and vibrancy to a room. Inspired by the color of the fruit, peach can range from a light tinted orange to pinkish orange or pinkish yellow. Peach balances beautifully with cool colors and makes a harmonious pairing with neutrals.
Cool Complements
Royal blue and peach make a dynamic color scheme. Vibrant shades of peach become even more intense when paired with blue and green paint colors, as blue is the complementary to orange, while green is the complement or opposite red on the color wheel. Turquoise and peach gives a bedroom or bathroom an exotic, tropical beach feel. Lighter tints of peach pair beautifully with pastel colors such as mint green. This soft, balanced mix of cool and warm tones works well in both contemporary and traditional settings.
Peaches and Cream
White pairs effortlessly with all types of peach, appearing bright and crisp against fully saturated, vibrant peach or soft and subtle with pale tints of peach. Pale peach reads as a neutral, adding just a hint of warmth when used on ceilings and walls. Peach looks elegant and sophisticated when combined with gold, beige and cream, making a room feel soft, romantic and feminine. Peach makes an excellent wall color in the bathroom, as it flatters most skin tones. Surround yourself with colors of peach, tan, beige and pink in any room where you want to look your best.
Analogous Layers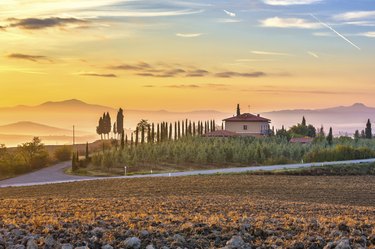 A room layered in warm earth tones of peach, terra cotta, pink, apricot and golden yellow feels warm and inviting. Tuscan color palettes commonly feature rich earthy shades of yellow, rusty red, burnt orange, peach and dusty pink. Vibrant reds and pinks also accompany peach in Moroccan-style rooms. Shades of red and orange are known for increasing the appetite and stimulating conversation, making them good color choices for the dining room.
An Updated Look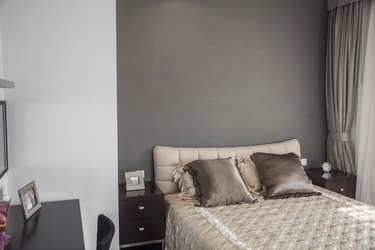 As the preferred neutral for modern and contemporary interiors, a backdrop of gray gives peach furnishings an updated feel. Mix in some black for a sharper contrast. Deeper shades of peach such as coral and russet paired with charcoal gray look bold and dramatic. Bring out the orange tones of peach upholstery and fabrics with a blue-gray color on walls. Cool grays balance the warm tones of peach accents. Warm grays with brown or taupe undertones make peach furnishings or walls feel more neutral.
---
Michelle Radcliff owned a retail home furnishings business for eight years. Radcliff offers decorating advice on her blog, Home Decorating News, is a regular contributor on interior design at LoveToKnow.com and earned certification as an interior decorator from Penn Foster College in 2013.