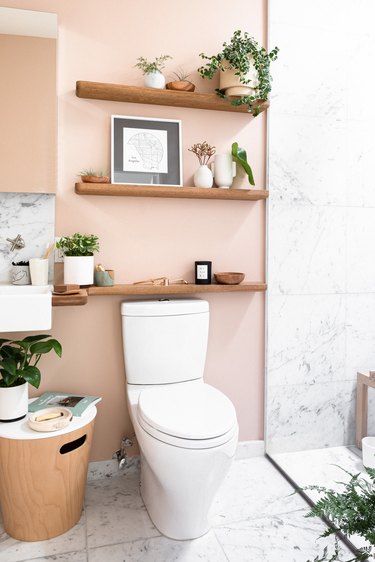 The products we write about are recommended by our editorial team. Hunker may earn compensation through affiliate links in this story.
When it comes to doing a room refresh, bathrooms are hands down the most fun. Why? Because you can easily get the whole thing done in a day, and because it's a smaller space, you can also make a huge impact with just a few things. Of course, the tough part is deciding what those things are going to be. So when we decided to revamp the master bath at Hunker House, we turned to our friends at Suitely. The company basically sells you an entire package for a room. Kind of like seeing the perfect outfit on a mannequin, Suitely curates looks for rooms, and, if the vibe speaks to you, you can buy up the whole thing. (Of course, if you just want certain parts of a particular "Suite," you can do that, too.)
For our new bathroom look, we added a coat of muted peach paint and brought in open wood shelving to display a variety of planters, candles, vases, and accessories. If you're feeling inspired to bring the look to your own home, scroll on down to shop the images below, or check out our curation on Suitely.
Pro tip: If you want to give your bathroom an upgrade, but you're on a budget, pick out a handful of plants and then select a variety of planters in a neutral color scheme.
To make sure your bathroom design doesn't fall flat, mix up the textures. Here, we brought in brass, wood, and concrete.
Finally, think about ways to upgrade your storage or must-have necessities. We swapped out an old glass for a concrete vessel to store cotton swabs, and put a bar of artisanal soap onto a cute ceramic dish.