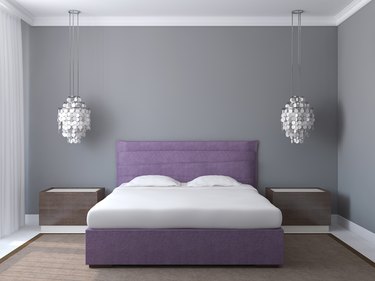 The soft gray undertone of lilac makes it an excellent choice for decorating, as muted colors can appear very similar to neutral colors. Lilac pairs beautifully with other soft neutrals and colors with a similar intensity or value.
The Perfect Pairing
You can't beat gray as a perfect match for lilac. Gray has undertones of blue, green or purple, which all work with lilac.Lilac also has a hint of gray. A color scheme of gray and lilac can bring a bedroom up to date, as gray is the neutral of choice for modern and contemporary interiors.
Combine gray and lilac on an accent wall using horizontal or vertical stripes or mix the two on bedding, accenting a gray and white quilt with lilac pillows and a throw. Hang lilac curtains on a gray wall or use a lilac area rug on gray carpeting. Set a vase of silk lilacs on a gray dresser or place them near draperies in gray.
A Sunny Complement
The complementary opposite of purple on the color wheel is yellow. Lilac and yellow brighten a room with the fresh feeling of spring. As a cheerful color scheme for a girl's bedroom or a nursery, it uses pastel values of each color. Lilac walls make the room feel soft and comforting.
On bedding, employ a mix of pastel yellow, pink and lilac. Paint the ceiling a very pale shade of yellow for a hint of warmth.
In the bathroom, place folded or rolled lilac towels in a light yellow cabinet with open shelving. Accent a gray living room sofa with pillows in lilac and soft yellow. Repeat the two colors in a flower arrangement placed on a coffee table or sofa table.
Monochromatic Matches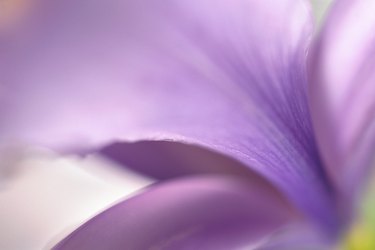 The most fail-safe method for coordinating lilac in a harmonious color scheme is by simply varying its shade or value, known as a monochromatic color scheme.
Start with the wall color because lilac paint colors can vary from shades that appear more pastel, more muted or more saturated. Some lilacs have more red, while lean to the blue side -- both colors that make up purple. Most of the lightest values appear light gray with a purple undertone. The darkest values of lilac appear as deep muted purple, indigo and sometimes aubergine.
Consider the lightest lilac color for the ceiling or trim. Paint the walls in the base color of lilac and use the darkest shade of indigo or deep purple on an accent wall and rug or on a bedspread and lampshades. Additional neutrals in cream, white and brown keep the color from overwhelming the room. Add in some cream curtains, white furniture and brown on upholstery, lampshades or a throw.
An Attractive Analogy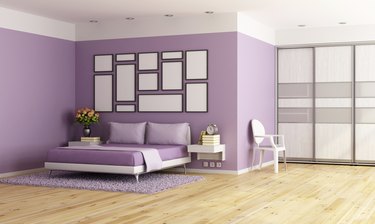 For the decorator passionate about purple, use lilac in an analogous mix of red-violet and blue violet shades. Scatter an assortment of pillows in plum, iris and lilac on a conversational grouping of a gray sofa and cream chairs.
In a bedroom with muted rose colored walls, a pair of dusty lilac chairs plays up the soft feminine feel. Taupe curtains and ivory bedding add a vintage flavor.
Layer a room with lavender walls, indigo curtains, lilac and periwinkle upholstery and accents in light coral on lampshades and pillows. The pinkish orange hue of coral hovers between an analogous pairing with the violet hues and a complementary contrast against the tones of blue.
Fresh and Natural
Light green and lilac make a room feel fresh and natural. Dress dining room windows in Roman shades with a light green and lilac paisley pattern. Layer the two colors on a spring table setting with a tablecloth in white, a table runner in pale green and placemats in lilac or repeat the pattern of the shades on the table runner.
Fill a vintage pitcher with floral greenery and lilac blossoms to display on a buffet, dresser or foyer table. In a living room or adult bedroom, paint the walls in sage. Use a muted lilac on upholstered furniture or a bedspread, repeating the color on curtains and framed pictures or wall art. Accent furniture with pillows in solid brown and a floral print featuring lilac colored flowers and soft, earthy green leaves.