Mix lavender and light blue, and you get periwinkle blue, a pastel shade that can freshen your space. You may think of periwinkle as a color for kids' rooms, but when paired with the right complementary colors, periwinkle works just as well in shared spaces. Create a lively look when you combine periwinkle and bright hues, or use it to complement blues and neutrals for a serene feel.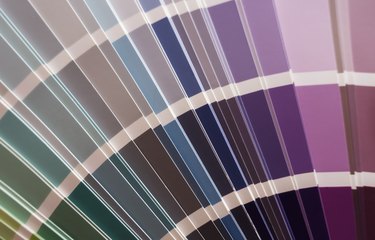 Greening Periwinkle Blue
Lighter greens and more yellow-greens are split-complementary colors of purples, and the two hues coexist in a relaxed contrast. You can create several different complementary color scheme looks with the periwinkle and green combination that create stunning results. A sunroom with periwinkle upholstery, iris-colored doors and French door frames, and white walls becomes an indoor garden when a mural of lacy green leaves spills across the walls.
Mint walls in a guest room shimmer behind floor-length periwinkle drapes. Mint, ivory, iris and periwinkle patterns on the bedding integrate with the cool colors. Pale asparagus wainscoting framed by olive baseboards and chair rails gets a jolt of assertive color when you paint the upper walls a rich periwinkle.
Green and purple hexagonal floor tiles or plain glazed white penny tiles are interesting enough that you won't need a rug. Keep accessories white to match the porcelain tub, toilet and sink, but mix periwinkle and spring-green towels to "finish" the room.
Pumpkins and Periwinkles
The blue in the periwinkle color expands your options for playing with classic color complements, because orange is blue's opposite on the color wheel. Soft periwinkle and vivid orange are a dynamic duo. The difference in intensity is critical to making this work.
Pale periwinkle walls, deeper violet velvet upholstery and abstract wall art and area rugs dominated by shapes in red-orange and carrot create a contemporary living room. Mottled periwinkle walls and a light periwinkle linen settee in a sitting room are grounded by an old terracotta tile floor with all the worn and bleached colors resonating with a kind of Old World charm. A tawny oriental carpet with shots of periwinkle and deep purple in a matte periwinkle entry hallway enlivens the purple with vibrant fibers of pumpkin and rust.
Periwinkles and Purples
Analogous colors are next to each other on the color wheel and typically don't invigorate an interior. But combining various shades of blue-purples and purple with a hint of red animates the decor. A periwinkle sofa, deep lilac walls and fuchsia throw pillows paint a jewel-tone living room that could go either modern or traditional, for example.
In the bedroom, rich lavender walls, iris brocade or velvet upholstery on gilded antique chairs, and periwinkle-and-white drapes and carpet dominate the room, leaving space for a few modest accents. A teal throw on the bed or a small turquoise nightstand works well. Periwinkle silk wallpaper and pinkish-lilac chair cushions are all the color you need in an eclectic dining room. Pair them with a glass-topped table and a violet-raspberry-and-periwinkle tinted crystal chandelier.
Opposite Colors Attract
Yellow is the true complement of violet and blue-violet, so shades of lemon, sunflower, mustard and gold contrast with periwinkle without a clash. Paint the base of the kitchen island periwinkle under a granite or butcher-block top in a dandelion-yellow kitchen. Alternate periwinkle and lemon sheer panels in a mostly white living room, with a periwinkle-and-sunflower chevron rug under the conversation area. Hem periwinkle drapes in the dining room with a deep border of oyster-white, and hang large Fauvist or Rothko-style color paintings in periwinkle, deep blue-violet, buttercup and oyster on the walls.
---
Benna Crawford has been a journalist and New York-based writer since 1997. Her work has appeared in USA Today, the San Francisco Chronicle, The New York Times, and in professional journals and trade publications. Crawford has a degree in theater, is a certified Prana Yoga instructor, and writes about fitness, performing and decorative arts, culture, sports, business and education .